13th Annual Pinot Noir Summit ~ Schedule of Events
Saturday, July 25th
13th Annual Pinot Noir Summit
Atlantis Casino Resort Spa
3800 S. Virginia Street
Reno, Nevada 89502
775.825.4700
Full Program Ticket includes Pinot Noir Workshop, All Things Pinot Pairing Lunch, Wine Lovers Blind Tasting, and Grand Awards Tasting Gala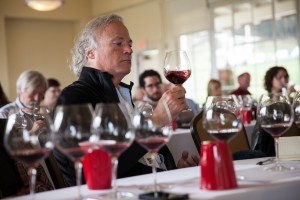 Workshops:11:00am to Noon (Two workshops to run concurrently – you may select one)
Workshop 1:
Discover the Velvet: A Vertical Tasting ~ Pinot Noir producers will share two to three vintages of Pinot Noir, showing the development of the seductiveness of this wonderful grape that develops with time in the bottle.
Workshop 2:
Pinot Noir: The Wine That Speaks the Loudest from the Vineyard ~Winemakers from five premier appellations will discuss the capacity of Pinot Noir to reflect unique characteristics of environment and site. Each winemaker will present a single wine to taste that best reflects and demonstrates the unique aspects of their region and/or particular site.
All Things Pinot Flat Bread Pairing Lunch: 12:15pm-1:30pm
A casual lunch featuring flat breads with toppings paired to Pinot. Winemakers will move around and share their wines, "All Things Pinot" including Pinot Noir, Pinot Gris, Pinot Blanc, Pinot Meunier, Rose of Pinot, or Sparkling which includes Pinot Noir or Pinot Meunier in the cuvee.
Wine Lovers Blind Tasting: 1:30pm-4:00pm
Blind taste top-rated wines from the 13th Annual Pinot Noir Shootout. Taste the selected wines and pit your palates against the expert panel of judges. Rate your preferences and vote for your favorites. There will be 2 sets of wines with participants limited to tasting one half of the total number of wines in this segment in this free flowing tasting.
Grand Awards Tasting Gala: 6:30pm-9:30pm
Wineries will showcase their award winning Pinot Noirs and other wines they produce. The final results of the both the professional judging of the 13th Annual Pinot Noir Shootout and the results from the Wine Lovers Blind Tasting will be announced at 8:00pm. A selection of Pinot-friendly hors d'oeuvre will be served.