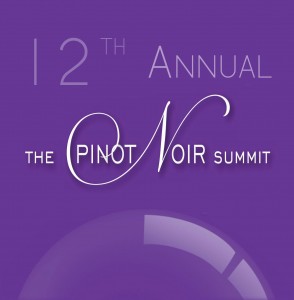 Pinot Noir, the most exciting, confounding, and challenging wine there is has been the focus of the Pinot Noir Shootout and Summit since 2002. We never tire of tasting these wines, enjoying old friends and discovering new ones.
In this, the 12th Annual Pinot Noir Shootout, the Affairs of the Vine professional judging panel will taste upward of 450 Pinot Noirs from all over the globe. The wines we taste continue to delight and fascinate us. Every year we find outstanding examples of Pinot Noir from wineries that we know and we're always pleasantly surprised by wines submitted from producers new to us.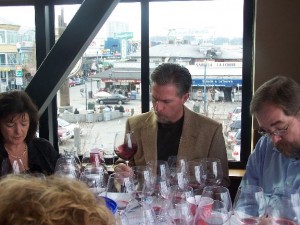 The Pinot Noir Shootout is the most comprehensive and focused tasting of Pinot Noir in the U.S. The judging panel, an incredibly diverse panel of 50+ wine professionals, taste the wines over a three-month period. Just 32 wines are tasted by the experts per day, allowing the judges to be completely immersed, focused and fair to the wines. Palate fatigue is not a factor in our tastings. The wines are tasted completely blind without reference to appellation, vintage or price. Each wine submitted to the Pinot Noir Shootout will be tasted a minimum of twice. The top rated wines will then be tasted by our panel of experts at the Pinot Noir Shootout Finals on January 4. 2014 in San Francisco. Again, each judge will be responsible for tasting, scoring, and analyzing only 32 wines.
Detailed notes accompany the scores of each judge. Gender counts – scores and comments are recorded separately and posted on the Affairs of the Vine website. Click here to view results from last year.
The Pinot Noir Shootout is the only wine competition in which the judges' conclusions are put to the test by a large unbiased group of wine lovers. A selection of the top-rated wines will be featured at The 12th Annual Pinot Noir Summit on March 9, 2014 at the Golden Gate Club in The Presidio in San Francisco. "The Pinot Noir Summit defines excellence in New World winemaking."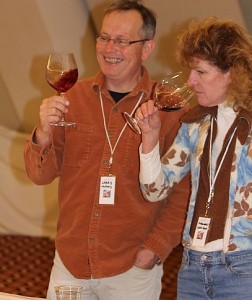 At the Summit, adventurous Pinot Noir lovers, seeking true splendor in the glass will experience and evaluate luscious Pinot Noirs in a blind tasting, attend Pinot Noir workshops, and meet and taste with masterful Pinot Noir winemakers at the Grand Awards Tasting & Ceremony.
Pinot Noir lovers gather at The Summit to taste and assess the amazing wines submitted to The 12th Annual Pinot Noir Shootout competition. Wine Lovers will taste cutting edge wines of small producers willing to reach for the stars.
In a distinctly different format and atmosphere from other wine-tasting events, the attendees blind taste the wines and pit their palates against the expert judging panel judging panel at the Pinot Noir Showdown, attend two Pinot Noir Workshops and indulge in wonderful wines and tasty morsels at the 12th Pinot Noir Shootout Grand Awards Tasting & Ceremony.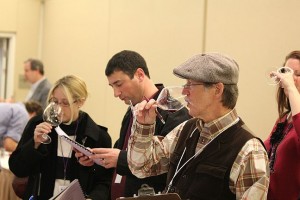 Tickets for The 12th Pinot Noir Summit go on sale on December 1st.
We have already received fabulous Pinot Noirs from some of the world's top producers. Wineries wishing to participate in this comprehensive and unique tasting must register by November 11th. Submit your wines here