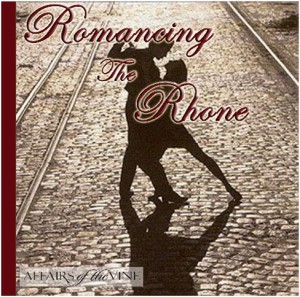 We are in the process of posting the Results of the 2014 Rhone Shootout here The list will be updated over the next 48 hours so don't despair if you don't see you favorite wine as yet. You may have to refresh your browser if you go away and come back.
We Romanced the Rhones and fell in love over and over again.
Some Personal Notes and Observations:
Those of you who have been following me for a long time, know that I have always been ALL ABOUT PINOT. So why a Rhone Shootout? I was persuaded by several members of our judging panel 3 years ago and I am very happy that I was convinced to Romance the Rhones.
This is the 3rd Rhone Shootout.
We put out the word and the wines came in daily with deliveries from GSO, UPS, Fedex, and DHL. Rhone wines came from a myriad of producers all over the world. The wines were catalogued and sorted.
Truth be told, more…
In this, the 2014 Rhone Shootout, the Affairs of the Vine professional judging panel tasted 247 Rhone wines, most from California and Oregon but some from Washington, Texas, Michigan, Chile, Australia, and France. We found outstanding examples of Rhone wines from wineries that we know and we're delighted by many of the wines submitted from producers new to us. The overall quality of the wines was incredible. In fact, we awarded more gold medals on a percentage basis than we have ever awarded in any previous Shootout and awarded Double Gold Medals to those wines that were found to be outstanding (92 points or above) by both our female and male judges.
The Rhone Shootout was a comprehensive and focused tasting of Rhone wines. The judging panel, an incredibly diverse panel of 51 wine professionals, tasted 247 wines over a three-month period. Just 32 wines were tasted by the experts per day, allowing the judges to be completely immersed, focused and fair to the wines. Palate fatigue is not a factor in our tastings. The wines are tasted completely blind without reference to appellation, vintage or price. Each wine submitted to the Rhone Shootout was tasted a minimum of twice. The top rated wines were then tasted by our panel of experts at the Rhone Shootout Finals on August 23, 2014. Again, each judge was responsible for tasting, scoring, and analyzing only 32 wines.
Detailed notes accompany the scores of each judge. Gender counts…scores and comments are recorded separately and posted on the Affairs of the Vine website. All wines awarded Silver and Gold and Double Gold medals are listed.
Without further ado, THE RESULTS
Key:
DOUBLE GOLD = 92 points+ by both the Male and Female Judges
GOLD = Love at First Sip - Gold
SILVER = An Affair to Remember - Silver
2014 Romancing the Rhones Results
Scores: Women Judges
Scores: Women Judges Bang for Your Buck
Scores: Men Judges
Scores: Men Judges Bang for Your Buck
ACORN 2011 AXIOM Alegria Vineyards Syrah
Russian River Valley, $34.00

298 cases produced
Female: Nicely developed aromas of ripe blueberry and dried plum with notes of lavender. Palate is showing a nice combination of mature ripe black and red fruit with refined tannins and a range of spices. While rich and flavorful, there is certainly enough to the structure to carry this wine. 92
Male: Black pepper with red berry and lighter tones of black cherry with toast on the nose. The palate is soft and friendly with nicely formed fruit dominated by black raspberry and cedar accented by cola and bakers chocolate. The finish is long and luxurious and is very nicely balanced by welcome acidity. 90


GOLD
Alexander School Reserve Alluvia 2011 Reserve Select Red
Alexander Valley, $45.00

226 cases produced
Female: Thyme, bell pepper and anise scented dark cherry aromas. The full palate is layered with blackberry and black cherry combining with nutmeg and allspice. A young wine that should evolve very nicely with time. 93
Male: Cherry and vanilla with mint combine with blackberry and ripe plum on the nose. Lush black fruit with chocolate and earthy tannins. Ripe lush with cassis and chocolate on the finish. Firm acidity shines through. 88


GOLD
Alexander Valley Vineyards 2012 Estate Syrah
Alexander Valley, $20.00

3000 cases produced
Female: Toasted bread with raspberry jam on first sniff. The wine opens to reveal cocoa, blueberry, brown spice with oak notes. The palate mirrors the nose with a touch of clove on the finish. This wine will keep getting better as it opens and matures. 90
Male: Aromas of black cherry, vanilla and stones. The palate is tight at first with black cherries and tight acids. As it opens the wine reveals a pure beam of fruit through it with delicate chocolate notes on the finish. 90


GOLD
Ampelos 2010 Estate, Certified Organic, Biodynamic & Sustainable In Practice fruit Ampelos Vineyard Syrah
Sta Rita Hills, $35.00

400 cases produced
Female: The nose displays wet earth and is a bit funky at first, then opens to show bacon fat, ripe cherries, smoke, and tobacco. The aromas are delivered onto the palate showing ground cloves and allspice on the finish. 89
Male: The nose is ethereal with lovely fruit and spice that moves towards sarsaparilla. The mouthfeel and structure are classic. There is plenty of fruit, spice, acid, and backbone. The finish is good! 90


GOLD
Andis Wines 2012 Grenache
Amador County, $25.99

499 cases produced
Female: Gorgeous nose of cherry, black cherry, strawberry, clove, and white pepper. Black cherry, strawberry and clove carry through on entry. Big and lush on the palate. Black licorice and white pepper on the finish. Lovely! 90
Male: The layered nose is tangy with smoke, Bing cherries, bacon, strawberry, vanilla, spice, and white pepper. Wow! Nicely structured. Thick and rich on the palate with raspberry, cherry, oak, and vanilla notes. Complex and elegant. Smooth, long finish displaying light tannins. As a Grenache it is light, spicy and silky. Beautiful! 92


GOLD
Andis Wines 2010 Reserve Petite Sirah
Sierra Foothills, $32.99

392 cases produced
Female: Dynamic nose of peppery sweet black fruit with oak notes. The palate is lush and rich yet balanced. The plum and berry flavors are complemented by soft floral notes and black pepper on the finish. 88
Male: Black fruit, caramel and graham cracker aromatics open to cranberry, pomegranate and black fruit back notes accented by brown baking spices and black pepper. 86


SILVER
BATIA Vineyards 2013 Select White
El Dorado, $25.00

56 cases produced
Female: Gorgeous expressive aroma opens to juicy peach, papaya and apricot flavors. Mineral notes join mid-palate. Rich with racy acidity of the finish. 89
Male: Pear and honey aromas and flavors. Vibrant wine, mouthwatering with lively acidity 88


SILVER
Battaglini Estate Winery 2009 Old vines, Estate Proprietor Reserve Twin Pines Vineyard Petite Sirah
Russian River Valley, $40.00

200 cases produced
Female: Blackberry and mint aromas. Blackberry cobbler, vanilla and juicy orange flavors highlighted by savory dried herbs. Dusty but silky finish. Mouthwatering. 88
Male: Medium dark with a diffuse rim. The nose is quite bright with hints of black fruit, wood shavings, citrus, and menthol. Appears to be very young. Pretty and ripe on the palate with well integrated tannins. 87


SILVER
Berryessa Gap 2011 California Series Cobel Ranch Vineyard Petite Sirah
Yolo County, $28.00

225 cases produced
Female: Deep garnet, almost black in color. Sultry nose of dark fruit, rhubarb and baking spices. The palate leads with juicy and lush smoked plum and black cherry with earthy and herbal complements. Subtle woodsy quality weaves throughout. 89
Male: Blueberry pie aromas. Wonderful broad blueberry flavors in the mouth, Light brush of black pepper on the finish. 89


SILVER
Berryessa Gap 2011 Club Series Cobel Ranch Vineyard Durif
Yolo County, $23.00

225 cases produced
Female: Graham crackers, black currant, black cherry, and a hint of black pepper arise from the glass. Lush black fruit on the palate. Nice balance. Firm tannins on the long finish. Beautiful wine! 92
Male: Pretty wine with black cherries, red berries and red cherries with a dusty edge in the glass. Well balanced. Big fruit on the palate that reflects the aromas. Good acidity and tannin. Will evolve nicely over the next several years. 92


DOUBLE GOLD
Black Hills Estate Winery 2012 Syrah
Okanagan Valley, $37.00

1722 cases produced
Female: Blueberry and blackberry aromas with back notes of smoke and leather draw you in. The nose is replicated on the palate with warm vanilla and a touch of black pepper on the finish. 88
Male: Light smoke on the nose with cassis fresh blackberry and blackberry jam upon opening then some oak notes late. A well balanced wine with several layers of flavor unveiling as the wine evolves in the glass: smoke, bacon, cassis, blackberry, tea, licorice, and leather play together in this interesting and appealing wine. 90


GOLD
Blind Dog Midnight Run Cuvee Red Blend
Paso Robles, $15.00

1100 cases produced
Female: Strawberry scented by licorice and anise form the aromatic. A ripe fruit profile of raspberry and blueberry accented by baking spice on the palate. Soft tannins combine with good acidity on the finish. 90
Male: Baked black fruit with warm spice with notes of strawberry and rhubarb on the nose. Cherry pie filling with herbs and baking spice. Black pepper combines with nice minerality on the finish. 89


GOLD
Bouchaine 2013 Rockin' H Ranch Syrah Rose
Sonoma Coast, $23.00

1109 cases produced
Female: Clear pale pink in color. Zesty citrus aromas with back notes of lovely spice. The palate is vibrant and playful offering tangy fruit accented and complemented by brown baking spices. Great taste experience! 90
Male: Tangy and spicy aromas lead to a pure and juicy palate experience with good acids that cleanse and refresh. Long fruity finish. Nice complexity. 90


GOLD
Buzzard Red 2009 Red Blend
Sonoma County, $27.00

220 cases produced
Female: Vanilla and cinnamon with a touch of black pepper and licorice on the nose. Blackberry and lighter red fruit with licorice on the palate are followed by bright acidity and refined tannins. Well balanced and should show nicely with food. 88
Male: Dill and red berry on the nose with elements of old world barnyard elements. Spicy red berry fruit on a light entry. Dill and oak elements on mid palate. Juicy fruit and light chocolate on a lingering finish showing good acidity. 87


SILVER
Carlson Creek 2012 Red Rhone Blend
Cochise County, Arizona, $28.00

500 cases produced
Female: Candied fruit aromatics with black pepper and mineral notes. Vibrant palate offering tart cherry and raspberry fruit with hints of mushrooms and herbs. 90
Male: An almost Beaujolais-like nose replicates on the palate, Slightly spice with a core of cherry and plum. "Yummy!" 90


GOLD
Cedar Creek Winery 2012 Syrah
America, $17.00

400 cases produced
Female: Subtle and elegant aromas of black fruit, brown spice and light cinnamon. Palate is rich and lush showcasing a ripe fruit profile that is nicely balanced against well placed and nicely evolved tannins. Well made. 90
Male: The aromatic combines vanilla scented toasted oak with rich red berry fruit and ripe plum scented with earth and spice. Lush and full on entry with a solid core of black fruit and wild cherry. Nicely melded dried herbs and spice complement the fruit core. A long finish that lingers nicely. 90


GOLD
Chateau Lorane 2013 Quail Run Vineyard Viognier
Rogue Valley, $18.00

100 cases produced
Female: Orange blossom, Granny Smith apple, lime, pear, peach and a hint of petrol on the nose. "I could just be happy swirling and smelling this wine." Slight spritz on the palate. The flavors are lovely...lemon and green apple with lychee and hazelnut accents. Well balanced. 90
Male: The nose displays aromas of Jasmine, stone fruit, mineral notes, and a touch of orange peel. On the palate, tangerine and melon with lemon zest and orange peel on the clean and delicate finish. 88


GOLD
Chateau Lorane 2013 Quail Run Vineyard Roussanne
Rogue Valley, $18.00

250 cases produced
Female: Clear medium gold in color. Sweet broad fruit citrus aromas with mineral notes. Medium bodied palate offering lemon, lime, spiced orange, pear, and a hint of mint. Crisp and lively. 87
Male: Understated aromatics with floral nd citrus notes. The palate is very alive and interesting. 87


SILVER
Chesebro 2010 CM Ranch Roussanne
Carmel Valley, $18.00

149 cases produced
Female: Heady nose of tangy citrus flavors - orange, grapefruit and lime with some coffee back notes. The palate is richly textured and vibrant mirroring the nose. Lovely! 88
Male: Pure aromas of citrus - lemon and lime. Flavors reflect the nose. Soft texture over the mid-palate. Creamy, linear finish. 87


SILVER
Chesebro 2013 Grenache Rose
Arroyo Seco, $16.00

91 cases produced
Female: Super light and clear with a hint of pink. Heady, sweet red fruit and floral aromas lead to a palate of soft sweet strawberry, cherry and Santa Rosa plum with hints of orange rind. Dried herbs complement the fruit profile. Very lovely and restrained on the palate. Beautiful acidity lends itself to a wonderful pairing with grilled trout. 92
Male: Big, bright and fresh aromas of strawberry, stone fruit, sunflowers, and dried herbs. Clean and refreshing on the palate mirroring the nose. Juicy melon joins mid-palate. Vanilla, cocoa and zesty orange peel on the finish. 92


DOUBLE GOLD
Chesebro 2009 CM Ranch Red Blend
Carmel Valley, $21.00

185 cases produced
Female: Vanilla and a touch of molasses combine with nicely defined black fruit on the nose. Black fruit core with allspice and a touch of black pepper lead nicely into a well structured finish with a nice dose of minerality and balancing acidity. 92
Male: Red berry and currant with a peppery spiced nose. Juicy mid palate of black fruit and ripe plum with a layering of blueberry on the finish. Vanilla and spice complement the fruit. Noted minerality on the well tailored finish. 92


DOUBLE GOLD
Cline Cellars 2013 Roussanne
Sonoma County, $20.00

160 cases produced
Female: Clear and golden in color. Honeyed orange and apricot aromas with lychee and spice on aeration. The palate is medium bodied with spiced apple and white peach flavors. Pleasant finish. 86
Male: Powerful nose displaying orange peel, tropical fruit and a honey back note. The palate mirrors the nose. Nice finish. 89


SILVER
Cline Cellars 2013 Estate Marsanne/Roussanne Blend
Sonoma Coast, $15.99

850 cases produced
Female: Classic Rhone blend aromas of peach, apricot and toasted almonds with floral accents. The palate mirrors the nose with a lovely minerality. 90
Male: Hues of golden wheat with honey, tropical fruit and honey aromas showing undertones of very ripe apricot and lemon zest. Smooth entry of stone fruit flavors with a lovely minerality and floral accents. Melon joins in mid-palate with racy acidity and vanilla on the finish. 91


GOLD
Cline Cellars 2012 Ancient Vines Mourvedre
Contra Costa County, $15.99

12300 cases produced
Female: Warm cookie dough on the nose. Lovely juicy blackberry flavors with leather notes on the finish. Yum! 91
Male: Smoky, jammy with leather and oodles of deep berries. Milk chocolate too. Really good! Delish! Pure and loaded with character. 91


GOLD
Cline Cellars 2012 Syrah
Sonoma County, $11.99

6500 cases produced
Female: Smoky black cherry, plum and pronounced black pepper aromas. The medium bodied palate leads with dark fruit then joined by charred oak and black tea. Dark, sultry and sensuous with tons of texture. 90
Male: Complex nose - meaty, red plums, black cherry, kircsh, dried oregano, and nice spices. Red plum and black cherry entry. Viscous. Dried herb and bacon on the mid-palate. Oak, acid and spice on the deep finish. 88


GOLD
Cline Cellars 2012 Cashmere Grenache, Syrah, Mourvedre and Petite Sirah Blend
California, $15.99

47300 cases produced
Female: Violets and butterscotch combine with secondary notes of black currant and rhubarb on the nose. Ripe well developed dark fruit highlighted by blackberry touched by praline. Lighter tannins are sufficient to hold the delicious palate in place and good acidity carries through to the lingering finish. 89
Male: Wild berry and bacon combine with blackberry and vanilla to form an alluring aromatic. Blackberry and ripe plum form the fruit core for this wine on a palate that is beautifully layered and well structured. All balanced by lively minerality before the long and satisfying finish. Nice! 89


SILVER
Cline Cellars 2013 Viognier
North Coast, $11.99

19000 cases produced
Female: Classic Viognier. Honeysuckle, apricot, peach, honey, and Mercedes tailpipe aromas. Lovely ripe pear, crisp apple, honey, and pineapple on entry finishing with citrus notes on the back palate. Nice acid! Lovely! 91
Male: Very pretty nose...peaches, melon, orange, and cream. "Really delicious, soft and floral with papaya, orange peel and tropical fruit nectar. Linear with a firm structure and nice balance. 90


GOLD
Cloak & Dagger 2011 The Conspirators Reserve Dove Pond Vineyard Syrah
Paso Robles, $59.00

115 cases produced
Female: Black cherry, cola, strawberry, and blood orange on the nose. Lusciously juicy. "I like this!" enthused a female judge. Mouthwatering, bold and jammy with lovely orange zest and herbal and licorice undertones. 92
Male: Minty and beefy aromas open to an intensely juicy palate displaying blackberries and some light spice. "I really like this one," commented one of the judges. Balanced and easy. Nice note of cocoa on the finish. 92


DOUBLE GOLD
Cottonwood Winery of Oregon 2008 Raya Jade Syrah
Yakima Valley, $19.00

444 cases produced
Female: Bright fruit aromas with tangerine and licorice accents. The palate is full of voluptuous fruit deftly surrounded with smoky notes and firm tannins. Fresh leather and dried flowers reveal themselves as the wine opens. 90
Male: Aromas of berry and sage arise from the glass. Take a sip and get a big mouthful of lush fruit. Well balanced and well integrated. This wine has a lovely chocolaty finish. "Good stuff!" 91


GOLD
Darcie Kent Vineyards 2010 Madden Ranch Petite Sirah
Livermore Valley, $24.00

1000 cases produced
Female: Inky blue black in the glass. Fresh blackberries (so fresh they are still on the vine), black plums and a touch of blueberry on the nose. Blueberry jam on the palate with a lovely herbal accent. Great acidity. Nice wine! 92
Male: Quite dark in the glass with a crimson rim. Penetrating nose packed with raspberry, raspberry jam, black pepper, and herbs. Smooth, almost velvety mouth feel. Dense and chewy. Black fruit and plums at the core with well integrated tannins. Massive structure but so well balanced. Good fruit on the long finish. 92


DOUBLE GOLD
Darcie Kent Vineyards 2010 Madden Ranch Syrah
Livermore Valley, $24.00

420 cases produced
Female: Sweet and tart fruit with floral notes on the nose. Medium-bodied and vibrant on the palate with tart plum, red berry and hints of tea. 88
Male: Black fruit and spice aromas and flavors. Richly layered on the palate. Bright, tart long finish. "Nice!" 90


GOLD
Darioush 2011 Syrah
Napa Valley, $74.00

1350 cases produced
Female: Smoky dark fruit aromas with a touch of rhubarb and black cherry on aeration. Full bodied with a hint of spice and pepper. Soft, lingering finish. 90
Male: Black cherry jam with floral aromas replicate on entry. Plum oak and cinnamon accent the rich fruit. Big structure and nicely complex wine. 90


GOLD
Davis Family Vineyards 2012 Cuvee Luke Saralee's Vineyard Roussanne, Marsanne and Viognier Blend
Russian River Valley, $30.00

438 cases produced
Female: Peaches, melon, baked apple, and fresh Gala apple aromas replicate on the palate. The flavors are bright and ripe with lemon, honey and vanilla joining mid-palate through the lingering finish.Very well balanced. "Lovely!" 91
Male: Lemon, flowers, melon, and mineral notes on the nose and in the mouth. Soft and juicy with mouthwatering acidity. "Very nice!" 90


GOLD
Davis Family Vineyards 2013 Cuvee Luke Saralee's Vineyard Roussanne, Marsanne and Viognier Blend
Russian River Valley, $30.00

440 cases produced
Female: Rich aromas of orange and a hint of honey on the nose. Soft, lush entry to the palate extends to sweet apricot and stone fruit flavors. Nice minerality through the finish. 88
Male: Aromas of fig and almond butter. Soft, delicate and luscious melon, fig and honey over mid-palate with an easy lingering finish. 89


SILVER
Davis Family Vineyards 2013 Cote Rose
Russian River Valley, $25.00

240 cases produced
Female: Intense strawberry jam, orange peel, cherry, and currant with hints of citrus. Refined bouquet. Soft entry of refreshing cherry and lemon zest. The palate is balanced and mouthwatering. This wine would be outstanding with oysters! 92
Male: Strawberry, cherry, watermelon, and light clove aromas are repeated on the palate. Creamy texture over mid-palate with a touch of minerality. Cherry, raspberry and vanilla all the way through the long finish. 90


GOLD
Davis Family Vineyards 2012 Throne Grenache, Syrah and Mourvedre Blend
Russian River Valley, $38.00

420 cases produced
Female: Brambly blackberry with hints of toasted oak and dark jammy fruit touched by vanilla on the nose. A very attractive palate of dark fruit and ripe raspberry and cola notes. A zesty finish of spice, tannins, and acidity. 92
Male: Black cherry, spice and roasted beef combine with dried herbs on the nose. The well balanced palate has a smooth entry to the black cherry and ripe plum core that is nicely accented by good balance and a firm minerality. 92


DOUBLE GOLD
Davis Family Vineyards 2012 Soul Patch Syrah
Russian River Valley, $42.00

450 cases produced
Female: Inky in the glass. The nose is tight at first but opens to cherry cola, cough syrup and chocolate covered cherries. Lovely in the mouth showing dark berry and plum flavors. Dusty on the finish with some lovely acid. 88
Male: Rich, meaty nose with lush fruits, bacon and even a touch of citrus. The palate is quite enjoyable. Very pure and juicy. Great mouthfeel. Mouthwatering. 91


GOLD
Ecluse Wines 2012 Sereno Vista Vineyard Petite Sirah
Paso Robles, $36.00

125 cases produced
Female: Boysenberry jam and dark chocolate aromas open to sweet blackberry pie, black figs, and dried blueberry flavors. Elegant wine. Nice acidity and zippy rich chocolate on the finish. Yummy! 92
Male: Very aromatic and spicy. "Love the nose of black raspberries and sweet spice." The palate reflects the nose with added layers of smoke, roasted meats and a lovely minerality. 90


GOLD
Ecluse Wines 2012 Improv Red Blend
Paso Robles, $38.00

375 cases produced
Female: Cola and blackberry combine with black cherry and tobacco to form an interesting aromatic. Palate is nicely balanced between deftly placed layers of black fruit and subtle spice and cinnamon. Finishes with flair and plenty to enjoy. 92
Male: Subtle nose of red berry and dusty ripe plum combine with baked black cherry and spice. Strawberry and light chocolate with firm tannins create a lively palate. 92


DOUBLE GOLD
Ecluse Wines 2012 Rendition Red Blend
Paso Robles, $38.00

250 cases produced
Female: Kirsch like raspberry with balanced aromas of dark berries and vanilla scented toast on the nose. There is a unique smokiness to the layers of black fruit and spice on the palate. Long lingering finish with cola notes complete this nicely crafted wine. 91
Male: Candied cherry with elements of dill and fresh clover with a touch of earth on the nose. Palate is formed by wild blackberry and young cherry with huckleberry. There are modest tannins helping form a classic structure with nicely placed minerality and a lingering spice content to the attractive finish. Should develop very nicely in bottle. 90


GOLD
En Garde 2012 Ghielmetti Vineyard Petite Sirah
Livermore Valley, $38.00

90 cases produced
Female: Rich blue and black fruit aromas leap out of the glass complemented by hints of cassis and black pepper. The palate is full bodied and dense with lush fruit, lots of dried herbs and black pepper. Nice acidity and firm tannins. 90
Male: Vibrant nose of blackberry, blueberry, black pepper, and leather continues onto the palate and through the velvety finish. Good intensity. The core of tart blueberry is deftly wrapped with oak accents. Well balanced. 90


GOLD
Field Stone Winery 2012 Staten Family Reserve Viognier
Alexander Valley, $25.00

314 cases produced
Female: Pale golden straw in color. Classic Viognier aromas of peach, pear, orange blossoms and honeysuckle notes. Soft and delicate on the palate with melon, peach and lemon zest flavors with a hint of nuttiness. Lovely peach blossoms and pear accented with acidity on the lovely finish. 91
Male: Tight citrusy nose with floral aromatics joining in. Peach and pear flavors on entry. Racy on the palate with a light almond note. Lingering acidity on the finish. Nice and well made. 89


GOLD
Field Stone Winery 2013 Heritage Block Rose of Petite Sirah
Alexander Valley, $20.00

239 cases produced
Female: Darker in color than a typical rose. Intriguing nose of sweet red berry, cherry, dusty floral aromas, a hint of cinnamon, and dried herbs too. Rich and lush fruit forward palate with lovely spice accents. 90
Male: New World in style - bold, rich and approachable. Bright strawberry, hay, dried herbs, and subtle clove on the nose. Nice red berry and spice on entry. Viscous with lovely acid mid-palate through the long and deep finish. 90


GOLD
Field Stone Winery 2012 Marion's Block Syrah
Alexander Valley, $27.00

392 cases produced
Female: Sweet black currant, black raspberry with charred wood notes on the nose. The palate is viscous, well tuned and nicely textured. Blackberry flavors with spice and black pepper complements. Dusty tannins on the long finish. 89
Male: Very pretty fruit and spice aromatic. Nicely melded on the palate. Dark fruit at the core with oak used as seasoning not a hammer. 90


GOLD
Gold Hill Vineyard 2011 Mourvedre
El Dorado, $24.00

112 cases produced
Female: Mushroom, cola, dark berries, and sandalwood with herbal overtones in the nose and on the palate. Surprisingly soft finish. Well balanced. 87
Male: White pepper, cherry and meat aromas are delivered onto the palate and then open to reveal more layers...orange peel, black pepper and coriander. An elegant wine. While not incredibly young, it will get better with more time. Loads of potential here. 90


GOLD
Gold Hill Vineyard 2012 Viognier
El Dorado, $24.00

309 cases produced
Female: Floral perfume in the glass. Ripe stone fruit and citrus flavors through the slightly chalky finish. 87
Male: Vanilla, peach, nectarine, lemon zest, lanolin, and pear on the nose. Oak and peach entry. Nectarine, citrus notes, and acidity mid-palate. Lemon, pear and stone fruit finish. Oak, acid and fruit balance nicely on a juicy edgy finish. 88


SILVER
Gold Hill Vineyard 2010 Syrah
El Dorado, $22.00

341 cases produced
Female: A brambly old world style fruit profile of wild blackberry and ripe cherry are accented by licorice and toasted oak. Ripe black fruit with clove and allspice form the core palate with just enough acidity to finish. 88
Male: A concentrated aromatic profile of cherry pie accented by spice and black pepper. The oak and toast profile is prominent but there is sufficient fruit to make it all work. Softer tannins with good acidity provide a nice balancing act on the finish. 87


SILVER
Grande River Vineyards 2012 Viognier
Grand Valley, Colorado, $17.99

300 cases produced
Female: Light floral aromas opening to lime and lime zest. Mandarin orange joins in late of the palate and stays through the warm finish. 86
Male: Very pale golden hue. The nose is a bit odd but very pleasant...very ripe melon and citrus with a hint of pineapple. The palate is lush with orange blossom notes. Nice rich finish. 87


SILVER
Grey 2012 Garnacha, Carinena and Mataro Blend
Colchagua Valley, $23.99

1000 cases produced
Female: Clear garnet/ruby in color with an appealing nose of strawberry, sweet black cherry, caramel notes, cinnamon, and cloves. Dusty strawberry on entry broadening a lovely layered red and black fruit mélange with nice baking spice accents. 90
Male: Strawberry, cherry, boysenberry, cocoa, and dried herb aromas. Strawberry explodes on the palate on entry. Peppery spice and cocoa join on the mid-palate. Racy acidity on the finish. 88


GOLD
Guglielmo 2010 Private Reserve Syrah
Santa Lucia Highlands, $25.00

341 cases produced
Female: Sweet extracted dark berry aromas with a hint of cinnamon, dried herbs, and black pepper. Pronounced oak notes but sweet fruit to balance that carries through to the finish. 88
Male: Lush, well defined and balanced. Dark flavors of black tea and jammy fruit. Excellent mid-palate with a lively long finish. 88


SILVER
Guglielmo 2010 Private Reserve Estate Petite Sirah
Santa Clara Valley, $25.00

353 cases produced
Female: Alluring nose of luscious black cherry and blackberry aromas with an exotic spiciness. The palate is full and vibrant. This is wine is very alive! The combination of exotic spices and good acidity complement the lovely fruit flavors. 89
Male: Violets, blackberries and sweet oak aromas repeat on the plate. Smoky bacon and roasted game join in early with mineral and peppery herb mid-palate. Smooth late on the palate and tannin on the finish. 89


SILVER
Handley Cellars 2011 Kazmet Vineyard Syrah
Redwood Valley, $25.00

404 cases produced
Female: The nose is lovely showing berries and cherry fruit. Nice entry of the red fruit at the core with vanilla, blueberry and dark chocolate accents. Tart finish. "Hmmm...I want a grilled duck breast with this." 88
Male: The smoky nose accents the dark cherry and blackberry aromas. Some white and black pepper notes emerge as the wine is aerated. The entry mirrors the aromas with dark plum notes joining in mid-palate. "Very young but has great potential." 90


GOLD
Imagine 2007 Paradise Road Vineyard Syrah
Santa Barbara County, $80.00

246 cases produced
Female: Bold and delicious black cherry fruit. Velvety and smoky. "Robust and memorable...called to me over and over again, like a man I want to meet." 92
Male: Richly detailed nose of ripe black fruit accented by coffee and earth. The palate is nicely layered and complex with ripe cherry and cooked blueberry pie filling with a touch of chocolate and allspice. A powerful finish to this wine that is precise in balance and structure. 92


DOUBLE GOLD
Klinker Brick 2013 Rose Blend
Lodi- Mokelumne River, $15.00

1000 cases produced
Female: Floral and earthy aromas. Tart entry. Then light strawberry and cherry flavors. Creamy texture. A touch of bitterness on the finish. 87
Male: Pale rose color. Nose of dried peach, watermelon, cherries and honeysuckle. Nice tropical fruit on the fore palate. Strawberry and cherry flavors throughout. Fresh and clean fruit finish. 89


SILVER
Klinker Brick 2012 Petite Sirah
Lodi- Mokelumne River, $25.00

600 cases produced
Female: Dark and opaque ruby in color. Intense blueberry and blackberry aromas ("Smells just like sticking your nose in a blackberry bush...brings back memories!")with vanilla, toffee and black pepper upon aeration. The entry leads with rich sweet berry flavors enhanced by black tea, black pepper and coffee notes. Beautifully balanced. Lovely combination of fruit and spice on the finish. 93
Male: Rich and bold in color with aromas of orange peel, black tea, blackberry, and cedar. Smooth entry of red berry and currant with chocolate, oak and herb notes mid-palate. The finish is tight and tannic with big fruit and subtle forest herbs. This is just a baby. 92


DOUBLE GOLD
La Fleur Solitaire, Boutinot Rhone Fide et Arte 2013 White Blend
Cotes du Rhone Blanc, $14.99

3000 cases produced
Female: Bright fresh lemon and floral notes in the glass. Bosc pear and Comice pear accented by tart lemon in the mouth. Very well balanced. Lovely! 91
Male: Ripe citrus and floral aromas. Apricot flavors on opening supported with lovely acidity showing peach, grapefruit, brown baking spice, and cardamom on the lingering finish. "Tasty!" 90


GOLD
Les Cerisiers, Boutinot Rhone Fide et Arte 2013 Rose Blend
Cotes du Rhone Rose, $14.99

2208 cases produced
Female: Soft dusty floral aromas surround tart berry, black cherry and plum fruit on the nose. Lively palate with soft red fruit complemented by floral and spice notes. Tea and spice on the delightful finish. 91
Male: This rose is bigger and bolder than it appears, and that's a good thing! Aromas of lavender and orange peel. Entry of tart strawberry broadens to a lush and rich mid-palate highlighted by lemon zest. Tangy and delightful finish. 88


GOLD
Les Coteaux Schisteux, Seguret, Fide et Arte 2011 Grenache
Cotes du Rhone Villages Seguret, $24.99

3750 cases produced
Female: Big and bold color. Rich cooked fruit aromas. Savory fruit with luscious spice. Beautiful layers of dark cherry and anise. Lovely acid on the long finish. 90
Male: Profound nose of cassis, liqueur, berries, cherries, meat, cola, and licorice. Interesting European-style flavors of this wine with minerals and meat enhancing the fruit and yet it is very fruit forward. Mouth filling! Alive, dense and chewy. 90


GOLD
Les Coteaux, Boutinot Rhone Fide et Arte 2011 Red Blend
Cotes du Rhone Villages, $18.99

14184 cases produced
Female: Earthy nose then raspberry, black cherry and rhubarb notes with a touch of black licorice. The aromas replicate on entry. The tannins are refined. Balanced. Dark berry underlying the spice and fruit. Intensely built...meaty! 90
Male: Elusive nose then a touch of leather, plum and smoked meats. Light blackberry flavors. Tight palate. 86


GOLD
Les Six, Boutinot Rhone Fide et Arte 2011 Red Blend
Cotes du Rhone Villages Cairanne, $24.99

2000 cases produced
Female: Rich fruit forward bouquet...strawberry jam, toast, chocolate covered black cherries, and white pepper with hints of vanilla and coffee. The nose carries through onto the lovely palate. Nice acidity and refined tannins. 91
Male: Aromas of wild strawberries, violets, plums, blackberries, white spices, and a smoky note. Full bodied entry of plum and berries with vanilla on the mid-palate. Concentrated flavors fruit are enhanced by licorice back notes. Big flavorful finish. 91


GOLD
Longevity 2013 Grenache Rose
Livermore Valley, $24.00

50 cases produced
Female: Round and rich nose. Decent acidity and finish. 83
Male: Spiced orange, cinnamon the nose. Orange peel, honeysuckle and lychee nut on the palate and finish. Unusual and interesting rosé. 86


SILVER
Lucas & Lewellen 2013 Estate Vineyards Late Harvest Viognier
Santa Barbara County, $24.00

316 cases produced
Female: Clear pale straw in color. Sweet white peach and floral aromas lead to a richly textured palate with balanced sweetness, structure and acid. Lovely finish, not at all cloying. Enjoy this with a lemon or pear tart. 90
Male: Ripe peach, nectarine and mandarin orange aromas and flavors. Hits all the right late harvest viognier notes and keeps solid acidity through the the long finish. 89


GOLD
Lucas & Lewellen 2011 Estate Vineyards Syrah
Santa Barbara County, $26.00

411 cases produced
Female: Violets and fresh picked cherries grace the nose. Boysenberry and black raspberry form a fruit core that shows nice traces of barrel aging. Well developed tannins and good acidity tie together on the finish. 90
Male: Ripe red berry, mint, and black pepper showcase the aromatic profile. A smooth, soft palate is layered with black currant and Bing cherry with chocolate accented by vanilla and toasted flavors. Tannins are refined and grace the finish very nicely. 87


GOLD
Lucas & Lewellen 2013 Estate Vineyards Viognier
Santa Barbara County, $22.00

521 cases produced
Female: Pale golden in color, a field of gardenias arise from the glass followed by apricots, nectarines, honeysuckle, and lemon notes. Light and fresh on the entry with juicy pear and tropical fruit flavors. Nutty notes of tropical trail mix on the lovely finish. 92
Male: Apples, orange blossom, papaya, orange zest, peach, cream, and honey...and that's just the nose. The palate is layers on minerals, almonds, pear, and fig. "Enjoy this as a sipper on a hot day or with grilled shrimp, or grilled chicken but do try it!" 93


DOUBLE GOLD
Lucas & Lewellen 2011 Estate Vineyards Petite Sirah
Santa Barbara County, $30.00

379 cases produced
Female: Blue fruit with hints of smoke, cinnamon, and a touch of green pepper in the glass. Sweet and pretty black fruit on the palate with back notes of praline and molasses. Finishes with black pepper and blackberry. Nicely balanced. 88
Male: Rich and elegant aromas...vanilla, lavender and cream notes. Solid fruit and judicious use of oak. Balanced and well integrated. Lively acidic finish. 89


SILVER
Onesta 2013 Bokisch Ranch Viognier
Lodi, CA, $22.00

270 cases produced
Female: Orange peel, lemon zest and tangerine on the nose. Bright acidity on the long zesty finish. Great mouthfeel! 91
Male: Very thick peach and spice character. Great mouthfeel, Broad and fruity on the palate with clean acids on the finish. 89


GOLD
Onesta 2013 Bechthold Vineyard Cinsault Rose
Lodi, CA, $22.00

330 cases produced
Female: Sweet and savory cherry, berry aromas with lovely floral accents. The palate is mouth filling with refreshing and soft fruit flavors complemented by dried herbs and citrus notes, Layered and lovely! 92
Male: Red raspberry, strawberry, red cherry, rose petals, and restrained baking spices on the bright and clean nose. Smooth entry of dusty red berry. Nice finish with good acidity to complement the red berries that hang in. 90


GOLD
Onesta 2011 Bechthold Vineyard Cinsault
Lodi, CA, $29.00

400 cases produced
Female: Meaty with dark dried fruit and hints of cocoa dust aromas are repeated on the palate. Lingering finish with very nice acidity. "Absolutely lovely wine!" stated one of our judges. 92
Male: Soft garnet with a blue rim. Inky (literally). The nose is dusty with earth and berries and quite nice. Allspice and black pepper join in. Full, warm mouth feel with velvety depths of fruit and herbs. Medium structure. Well evolved. Long finish. 92


DOUBLE GOLD
Overland 2011 Kick Ranch Petite Sirah
Sonoma County, $45.00

125 cases produced
Female: Floral notes open to cocoa, black fruit, plum, and hint of mint upon aeration and repeat on the palate. Dense coffee and dark chocolate join in. Layered with a lovely mouthfeel. Great acidity on the long finish. 90
Male: Blackberries with earthy undertones in the glass. A mouthful of berries of berries and white pepper. Very rich and deep with good texture. Would be great with roasted pork! 91


GOLD
Overland 2011 Argonaut Kick Ranch Rhone Blend
Sonoma County, $35.00

318 cases produced
Female: Candied blueberry and fresh cherry accented by cinnamon and light clove in the nose. Nicely restrained palate with plenty of fruit and spice makes this an easy to enjoy and excellent food wine. 89
Male: Cherry fruit complemented by cherry cola notes highlight the aromatic with a pleasing freshness. A solid fruit core of well developed and nicely layered black fruit highlighted by black cherry and lesser tones of black raspberry. That palate is generous and full and the finish long and satisfying but all within a nice structure and good acidity that connects the wine nicely. 90


GOLD
Page Mill Winery 2013 Angela's Cuvee Grenache Rose
California, $18.00

180 cases produced
Female: Herbal aromas. Light raspberry flavors throughout. Finishes with lovely acidity. 87
Male: Pale orange/pink hue. The nosed is quite closed. Light red berries on entry with talc and honeysuckle mid moving to sweet lychee nut and papaya on the finish. 87


SILVER
Pedroncelli 2012 Family Vineyards Petite Sirah
Dry Creek Valley, $17.00

1000 cases produced
Female: Enticing aromas of mixed peppercorns and black fruits with hints of leather. The black plum and blackberry jam flavors are framed by firm tannins. Purity and balance top off the pretty package. 91
Male: Earthy notes, orange zest and black fruit on the nose with blackberry up front. Chewy but nicely balanced. Brown spices on the finish. 88


GOLD
Pendleton Estate Winery 2012 Estate Pendleton Estate Vineyard Mourvedre
Alexander Valley, $32.00

95 cases produced
Female: Aromas of blueberry jam cooking on the stove. Lush blueberry flavors with a backwash of sour cherry. Lovely! 89
Male: Mixed berry, tea and cedar on the nose. Cinnamon, cloves and blackberry on the palate finishing with firm tannins. Nice! 90


GOLD
Pendleton Estate Winery 2012 Estate Leslie\'s Block Petite Sirah
Alexander valley, $39.00

100 cases produced
Female: Dark and deep ruby in color. Tobacco. blackberry, and brambles in the glass accented by spice. Ripe and fresh blackberry and black cherry flavors with black pepper back notes. Tannin and acidity deftly balanced with the fruit. Would be excellent with stewed meats. 93
Male: Blackberries, wild berries, black and red plums and cream aromas. Then sweet spice, grape candy, pineapple, and dried herbs. Yowsa! Opens to spice peppery red berry and plum fruit, blackberries, oak, and herbs join mid-palate. Peppery and juicy with great acidity and thick tannins on a young and tight finish. Big wine! 92


DOUBLE GOLD
R2 Wine Co. Camp 4, Grenache 2012 Camp 4 Vineyard Grenache
Santa Ynez, $34.00

75 cases produced
Female: The nose is lovely...candied cherry pie filling with a hint of spearmint. The cherry notes carry onto the palate and continue to a long and vibrant finish. Hints of licorice mid-palate. "Love the juicy note!" 91
Male: Berries, black cherries and mint in the nose. Bright and fruity palate with nice spice and solid acidity that lingers on the long finish. Well balanced. 91


GOLD
R2 Wine Co. Camp 4, Grenache Blanc 2012 Camp 4 Vineyard Grenache Blanc
Santa Ynez, $24.00

150 cases produced
Female: Floral aromas then citrus and chalk. Creamy tropical fruit accented by vanilla and tart citrus notes. Nice finish. 89
Male: Delicate nose - light and lemony. Very juicy and ripe on the palate with fresh, ripe lemons that linger through the lovely finish. Nice acidity. Lovely! 91


GOLD
R2 Wine Co. Camp 4, Vin Blancs 2011 Camp 4 Vineyard Vins Blanc
Santa Ynez, $24.00

400 cases produced
Female: A lovely Rhone blend of Marsanne, Roussanne and Grenache Blanc with aromas of spiced nectarine and yellow peach. The palate mirrors the nose with lush fruit and lovely acid on the finish. 88
Male: Warm spice entwined with pear and white peach aromas that continue onto the palate. Light, fruity and playful. 88


SILVER
R2 Wine Company 2012 Rhapsody En Blu Camp 4 Vineyard Red Blend
Santa Ynez, $24.00

450 cases produced
Female: Lovely black and red fresh fruit and jam nose. Lush in the mouth on entry through mid. Espresso on the finish. Grilled steak with black peppercorns - YUM! 87
Male: Smoky aromas of berries and red cherries with a hint of cola. The palate begins with soft red fruit flavors leading to a mid-palate with pronounced minerality. Lots of spice on the finish. 86


SILVER
Rubystone 2011 Red Blend
Arroyo Seco, $15.99

500 cases produced
Female: Smoky aromas of berries and red cherry with hints of cola. The palate begins with soft red fruit flavors leading to a mid-palate with pronounced minerality and pepper. The finish is slightly chalky and a bit short. 86
Male: White pepper, red strawberry, candied red plum, and mineral notes on the nose. Spice, pepper and berry entry with plum, chocolate and herb layering in mid-palate. Dry finish. 85


SILVER
Scheid Vineyards 2012 Estate Triple Layer White Blend
Monterey, $26.00

190 cases produced
Female: Petrol and tropical fruit aromas open to a rich, luscious and layered palate carrying forward the tropical fruit and layering on citrus notes and orange zest through the long and cleansing finish. 90
Male: Very floral nose. Juicy on entry but the finish is dry and cleansing showing nice orange peel accents. Great cocktail wine! 91


GOLD
Scheid Vineyards 2011 Estate Triple Layer Red Blend
Monterey, $28.00

300 cases produced
Female: Cherry, strawberry jam, sour cherry, and rhubarb aromas leap from the glass. A refined blend with soft dusty fruit on the palate complemented by dried herbs and a hint of smoked meat. Balanced. Finishes with smoky cherry and bacon notes. 90
Male: Intriguing nose of light candied cherry, strawberry, rhubarb, eucalyptus, and cinnamon. The palate is perfectly balanced showing sweet red fruit on entry with strawberry jam, peppermint, candied red cherry, herb, and vanilla on the mid-palate. The finish is smooth and silky with fine tannins and good acid. 92


GOLD
Six Sigma Ranch and Winery 2011 Reserve Marianne's Syrah
Lake County, $45.00

70 cases produced
Female: Riper black fruit and baking spice define the nose with a herbal quality that integrates nicely with a secondary notes showing licorice. Boysenberry and ripe black berry with cassis and black tea on palate. Richly layered and ready to drink now. 90
Male: Aromatics of cassis and wild blackberry with lighter cherry notes scented with dried herbs and a hint of baked cinnamon rolls. Ripe fruit profile of plum and berry along with dried herbs and lighter spice notes. Tannins are prominent on the finish. 87


GOLD
Sol Rouge Vineyards & Winery 2012 Estate Viognier
Lake County, $32.00

100 cases produced
Female: Tropical and mineral notes on the nose, then a touch of earth. This delicate wine shows dried peach flavors with toasted almonds on the finish. Nicely balanced. 90
Male: The nose is a bit reserved. Delicate orange peel and soft citrus flavors. Clean finish. 89


GOLD
Sol Rouge Vineyards & Winery 2011 Estate Gypsy Rouge Red Blend
Lake County, $28.00

350 cases produced
Female: Red berry fruit and raspberries accented by pleasing earth and spice notes in the nose. Cherry fruit core with spiced cranberry define the palate. Well balanced and enjoyable! 91
Male: Licorice and blackberry define the aromatic and lead to a nicely tailored and sleek palate of fresh plum and wild cherry. Lots of structure to this wine keeps it all in perspective and makes this a nice choice for quaffing and with food. 91


GOLD
Sol Rouge Vineyards & Winery 2011 Estate Sol Rouge Estate Syrah
Lake County, $32.00

250 cases produced
Female: Nicely layered on the nose and palate. Plum, earth, smoke, and chocolate are consistent from the nose on. Well structured. Great finish. "Yummy!" 89
Male: Nicely elevated black raspberry, forest floor and wood notes on the nose. The lovely fruit core is deftly wrapped with oak showing lovely spice notes. Long and lush finish. 90


GOLD
Sol Rouge Vineyards & Winery 2011 Estate Sol Rouge Estate Petite Sirah
Lake County, $32.00

75 cases produced
Female: Spice and earth notes with blueberry pie, fig, prune, licorice, and boysenberry in the glass. The palate is playful with lovely fruit and a strong backbone. Tart at first, the wine opens to reveal pretty wild berry flavors. This will age well. 92
Male: A real crowd pleaser. This wine has a lovely aroma of licorice, cola, cherry, vanilla, and peppery spice. Smooth red and blue fruit flavors enhanced by vanilla mid-palate. Fruit, herb, and oak come through on a silky finish with just the right touch of acidity. Well balanced. 92


DOUBLE GOLD
The Winery SF 2010 Red Blend
North Coast, $15.99

1000 cases produced

Male: This is a rich, viscous wine. Dark in appearance with smoke, eucalyptus and dark fruit aromas. Big in alcohol but balanced at the same time. Lush fruit throughout with a long dry finish. 88


DOUBLE GOLD
Three 2013 White Blend
Columbia Valley, $24.99

450 cases produced
Female: Rich mineral based nose with stonefruit and honey as the wine is aerated. Creamy on the palate. "Love the fresh floral and white peach flavors." There is a hint of white pepper on the finish. 90
Male: Pretty hue. The nose shows honeysuckle, dried herbs, pear, and nuts. Nice tangerine flavors enhance the palate. Honey, lemon and spice on the finish. 87


GOLD
Travieso 2011 El Chupacabras Red Blend
Santa Barbara County, $24.00

150 cases produced
Female: Smoky red cherry and currant aromas with tar and black pepper back notes. The palate is medium bodied and reveals a vibrant re-creation of the nose. Pronounced minerality and pepper on the warm finish. 85
Male: Aromas of anise, rhubarb and licorice, Sour cherry entry. The mid-palate explodes with sweet candied cherry, menthol, cloves, and anise. Nice acidity, herb, oak, and wild berry on the finish. 87


SILVER
Travieso 2012 La Llorona White Blend
Sonoma County, $28.00

110 cases produced
Female: Honeyed aroma. Guava and peach on opening. Hints of roasted hazelnuts unfold on the palate. 87
Male: Golden hue. Tight nose barely revealing citrus and yeasty aromas. Fore palate of lime and nectarine, nice minerality and acid joining in mid through the finish. 87


SILVER
Travieso 2012 El Tonto del Pueblo Camp 4 Vineyard, Fess Parker Ranch Grenache
Santa Ynez, $33.00

110 cases produced
Female: A nicely restrained aromatic of dark fruit, ripe cherry and forest floor with distinct aromas of old world earth. Black cherry and cola with a touch of black licorice on the palate. A long enjoyable finish shaped nicely by bright acidity. 89
Male: Aromas of raspberry and freshly baked rhubarb pie. Palate fruit core is defined by fresh plum and black currant with dried herbs and light spice on the finish. Well balanced with lively acidity. 88


SILVER
Vasco Urbano Wine Company 2012 Heine Casa De Vinas Long Row Petite Sirah
Livermore Valley, $48.00

100 cases produced
Female: Elevated aromatics of dark cherry fruit, vanilla and chocolate. The palate mirrors the nose with the addition of sweet cherry and lots of black black pepper on the finish. 89
Male: Lovely aromas of dark fruit, spice, hazelnut, and chocolate. Big mouthfeel. Excellent balanced fruit and spice. 92


GOLD
Vasco Urbano Wine Company 2013 Speck Ghielmetti Vineyard Grenache Rose
Livermore Valley, $24.00

141 cases produced
Female: Aromas of apricot, melon and slight floral back notes. On the palate, lime and lychee complement the juicy berry flavors. Great acidity balances this full-bodied wine. Yum! The finish lingers and begs for food. Would be excellent with a myriad of dishes. 91
Male: Cherry and dried herbs with ripe wild berry and chocolate on the nose. Cherries on the palate both ripe and tart on entry. Chocolate, herbs and fruit marry on the mid-palate and move to a light and airy finish with undertones of red berry and dried herbs. 90


GOLD
Vasco Urbano Wine Company 2012 Norm Marina Ranch Grenache
Livermore Valley, $42.00

100 cases produced
Female: Enticing aroma. Rich and juicy fruit...blackberries and raspberries with vanilla accents. Broad on the palate with a long lasting finish. 91
Male: Nicely elevated aromatics of spice and cherry jam with lighter notes of blueberry. Fruit core of ripe plum and toasty raspberry accented by cooking spice and vanilla toast with light herbs that add a nice character. Palate is generous and lush but plenty of acidity to carry this to a nicely structured finish. 88


GOLD
Vasco Urbano Wine Company 2012 The Sheriff GSM Blend
Livermore Valley, $36.00

560 cases produced
Female: Smoky black cherry with cedar chest and sweet herbs on the nose. Lovely smoky cherry and rhubarb flavors followed by earthy and herbal notes escalating into a lovely structured and layered finish. 90
Male: Blackberry, cherry, cola, oak and spice on the nose. Blackberry with oak and herb notes on the palate. Elegant and balanced finish. 87


GOLD
VIE Winery 2011 Mourvedre
North Coast, $39.00

110 cases produced
Female: Beautiful nose of smoky sour cherry, dried blueberry, anise, and lavender notes. Great flavor on opening - sour cherry enhanced with an herbal, earthy, and stewed meat. This wine with its brooding style is the essence of the savory side of Mourvedre. 92
Male: Compelling nose, rather Claret-like showing leather and blackberry aromas. The palate is firm at first but opens to show roasted meats, wild berry and ripe plum. Nice texture. Black fruit jam with chocolate notes on the finish. 90


GOLD
VIE Winery 2011 White Hawk Vineyard Syrah
Santa Barbara County, $45.00

175 cases produced
Female: Rich and lush sweet black cherry aromas with hints of toasty oak. Ripe and concentrated dark fruit flavors with cedar and spice accents. Nicely textured. 89
Male: Black and white pepper, leather and deli meats aromas. Complex with a somewhat sweet and oaky mid-palate and a long finish. This wine will age well. Would be lovely with smoked or roasted meats. 90


GOLD
VIE Winery 2011 Las Madres Vineyard Syrah
Sonoma County, $39.00

175 cases produced
Female: Brown baking spice, leather, plum, and black currant aromas with black pepper coming in late. Rich blackberry flavors almost syrup - Zin-like. Dark cherry mid-palate with firm tannins, white pepper, and tobacco on the finish. 91
Male: An intriguing nose with that teasing descending scale in graham crackers and French Onion Soup. Pleasant structure with lush fruit up front. Wide palate and a good finish. Jammy fruit flavors with some unresolved tannins 89


GOLD