We're celebrating 13 Years of Great Wines, Food, Fun, and Philanthropy this year at the Atlantis Casino Resort Spa from July 24-25. Join us for The 13th Annual Pinot Noir Summit. Wine lovers will Experience, Explore & Learn with Winemakers.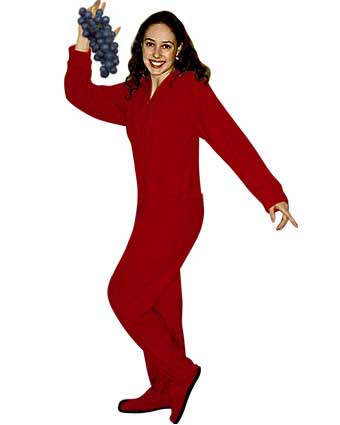 When do you wear footie pajamas?
When it's cold.
When do you wear footie pajamas during the summer months?
When you live on The Extreme Sonoma Coast where some of the best Pinot Noir in California (and perhaps the world) are grown.
It's raining and it's July! That just doesn't happen here in Northern California. Looking at the unseasonable rain storm and the very cool daytime temperatures for the last couple of days prompted my dragging out this blog, dusting it off and updating it. It is just as relevant today as it was 5 years ago.
When I was growing up, I loved difficult math problems, working on giant jigsaw puzzles, playing word games, and tough physical contests. I've always been a multi-tasker, taking what could be an easy task and complicating it. It seems to make things more satisfying in the end.
Knowing that I thrive on challenges, it shouldn't surprise you that my wine of choice is Pinot Noir and that I live on the far left edge…on The Extreme Sonoma Coast.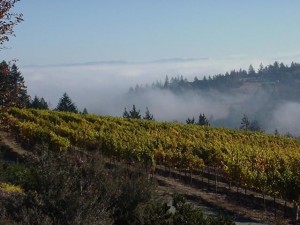 The nights here during the summer months are foggy and quite cold, getting down to the mid to low 40s many nights.
Officially our address is Sebastopol, California but we live closer to the town of Freestone and less than five miles from the Pacific Ocean.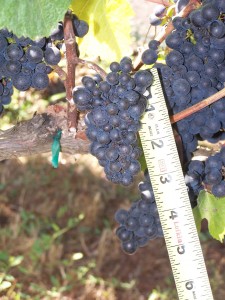 We live in what I call "Pinot Noir Heaven" or as many wine writers have called it, The Extreme Sonoma Coast. Here a few vineyard owners (some call them crazy) passionately tend vines to produce tiny clusters of exceptional Pinot Noir grapes. The wines made from these grapes exhibit unique characteristics, showing concentrated fruit in the mid-palate without the heavy alcohol or extraction that is often found in warmer climate wines.
Study The Extreme Sonoma Coast and you have the iconic definition of Cold Climate Viticulture.
Pinot Noir, Chardonnay, perhaps some Syrah and Sauvignon Blanc. No Cabernet Sauvignon or Zinfandel – they just wouldn't ripen.
Harvest falls typically between mid October to Early November
Climate is driven by a phenomenon known as up-welling: On shore winds in the Summer and Fall are accelerated by the heated interior land mass which draws deep cold water currents to the surface and moves them closer to the coast.
Cool days in the 70 degrees Farenheit
Cold Nights 40 degrees Farenheit
Fruit matures slowly over an extended time frame with NO HEAT SPIKES. The benefit is full Phenolic Development at lower ripeness levels.
Heavy Fog at night drenches the vineyards. The breezes dry off fruit by late morning.
And the most amazing phenomenon to me…
Mother Nature's Solution to protect against mildew and rot: THICKER SKINS. Producing wines of intense flavor and color. More…
These grapes have the potential to be made into some of the best wines in the world. Some of the wines being made here are exquisite. Some of my favorites Pinots from this area are Anderson Oaks Vineyard 2012 Estate Pinot Noir, Sonoma Coast; Halleck Vineyard 2013 Clone 828 Pinot Noir and Portalupi Winery 2013 Pinot Noir. All of these wines will age gracefully. Be patient and you will be rewarded.
Come taste these and other gorgeous Pinot Noirs at The 13th Annual Pinot Noir Summit at the beautiful Atlantis Casino Resort Spa in Reno, Nevada on July 24th and 25th.