The 10th Annual Cabernet Shootout and Cabernet Cabaret is moving to the high country of the Sierra at the spectacular Atlantis Casino Resort Spa
After the incredibly successful 13th Annual Pinot Noir Summit in Reno last July, we are coming back to a city that we have come to love.


The full day Cabernet Shootout event offers an opportunity to become intimate with Cabernet. A full immersion including a workshop, a Cabernet Pairing luncheon hosted by the winemakers, an opportunity to pit your palate against the judging panel in a blind tasting of winning wines, and the fabulous evening Cabernet Cabaret Gala. The Gala will feature top winners from the 10th Annual Cabernet Shootout and icon Cabernet producers that make the Reno scene rock.
The Children's Cabinet will be the beneficiary of a portion of the proceeds from ticket sales and all of the proceeds from the silent auction.
The Children's Cabinet is a non-profit 501(c)(3) organization helping to keep children safe and families together by offering services and resources that address unmet needs, through a unique and effective cooperative effort between the private sector and public agencies in Nevada.


Philosphy: Each child has the right to lead a healthy, safe existence, which will promote their capacity and opportunity to become responsible, productive adult citizens. Families can be strengthened by ensuring access to services that acknowledge the inherent value of each individual and their potential to contribute to society. We believe in encouraging an environment within families, schools, and neighborhoods that values the unique characteristics of each individual. Coordinating existing services will facilitate and improve access by families in need. We believe in the development of additional resources and in advocating for positive change for children and families based on documented community needs. We believe in the power and demonstrated skill of our staff to implement our philosophy and, by their own example, bring coordinated services to the children and families of this community. More information here
The 10th Annual Cabernet Shootout and Cabernet Cabaret Gala, the culmination of the Annual Cabernet Shootout competition, has become a favorite of Cabernet wine lovers over the last nine years. For the past three months, over 300 Cabernets have been evaluated by the Affairs of the Vine judging panel.
We taste totally blind! Even the winemakers may not be able to identify their own wines.
In our unique tasting process, each wine is tasted blind at least twice in a series of tastings. No more than 32 wines are evaluated during a single session. This approach assures that each wine is assessed fairly with clarity, concentration and without palate fatigue. The best of the best were judged at the Cabernet Shootout finals on February 3rd in Reno with an auspicious panel of top palates from Reno and the Bay Area.
The 10th Annual Cabernet Shootout will celebrate and recognize this year's top wine and producers as part of the two day event.
On Sunday, March 13th, a full schedule of events and tastings is planned at the Atlantis Casino Resort Spa. Attendees may attend a workshop, enoy a fabulous lunch with the winemakers, participate in the Blind Tasting of top wines from this year's Shootout and attend the evening Cabernet Cabaret Gala. Amazing winemakers and winery owners will share their Cabernets and a selection of the other great wines they produce accompanied by fabulous food from the Atlantis Casino Resort Spa and other great Reno restaurants. 10th Annual Cabernet Shootout and Cabernet Cabaret schedule
On Monday, March 14th, qualified wine trade are invited to an afternoon event at the Atlantis Casino where they can attend a workshop, taste the winning entries and wines from other icon wineries, meet the winemakers and discuss one on one their approach and philosophy to winemaking, and blind taste a selection of the top wines the judges chose from the 10th Annual Cabernet Shootout. Trade Agenda
10th Annual Cabernet Shootout and Cabernet Cabaret Gala process recognized by Vinography as being "distinctly different" than other tasting events, begins with a workshop with a panel of wine experts that will delve into the heart and soul of Cabernet, followed by a Cabernet Pairing Luncheon hosted by winemakers who will circulate as they pour their wines for guests.
The afternoon will be highlighted by the incredibly popular and unique Wine Lovers Cabernet Blind Tasting…a challenge to the professional judging panel. Attendees blind taste 30 of the top wines selected by the professional judging panel. Male and female votes are tallied separately.
The results are announced and winners recognized at the Grand Awards Tasting Presentation at the Cabernet Cabaret Gala on Sunday evening. Wineries will showcase their award winning Cabernets and other wines they produce. A selection of delicious and creative hors d'oeuvre will be served.
The Cabernet Shootout is an extraordinary wine experience and for the first time can be combined with a luxurious stay at the fabulous Atlantis Casino Resort Spa. This world class Four Diamond resort casino was named by USA Travel as the TOP casino resort property outside of Las Vegas. Book your room by February 24th, mention Cabernet and receive these rates: $80 for Sunday and Monday night ($140 on Friday and Saturday night).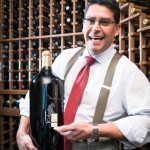 Under the direction of Sommelier Christian O'Kuinghttons the Atlantis is recognized within wine and food circles for offering an incredible selection of wines and has been the recipient of a coveted Wine Spectator Award of Excellence.
Purchase tickets for Sunday's festivities here
Cabernet Shootout All Day Tickets, include one Seminar, Lunch hosted by the Winemakers, Wine Lover's Blind Tasting, and Cabernet Cabaret Gala.
$125 per person
$150 per person at the door
Cabernet Cabaret Gala Tickets
$75 per person
$85 per person at the door
Special Atlantis Casino Resort Spa Rates
Cabernet Cabaret attendees may register for a one to three-night stay at the Atlantis Casino Resort Spa with a special room rate of $80 per night plus tax and fees (Sunday, Monday and Tuesday) and $140 per night plus tax and fees on Friday and Saturday. Reservations can be made by calling 800.723.6500. Reference Cabernet to access the special room rate or make your reservations. Enjoy a longer stay, gamble a bit, ski and enjoy the wonderful restaurants and warm community that Reno has to offer.
"The art, passion, energy and thought that goes into creating the Cabernet Shootout and Pinot Noir Summit experiences is the cornerstone of what I do. I am inspired by great wines and winemakers. I learn more each year and bring that knowledge to the next wine event making it better than the last," stated Barbara Drady. "The opportunity to take this year's Cabernet Shootout and Cabernet Cabaret to the world class Atlantis Casino and work with Christian and the fabulous management team and staff is incredibly exciting and guarantees that this will be our best wine event yet for both wine lovers and the wineries involved."