7th Cabernet Shootout Results by Category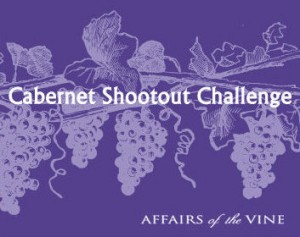 The Cabernet Shootout is simply the best, most comprehensive and focused Cabernet tasting in the world, exploring and assessing different styles of Cabernet.
Back by popular demand for the 7th time, The Cabernet Shootout continues to attract fabulous wines from great producers.
Complete 7th Cabernet Shootout Results here
We taste and assess Cabernet Sauvignon, Cabernet Franc and Cabernet Blends.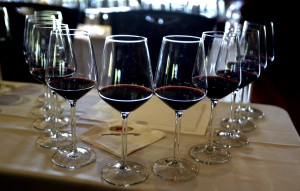 Each of the wines is more intensely judged than in standard, broadband competitions. Great producers of Cabernet, submit their wines year after year.
Over 321 wines were entered in the 7th Cabernet Shootout.
All wines awarded Gold or Silver medals by our judging panels are detailed here with notes and scores by the female and male judges.
This year's Cabernet Shootout judging panel of 26 men and 15 women had the pleasure of tasting Cabernets from 41 different appellations. Judges
Most competitions go straight to medals, our Shootouts provide concerted, then condensed reviews, providing the most thorough, quotable, consumer friendly, and accessible results in the industry from a diverse panel of experts. Male and female reviews for each wine are posted on the Affairs of the Vine website. Many of our judges write and publish their own results.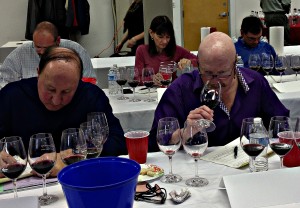 A wide array of palates emphasizing both traditional and new media gathered to assess the best Cabernets from all over the world at the Cabernet Shootout finals on December 1, 2012 in San Francisco, California.
The intense tasting process for the Cabernet Shootout begins in October and continues through the finals in December. Incredible producers enter their wines in every year's competition.
In the last 7 years, we've critically tasted over 2071 Cabernets in our blind tastings – never tasting more than 32 wines in a day. Great wines reveal themselves when given this kind of care and attention.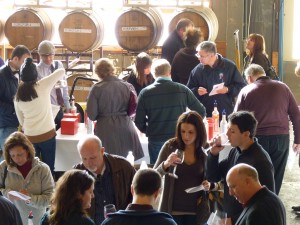 The top wines will be showcased at The Cabernet Shoootut Challenge on January 19th 2013 on Treasure Island. Winemakers, winery owners and winery representatives will share their award winning wines at the Grand Awards Tasting. Attendees will have the opportunity to pit their palates against the panel as they taste a selection of the top wines in a blind tasting and cast their votes for their favorites. Winners will be announced and awards presented.
Cabernet Shootout Challenge details here
********************************************************************************************************************************************
Join us at the 7th Cabernet Shootout Challenge. 36 of the top rated Cabernets will be featured in a blind tasting. Vote for your favorites. Your opinion counts!
Purchase tickets here
********************************************************************************************************************************************
Results of the 7th Cabernet Shootout Challenge will be posted no later than January 21st 2013.

7th Cabernet Shootout Results
Scores: Women Judges
Scores: Women Judges Bang for Your Buck
Scores: Men Judges
Scores: Men Judges Bang for Your Buck


Cabernet Sauvignon - Cabernet Franc - Cabernet Blend and Meritage - Other


All wines reviewed indicate a numerical score and are recommended "from the heart" with the additional reference of

's designating the following:




= Love at First Sip = Gold Medal



= An Affair to Remember = Silver Medal


= Will Provide Fond Memories = Honorable Mention
See below for a listing of our top wines.
Cabernet Sauvignon
Angeline 2011 Reserve Cabernet Sauvignon
Sonoma County, $18.00

6000 cases produced
Female: Black fruit with a greenhouse note on the nose. Cherry cough drops and vanilla splash alongside and repeat on the palate with a eucalyptus nose showing through. 89

Male: Black fruit aromas with coffee and warm spice accents. Thick black fruit palate showing mostly plum and black currant fruit. Very good, if a bit grippy. Well layered elements of fruit and spice notes. 90

Arroba 2008 Cabernet Sauvignon
Sonoma County, $24.00

520 cases produced
Female: Nice spiced nose with plum, lavender, cherry, and smoke aromas. Cherry and mocha flavors. Dried herbs and coffee notes on the finish. 90

Male: Warm black fruit with light coffee notes on the nose. Lively palate of raspberry and cassis. Big, fruity and balanced. 91

Arroba Winery 2009 Reserve Cabernet Sauvignon


Sonoma Valley, $40.00

DEEP PURPLE

2050 cases produced
Female: The black cherry with espresso and cola nose is replicated on the palate. Lovely oak treatment. Nice wine! 90

Male: In the glass, a ruby/orange rim, opaque to the edge. Bell pepper, chocolate, dark berry, and dust on the nose. Chocolate, bell pepper, red cherry, red plum, and oak flavors with raspberry, dust and leather on the finish. 90

AuburnJames 2009 Bella Vista Block 2 Cabernet Sauvignon
Napa Valley, $75.00

220 cases produced
Female: Barnyard, red and blue fruit with dark espresso and black tea elements in the nose and mouth. Lots of oak on the palate but plenty of fruit to carry. Lay this baby down. 90

Male: Dark in color. Nose of chocolate, dark black fruit and rose petals. Extracted dark fruit with lots of oak elements. Big wine! 89

AuburnJames 2009 Bella Vista Blocks 1&4 Cabernet Sauvignon


Napa Valley, $75.00

PURPLE

230 cases produced
Female: There is a prevalent earthiness on the brooding nose of dried fruit. Mushroom and cassis flavors on entry with coffee notes adding further dimension. The acidity of this wine rocks! The tannic backbone and dusty fruit are in total balance with the whole. 90

Male: Exciting and intense aromas emanate from the glass. The well balanced palate shows black cherry and black currant flavors with a lovely spice accent. A definite sense of place, no doubt...Napa Valley. 92

Aurielle 2008 Cabernet Sauvignon
Howell Mountain/Mt. Veeder, $90.00

358 cases produced
Female: Opaque in the glass. Dusty Old World-like enticing aromas of black fruit, leather and soy join with nice black tea spice. Elegant with stunning balance through the persistent finish. Will age beautifully. 91

Male: Plum, cherry and bright cigar box nose. Interesting black fruit, oak, vanilla, and brown spice flavors. Beautifully balanced fruit and tannins, well integrated with the oak elements. Very age worthy. 91

Barefoot Cellars Cabernet Sauvignon


California, $6.99

BLUE GREEN

362000 cases produced
Female: Raspberry aromas begin at entry and continues through mid-palate where a touch of herbs and spice join in. Delicate and elegant fruit. A focused Cabernet. 90

Male: Light and ripe fruit aromas make for an interesting nose. Lush mid-palate. Good rich mouthfeel. 89

BOYANCI InSpire 2009 Cabernet Sauvignon


Napa, $60.00

BRICK

1230 cases produced
Female: The nose is lean at first with a dustiness underlying the cassis aromas. Intriguing earthiness - Old World-style. Elegant structure. The tannins are well placed. 90

Male: Blood red in color. Cherry, kirsch, leather, and dark fruit aromas. The opening shows a great combination of black fruit and cherry with enticing spice elements. The middle is lush. The finish goes on and on. 93

Calcareous Vineyard 2008 Lloyd of Calcareous Estate Cabernet Sauvignon
Paso Robles, $56.00

390 cases produced
Female: Lovely aromas of cherry, plum, a hint of baking spice, toasty notes, and caramel. Integrated and smooth in the mouth. Very nice. 88

Male: Pleasing aromas of red fruit, plum, spice and a hint of mint. Rich mouth feel predominantly of fruit with back notes of spice. 87

Cannonball Wines 2009 Cabernet Sauvignon


California, $15.00

PUMPKIN

30000 cases produced
Female: Oooh - caramel covered cherries in the glass. The aromas are replicated in the mouth with roasted coffee notes. Nice acid on the finish. 91

Male: Nice fruit forward style. Clean bright cherry flavors. Black tea and leather notes add interest. A hint of sweetness on the finish. 89

Cass Winery 2009 Cass Vineyard Cabernet Sauvignon


Paso Robles, $45.00

WHITE

840 cases produced
Female: Black cherry, smoke, mint, cocoa, and earth aromas lead to dried fruit flavors with back notes of leather and green olives, pleasantly herbal. All combine nicely in this balanced wine. The overall earthy characteristics linger on the finish. 89

Male: Aromas of leather, dried leaves, pine needles, black fruit, chocolate, and coffee lead to a voluptuous wine featuring black fruit and spice. The lush mid-palate has a perfect ending. 92

Cuda Ridge Wines 2010 Cabernet Sauvignon
Livermore Valley, $34.00

144 cases produced
Female: Lots of layers. Cassis, molasses, and herb aromatics. Fruit forward on the palate. Spicy elements on the finish. Soft tannins too. 88

Male: Forward herbal nose. Candy flavors with oak counter balance. 86

Darkhorse 2011 Cabernet Sauvignon
California, $8.99

50000 cases produced
Female: Bright red and blue fruit aromas. The lush palate reflects the nose. Nicely balanced. I want a pizza! 90

Male: Bold and smoky aromas. Delicious fruit (plum and cherry) - rounded and defined - dives through to the satisfying finish. 89

Deerfield 2007 Zukowski Cabernet Sauvignon


Knights Valley, $60.00

GREEN

485 cases produced
Female: Dried cherry and herbs intertwine with tea box spice on the nose. There is a very alluring quality to this wine. Earthy, spicy, cherry flavors pick up speed mid-palate. Love the well placed oak treatment and savory notes throughout. 91

Male: Deep crimson in color. Complex aromas of leather, dust, cocoa, and cherry-cola open to rich blackberry and cassis flavors with oak, spice, and black pepper accents. Creamy and delicious. 91

Eberle 2009 Estate Cabernet Sauvignon


Paso Robles, $34.00

PINK

1985 cases produced
Female: Fresh herbs and capsicum aromas. Bright and pure entry of cherry licorice and hints of green olive. Dried fruit, savory spice and black pepper meld harmoniously. Well structured and the finish lingers forever. 91

Male: Dramatic multi-layered aromatics of fruit, spice and lots of other great stuff. Wow! Wonderful palate and finish! 93

Eberle 2010 Vineyard Selection Cabernet Sauvignon
Paso Robles, $20.00

4568 cases produced
Female: Elusive aromatics opening to subtle black fruit and light toast on aeration. Dark black fruit, black raspberry and Cocoa on the palate. The finish is lean. Nice wine. 88

Male: The nose displays aromas of mushroom and deft use of French oak. Ripe fruit on entry with vanilla and raisin notes joining late. Soft tannins. 89

Ecluse Wines 2010 Lock Vineyard Cabernet Sauvignon
Paso Robles, $38.00

500 cases produced
Female: Copiously fruited nose yet surprisingly light on its feet. Candied berry, vanilla and a subtle milk chocolate accent. Deliciously quaffable. 90

Male: Soft black fruit and cookie dough aromas preface the palate of black fruit and spice. Opulent yet balanced. Very nice! 91

Ecluse Wines 2009 Reserve Lock Vineyard Cabernet Sauvignon
Paso Robles, $69.00

100 cases produced
Female: Inky dark in the glass. Floral, warm chocolate and loganberry syrup aromas. Lovely, earthy classic Cabernet. Dark black cherry and plum flavors with black tea notes. The tannins are mellowing out. 91

Male: Rich and wonderful red and blackberry nose with hints of mocha. Dense and beautiful. 90

Eden Springs 2010 Cabernet Sauvignon
High Eden, South Australia, $27.50

3986 cases produced
Female: Sour cherry and mineral notes in the nose. Cassis on the palate with leather notes. Cranberry and rhubarb join mid-palate. Long and balanced finish. 90

Male: The nose is strong and balanced with stony fruit. This wine is St. Emilion-like. Great integration of fruit, oak and tannins. Good solid finish. 90

Edge 2010 Cabernet Sauvignon


North Coast, $20.00

KHAKI

18487 cases produced
Female: Cooked fruit and cinnamon aromas. Dark fruit flavors with vanilla and coconut accents. A manly wine! 89

Male: Orange peel melds nicely with the black raspberry fruit on the nose. The fruit, spice and tannins are well-balanced. Good mouth feel and structure 90

Edna Valley Vineyard 2010 Cabernet Sauvignon


Paso Robles, $15.00

BEIGE

29400 cases produced
Female: Rich and dense fruit. Chocolate covered cherry flavors. Silky and smooth. 90

Male: Plum, cassis, dried herbs, and green spices on the nice nose. Balanced entry showing good fruit and herb integration. The finish is lush. 90

En Garde 2008 Reserve Cabernet Sauvignon


Diamond Mountain District, Napa Valley, $88.00

BLACK

130 cases produced
Female: Cherry and cranberry aromas lead to beautiful cherry pie flavors in the mouth. Complex layers but so easy to drink. 90

Male: Nice dark cherry aromas. Very balanced showing well integrated fruit and oak displaying a hint of cola on the finish. 90

En Garde 2008 Cabernet Sauvignon
Diamond Mountain District, Napa Valley, $68.00

130 cases produced
Female: Earthy wild berry aromas remain pure and consistent on the palate. Blackberry, black currant, tobacco, and leather unfold beautifully in the mouth. Well balanced. Nicely structured with a long finish. Surprisingly delicious. 92

Male: The nose is complex with herb garden notes, restrained dark fruit, cinnamon, allspice, and oak. The palate is complex displaying great integration. The intense fruit pops immediately and finishes with spice and ripe tannins. Age worthy! 93

Fernwood Cellars 2009 Estate Cabernet Sauvignon
Santa Cruz Mountains, $40.00

420 cases produced
Female: Cranberry and cherry flavors. Quite pretty and lush. The wine is light overall. A sipper. 88

Male: Slight brownish hue. Subdued aromas and flavors. Slight bitterness on the finish. 86

Field Stone 2010 Staten Family Reserve Cabernet Sauvignon


Alexander Valley, $40.00

HOT PINK

495 cases produced
Female: Opaque in the glass. Baking spice, green earth notes, blackberries, plums, and toasted oak aromatics. Full bodied with concentrated fruit. Tons of fruit and smoke. A masculine wine. You can cut this one with a knife. 90

Male: Nicely reserved and elegant black fruit and spice aromatics. Black fruit, spice and well integrated oak. Almost chalky at first moving to lush and opulent mid. Nice length and quality. 92

Field Stone 2009 Vineyard Select Wally's Block Cabernet Sauvignon


Alexander Valley, $30.00

LIGHT BLUE

475 cases produced
Female: A big bruiser! Tons of black fruit with fig jam, sweet coffee and gingerbread aromas and flavors. A great example of a fruit forward but not overdosed Cabernet. 90

Male: Thick and dark ruby tones in the glass. The nose is sweet cassis through and through. The front palate shows red fruit, plum, and cassis with black cherry joining mid-palate. Solid tannins with a hint of toast. Well balanced. 90

For Giving 2009 Godspeed Cabernet Sauvignon
Mt. Veeder, $90.00

25 cases produced
Female: This s a Block Buster Cabernet. Dark cherry, espresso, and spice aromas. The palate displays dark fruit with earth notes. Big but balanced. 90

Male: Dark, rich black in color. The nose is smoky and opens to leather, cedar and anise. Cedar, licorice and anise with dark red fruit, showing cassis mid. Soft crushed violets show mid to late. Well integrated tannins give way to an earth rich finish. 90

Frei Brothers Reserve 2009 Cabernet Sauvignon
Alexander Valley, $27.00

36400 cases produced
Female: Damp forest floor aromas with some black fruit and rose petal notes on aeration. Luscious and rich in the mouth. Really nice! 86

Male: Light nose of damp leaves, red fruit and jalapeno peppers. Nice red fruit in the mouth. Easy to drink. 86

Gatt 2010 Cabernet Sauvignon
High Eden, South Australia, $53.50

4060 cases produced
Female: Barnyard aromas, so appealing! Sweet red fruit and dried plums as the wine opens. Oak deftly surrounds the red fruit that moves to black currant, cassis and tangerine mid and black tea on the finish. Yum!! 90

Male: Thick and inky in the glass. Barnyard aromas open to cassis with leather notes. Yummy finish! 90

Ghost Pines 2009 Cabernet Sauvignon


Napa/Sonoma/Lake, $23.00

ORANGE

129100 cases produced
Female: Black plums, soy, coffee, and bitter chocolate show on the reserved and pleasant nose. The fruit is accented with coffee, earth and integrated wood notes. Nice finish. Not an overly aggressive style. 90

Male: Baked dark fruit - plum, raisin - and spice on the nose. Nice chalky mouthfeel. Lots of ripe fruit with attractive spice mid to late. 90

Great Dane 2009 Coombsville Cabernet Sauvignon


Napa Valley, $110.00

DUSTY ROSE

25 cases produced
Female: Smoky exotic spice aromas rock! Dusty, dark berries and cherries further entrance the senses. Beautifully structured, sexy wine. Finishes with panache. 92

Male: Blood red and opaque in the glass. The nose is many layered with black currant, cassis, cedar/cigar box, blackberry, black pepper, clove, allspice, and oak. Rich opening of black cherry, dark fruit and all of the other elements portended in the nose with the addition of dark chocolate. The palate with its sweet fruit is perfectly balanced by tannins and acids. Good depth with a long lingering finish. 92

J Pilar 2010 Cabernet Sauvignon


South Coast, $40.00

WEDGEWOOD

175 cases produced
Female: Dusty, mushrooms and cassis greet the senses and build on the palate with leather and cigar box spices. Pretty balance and texture. Nice acidity lifts the finish. 91

Male: Dry black cherry, spice, mint, wood, and dark spices (cloves and allspice) arise from the glass. Mouthfilling dark fruit with savory backnotes. Heavy yet soft tannins. 91

J. Rickards Winery 2010 Estate Cabernet Sauvignon
Alexander Valley, $34.00

322 cases produced
Female: Plum, blackberry compote and liquid chocolate aromas. Great fruit with dusty earth back notes. Lots of cigar box influence on the finish. 90

Male: Violets and lavender at first opening to black fruit with forest notes on the complex nose. Cherry flavors with hints of coffee and cola. Balanced! 90

Judd's Hill Winery 2008 Single Vineyard Kairos Vineyard Cabernet Sauvignon
Napa Valley, $60.00

120 cases produced
Female: Aromas of lavender, red and black fruit and a hint of vanilla. Dark fruit on entry opening to cola notes mid and earth notes on the finish. Nice wine! 89

Male: Bright ruby in the glass. Lively aromas of red and black fruit with coffee and cocoa back notes. The palate replicates the nose with the addition of black licorice mid and baking spices on the silky finish. 90

Judd's Hill Winery 2009 Cabernet Sauvignon
Rutherford, $60.00

140 cases produced
Female: Pair this with beef stew. Cassis, plum and rich earth aromas replicate on the palate with mushroom and leather sprinkles. Meaty with nice herbal notes mid through the finish. Firm tannins. Great body. 90

Male: Pretty, dark and shiny ruby color. The nose shows cassis and cherry pie aromas. A little bit of heat here too. Cassis and cedar on opening with a touch of herb mid-palate. Compact but complex finish. 90

Louis M. Martini 2010 Cabernet Sauvignon


Sonoma County, $18.00

GOLD

303800 cases produced
Female: Cherry and dark fruit compote aromas. Gorgeous fruit on the palate. Nice acid. Nice wine! 92

Male: French-like aromas. Excellent minerality accents the fruit. Long finish. Balanced! 91

Louis M. Martini 2009 Cabernet Sauvignon
Napa Valley, $34.00

65200 cases produced
Female: Coffee, roasty, toasty brown spices and black fruit. Huge in the mouth! Lovely tooth coating tannins. Well-balanced. 90

Male: Candy cane and black fruit aromatics. Long initial palate of rich fruit and milk chocolate then dark chocolate and coffee. Delicious! 90

Lucas & Lewellen 2009 Valley View Vineyard Cabernet Sauvignon
Santa Ynez Valley, Santa Barbara County, $27.00

780 cases produced
Female: Plum, raspberry and tangerine aromas and flavors. Bright and interesting. Easy to drink and enjoy. 90

Male: Beautiful ruby color. Nose of cranberry and coffee. The palate replicates the nose moving to cassis with nice herb notes on the finish. 88

Lucas & Lewellen 2009 COTE DEL SOL Valley View Vineyard Cabernet Sauvignon


Santa Ynez Valley, Santa Barbara County, $32.00

DARK BLUE

811 cases produced
Female: The nose is earthy and spicy with plenty of dried herbs. Lively and pure black fruit and herbs are nicely integrated with the tannins. The finish is lifted and long. 91

Male: The nose is complex with black fruit, oak/cedar, dry earth, and vanilla bean. The palate shows medium+ intensity and reveals flavors of fresh and dried cherry, plum and blackberry that are well integrated with the soft tannins. Nice acidity. 90

Martin Ray Winery 2009 Cabernet Sauvignon
Sonoma County, $20.00

7500 cases produced
Female: Barnyard and menthol notes. The tannins are quite aggressive. There is fruit as the wine opens but the tannins are still dominant. Needs time. I would like to taste this again in 6-8 months. 86

Male: Dark purple in color. Forest and moss nose. Red fruit flavors. Well balanced. Classic Cabernet Sauvignon. 90

Martin Ray Winery 2010 Reserve Cabernet Sauvignon
Napa Valley, $30.00

1200 cases produced
Female: Raspberry and cherry aromas repeat on the palate with interesting ripe Italian plum and espresso notes. Lovely finish. 88

Male: Bramble, spice and mushrooms on the nose and in the mouth. Big tannins. This is just a baby! 87

Martin Ray Winery 2010 Reserve Cabernet Sauvignon


Stags Leap District, $55.00

GRAY

400 cases produced
Female: Strawberry and rhubarb pie aromas. Nicely spiced and clean. Juicy without being over ripe. Nice level of tannins pulls it all together. 90

Male: Blood red and opaque in the glass. Blackberry, cherry, and spice elements on the nose. Good rich opening leads to a lush and savory middle. Great attack. Good depth. Purity of fruit with chocolate and warm spice notes on the big finish. Tasty and lush. 91

Martin Ray Winery 2009 Reserve Cabernet Sauvignon
Santa Cruz Mountains, $55.00

400 cases produced
Female: The nose is many layered...baking spices, cherry pie, sour cherry, and big coffee. Lovely! Nice stewed fruit with forest floor notes. Long finish. 90

Male: Deep ruby in color. Tight nose of red fruit and cassis. Cherry, menthol and anise flavors. Soft tannins with hints of tobacco and bay leaves. Attractive, juicy finish. 88

McGrail Vineyards 2009 Reserve McGrail Vineyards Estate Cabernet Sauvignon


Livermore Valley, $39.00

DARK RED

1412 cases produced
Female: Expressive savory aromas of cherry, chocolate, black plums, and a hint of anise. Dense berry and black currant flavors with tobacco highlights mid-palate. Juicy and round with generous fruit taking center stage. Medium-bodied with gentle tannins. Thumbs up! 90

Male: Dramatic aromas of blackberry, cassis, black cherry, and subtle oak. Flavors of black currant, black cherry, tobacco, oak, and brown spice. Well balanced with a power packed finish. 89

Mirassou 2010 Cabernet Sauvignon
California, $12.00

127800 cases produced
Female: Herbal and floral notes meld with blackberries, cherries and subtle spice. Easy to quaff. Lively and balanced through the cherry finish. 89

Male: Black currant, blackberry, currant leaf, and moist eucalyptus open to more earthiness, spice and cedar aromas. Concentrated berry flavors. Lovely texture. Attractive and balanced flavors. 90

Muscardini Cellars 2009 Madrone Ridge Vineyards Cabernet Sauvignon


Sonoma Valley, $39.00

CORAL

217 cases produced
Female: The red fruit nose has dried herbs and some dustiness. Blackberry with smoky notes throughout. 89

Male: Inky, blue/black in color. Nose of soft red fruit and cassis. Front palate of cherry and earth, mid moves to cassis and leather. The long finish shows cassis and red fruit. "I'll definitely buy this." 90

Oak Mountain Winery 2010 Estate Cabernet Sauvignon
Temecula Valley, $60.00

200 cases produced
Female: High notes of fresh cherry juice on the nose. Dusty blackberries with back notes of powdered espresso. Juicy! Very pretty! 90

Male: Nice complex blend of cherries and blackberries on the nose and in the mouth. Tobacco and leather enhance the mid to late palate. Nice tannins and toasty oak show on the pleasing finish. 90

Orsianna 2007 Cabernet Sauvignon
Mendocino, $19.95

1200 cases produced
Female: Sweet cherry pie aromas open to sweet and then sour cherry flavors. Easy to drink with appropriate tannins on the finish. 88

Male: Thick texture and red ruby color in the glass. The nose displays cough drops and chocolate notes. The soft fore palate is cranberry which carries through the mid-palate. Sour cherry flavors on the finish. 88

PEJU 2009 Cabernet Sauvignon


Napa Valley, $45.00

ORCHID

2644 cases produced
Female: Great nose of cranberry chutney with crystallized ginger notes. Yummy cherry and black cherry flavors with cranberry notes late. Great acidity! 90

Male: The color is ruby, opaque to the rim. Classic Cabernet aromas showing cassis with herbs and spices. Good fruit on entry with back notes of cocoa, herb and spice. Rounded finish with nice tannins. 89

Perrucci Family Vineyard 2008 Cabernet Sauvignon
Santa Cruz Mountains, $34.00

220 cases produced
Female: Black raspberry, currant and fresh herbs wow the senses. Anise spice and earth notes harmonize with the spice infused fruit. Nice blending of Old and New World style. Elegant and lively finish. 91

Male: Black fruit, cassis, cherry cola, and graham cracker aromas lead to a solid core of great fruit that is beautifully balanced with acid and ripe grippy tannins. Very good, long finish. 91

Petroni Vineyards 2008 Estate Grown Petroni Vineyards Cavedale Road Cabernet Sauvignon


Sonoma Valley, $70.00

MAGENTA

503 cases produced
Female: Earthy, dried fruit, chocolate covered cherry, cedar, and rose petal aromas with caramel back notes. Yum! Concentrated berry flavors deftly surrounded by oak. Velvety, rich mouth feel. 90

Male: Dark sapphire color. Delightful cranberry, blackberry, black cherry, and forest floor nose. The palate confirms the nose. Rich opening, good middle, harmonious and integrated. Nice full finish. 92

R&B Cellars 2007 Reserve Bingham Ranch Cabernet Sauvignon
Napa Valley, $50.00

1000 cases produced
Female: Black currant and rhubarb nose. Complex palate. Nicely structured. Gripping tannins surround young black fruit. Cocoa back notes. 90

Male: French Oak and black fruit on the nose. Raspberry and cassis on entry with soft tannins accented by hints of dark chocolate mid-palate through the finish. 89

Rahn Estate 2008 Cabernet Sauvignon


Napa Valley, $55.00

BLUE

150 cases produced
Female: Pretty red and black fruit aromas. Austere at first but shows lush fruit underneath. Big oak jumps in mid and carries through the finish. Needs time but lots of fruit to age properly. 90

Male: Ruby/amber rim, opaque to edge. Big dark cherry and plum with forest floor, dried herbs and vanilla aromas. The palate shows nicely integrated big black fruit, lush oak and spice. Herb notes throughout. Nice tannins tightening up the finish. 90

Red Table Cellars 2006 Cabernet Sauvignon
Napa Valley, $25.00

200 cases produced
Female: Deep cherry, black cherry and toasty vanillan notes with a touch of bacon late. Lush and delish red and black fruit in the mouth. Deft use of oak great balance! 91

Male: Dark black fruit and spice aromas. Warm ripe mid-palate of well proportioned fruit and spice. 89

Rocca Family Vineyards 2009 Estate Grigsby Vineyard Cabernet Sauvignon
Yountville, Napa Valley, $80.00

469 cases produced
Female: Red fruit and gingerbread cookie aromatics. Intriguing flavors. Good depth of fruit. Satisfying body. Will age beautifully. 90

Male: Shy nose showing Berry, mineral, and some vanilla. Lovely mid-palate of beautifully proportioned cherry and black fruit with soft spice notes. Nice texture. 90

Rocca Family Vineyards 2009 Estate Collinetta Vineyard Cabernet Sauvignon


Coombsville, Napa Valley, $85.00

BRONZE

420 cases produced
Female: Inky in the glass. Concentrated chocolate, steeped black tea and menthol at first. Concentrated cassis flavors on opening - toasty black fruit kissed by vanilla mid-palate. Good depth and big finish. 90

Male: Red and black cherry, brown spices, redwood, chocolate, blackberry, and five spice - and that's just on the first swirl. The palate is not as complex as the aromas but the wine is delicious with great texture. 91

Rodney Strong Vineyards 2010 Estate Cabernet Sauvignon
Alexander Valley, $28.00

37000 cases produced
Female: Red and black fruit, baking spices, mocha, and anise aromas. Really nice in the mouth. Still a bit tight. Needs time. 88

Male: Red fruit aromas with back notes of Cedar. Red fruit on entry with toasty oak notes, coffee, plum, and coconut flavors mid- to late palate. Big tannins on the finish. 87

Rodney Strong Vineyards 2009 Cabernet Sauvignon
Sonoma County, $18.00

280000 cases produced
Female: Cherry and milk chocolate aromas. Juicy sour cherry flavors. Well mannered tannins kick in on the finish. Nice acidity. Well balanced. 88

Male: Chocolate and black raspberry with toasted mocha aromas. Well structured and balanced combination of fruit, spice, tannins, and acid. 89

Rodney Strong Vineyards 2009 Reserve Cabernet Sauvignon
Alexander Valley, $45.00

4121 cases produced
Female: Black and dense in the glass. Nice cherry pie filling flavors on the palate showing bittersweet cocoa on the finish. 90

Male: Inky blue/black color. Red berry with a touch of asparagus on the nose on first sniff. As the wine opens it shows anise, licorice, white spice, and subtle herb notes. Good berry flavors on entry moving to cassis with herb notes mid. Fine tannins and good acid on the finish. 90

Rodney Strong Vineyards 2008 Rockaway, Single Vineyard Cabernet Sauvignon


Alexander Valley, $75.00

YELLOW

1757 cases produced
Female: Sweet concentrated berry aromas hold firm and focused and replicate on the palate. Dense sweet fruit accented with vanilla from start to finish. 90

Male: Big, bold fruit aromas and flavors...black cherry, blackcurrant, cassis, with oak accents. Youthful. Will age beautifully. 92

Rodrigue Molyneaux 2009 Reserve, Estate Rodrigue Molyneaux Estate Vineyard Cabernet Sauvignon


Livermore Valley, $45.00

LILAC

125 cases produced
Female: Floral notes and sour cherry aromas arise from the glass. Warm and pretty red fruit with mouthwatering sour fruit back notes. Nice baking spice on the finish. 90

Male: The wine in the glass is enticing - looks soft and silky. Big blueberry and smoke aromas. The palate reveals well defined fruit with judicious use of oak. This will really get better with time. 91

Shannon Ridge 2010 High Elevation Cabernet Sauvignon


Lake County, $22.99

BURGUNDY

14850 cases produced
Female: Copiously fruited nose yet surprisingly light on its feet. Dense berry compote and generous vanilla aromas. Smoke, chocolate, coffee, black plum, and soy show as the wine opens. The fruit flavors are abundant with nice acid. Good structure. Delicious! 90

Male: Black currant, currant leaf, mint, licorice, and sweet and dark spice aromas repeat on the palate. Powdery and a bit chalky. Nicely structured with a good finish, balanced flavors and great mouthfeel. 90

Shingleback The Davey Estate 2010 Davey Estate Vineyard Cabernet Sauvignon


McLaren Vale, $22.00

TURQUOISE

5000 cases produced
Female: Blackberry cherry and touch of blueberry with a very interesting floral note on the nose. The fruit is expressive and not killed by oak. Moderate tannins. Not an overly serious wine but great to drink and enjoy! 90

Male: Spiced black cherry with cola back notes on the nose. Chewy black fruit and spice on the palate. Fun! 89

Signorello 2010 Estate Cabernet Sauvignon


Napa Valley, $90.00

LIME GREEN

1025 cases produced
Female: Earth, mushroom and ollalieberry aromas. Cherry and tart cherry flavors. Lean and minerally style. Lively acidity on the lifted finish. 90

Male: Cola! Well balanced-fruit and tannins (chalk and cocoa). An Americana! I need a burger. 🙂 91

Sol Rouge 2008 Cabernet Sauvignon


Lake County, $32.00

AQUA MARINE

350 cases produced
Female: Dusty, forest berries, deep and dark fruit on the nose and in the mouth. Intense structure with earthy notes weaving throughout. Leans to Old World style. Nice tannins. 89

Male: Cooked dark fruit, clove, allspice, and oak aromas. A powerful wine. Lively palate showing black currant with lots of oak and great acidity. 91

Sol Rouge 2008 Cabernet Sauvignon
Napa Valley, $75.00

360 cases produced


Sol Rouge 2008 Cabernet Sauvignon
Napa Valley, $75.00

360 cases produced
Female: The nose is very tight at first. With aeration, the aromas begin to open showing slight forest notes and lean black fruit with a touch of sour cherry just before tasting. The palate is juicy with a chalky mouth feel. The wine is delicious! 90

Male: Aromas of black fruit and warm baking spice with lovely perfumed floral back notes. Lively black and red fruit on entry. Coffee joins mid with a precise finish of lighter tannins and acid. 90

THE GRADE 2009 Estate Winfield Vineyard Cabernet Sauvignon
Napa Valley (Calistoga District), $80.00

265 cases produced
Female: Black currant, vanilla and mint aromas lead to the soft and approachable opening. Judicious use of oak around the cassis core. Well balanced with a good finish. 90

Male: Cassis, anise, mint, plum, raspberry, and herbs de Provence on the complex nose. Nice fruit and herb mix throughout showing lovely integration. Balanced finish. 90

The Naked Grape Cabernet Sauvignon
California, $12.00

84000 cases produced
Female: Grape jam aromas. Candied fruit. Simple and easy to drink. 86

Male: Forward nose of ripe black currant, spice and coffee. Balanced fruit flavors. Drink soon and drink often. 87

The Winery SF 2009 Cabernet Sauvignon
North Coast, $24.99

750 cases produced
Female: Juicy black fruit aromas and flavors. Nice oak treatment. Lush finish. Easy to drink. 89

Male: Dark fruit accented by dried herbs and spices - complex, interesting nose. Dark berry, currant and plum with nice herb and spice flavors. Big fruit and leathery tannins show mid through the long finish. 90

The Winery SF 2008 Beatty Ranch Howell Mountain Cabernet Sauvignon


Napa Valley, $150.00

GUNMETAL

100 cases produced
Female: A serious quiet fireside wine with tangy red cherry, anise, soft cocoa, and soy aromas that replicate on the palate. Evolves in deeper versions through the long finish. 89

Male: Engaging black fruit aromatics. Gorgeous mid-palate of fruit and spice with supple sexy tannins. 90

The Winery SF 2008 Diamond Mountain Cabernet Sauvignon
Napa Valley, $150.00

100 cases produced
Female: Blackberry, black cherry, a touch of mocha, and menthol emanate from the glass. Menthol comes through on the palate, tobacco and coffee on the finish. Nice acidity. This is just a baby - give it time. 87

Male: Deep purple in color. Dark fruit and meadow aromas. BIG tannins. There is fruit beneath but this wine needs time! 86

Trim Wine 2010 Cabernet Sauvignon
California, $11.99

9994 cases produced
Female: Cherry and black cherry aromas. Red fruit on the palate. Lush sour cherry on the finish. Nice acid! Easy to drink and enjoy. 90

Male: Smoky oak, vanilla, a touch of mint, and red fruit. Gentle use of oak. Soft fruit leads to lush, defined fruit. Pleasing sweet finish. 90

Twenty Rows 2010 Cabernet Sauvignon
Napa Valley, $20.00

7000 cases produced
Female: Elusive nose of light red fruit and cedar. Very tightly wound. Needs time! 86

Male: Deep purple in color. Nose of American oak and moss. Nice fruit. Youthful tannins. Will improve with time. 87

Twisted Sisters 2010 Cabernet Sauvignon
Paso Robles, $20.00

1075 cases produced
Female: Fruit focused aromas. The palate is dense showing cherry and berry flavors with full on tannins. Licorice notes and spice are showcased mid-palate through the juicy fruit finish. 89

Male: Mint, oregano and eucalyptus in the glass. Bright cherry and boysenberry flavors with vanilla spice on the finish. A treat! Will age beautifully. 92

Venteux Vineyards 2009 Starr Ranch Cabernet Sauvignon


Paso Robles, $48.00

TAN

235 cases produced
Female: Blackberry and plum aromas replicate on the palate. The core of dark fruit is deftly surrounded by judicious oak. Big, layered and balanced. 90

Male: Deep red/black color in the glass. Dark cherries and a gravelly note on the nose. The dark fruit carries onto the palate with cinnamon and other brown baking spice joining in mid-palate. Caramelly notes on the smooth finish. Should age well. 90

Vigilance Vineyards 2010 Cabernet Sauvignon
Red Hills, Lake County, $24.99

15000 cases produced
Female: Very subtle yet complex aromatics. Nicely proportioned palate. Well structured. 88

Male: Cookie dough meets black cherry on the nose. The palate is lush with blackcurrant, pomegranate, Cedar, and white pepper. Soft tannins. Complex. 88

Vinoce 2009 Solar Hill Cabernet Sauvignon
Mt Veeder, $75.00

200 cases produced
Female: Chocolate and cherries on the nose and the palate. Big and fruity opening through mid-palate. The wine tightens a bit through the long finish. 89

Male: Deep medium ruby in color. Tight nose of plum and black cherry. Concentrated dark berry fruit with a hint of cigar box and molasses on the palate. The long finish displays cassis, leather and smoke. Can't wait to find out what this is and buy it! 90

top
Cabernet Franc
Ciccone 2011 Estate Cabernet Franc
Leelanau, $17.95

160 cases produced
Female: The nose shows spice and barnyard notes. The palate is juicier than expected with raspberry and boysenberry flavors. Light cranberry notes on the finish. Nice acidity. 87

Male: Fascinating aromatic of exotic spice and black fruit. Black fruit core with a tight finish. 89

Fernwood Cellars 2009 Estate Bates Ranch Cabernet Franc
Santa Cruz Mountains, $38.00

320 cases produced
Female: Tart cherries on the nose. Entry is lean and tart with dried cranberry. Licorice accents joining in mid-palate through the finish. 90

Male: Stylish aromatics of subtle cherry and terroir driven earth notes replicate on the palate with light coffee and lively tannins melding nicely with the black fruit from mid-palate through the finish. 90

Judd's Hill Winery 2009 Cabernet Franc
Napa Valley, $48.00

120 cases produced
Female: Minty in the nose and in the mouth. Juicy red fruit. Lovely! 90

Male: Light cranberry, fresh young cherry and vanilla aromas. Nicely proportioned mid-palate. Well balanced. 88

Lucas & Lewellen 2008 Valley View Vineyard Cabernet Franc
Santa Barbara County, $26.00

600 cases produced
Female: Cedar, cranberry and violet aromas peek through the tight nose. Cranberry and tobacco notes on the palate. Good representation of Cabernet Franc. 87

Male: Tightly wound with a subdued nose. Pleasant soft fruit showing raspberry flavors. Easy drinking/ 89

top
Cabernet Blend and Meritage
AuburnJames 2008 Artist Series Cabernet Blend
Napa Valley, $85.00

125 cases produced
Female: Menthol and dark red fruit with toasted barrel notes on the nose. Intense dark red fruit flavors moving to sour cherry mid-palate through the finish. Tannins are still aggressive but plenty of fruit to carry this wine as it matures. I look forward to tasting this in 6 to 8 months. 90

Male: In the glass there is a ruby rim, the wine is opaque to near the edge. Deep herb, big plum, red currant, dust, and earth all show in this complex nose. Cocoa and raspberry flavors on entry. Dust and herbs enhance the lush mid-palate. Tarry, acidic and deep finish. Nice balance. Needs time. 90

BOYANCI 2009 Stagecoach Vineyards (Pritchard Hill) Cabernet Blend


Napa, $110.00

LIGHT YELLOW

1200 cases produced
Female: Blackberry and tobacco leaf aromatics. The palate replicates the nose with lots of licorice, orange blossom and cola notes. The tannins are big but I love the bergamot flavor profile. 90

Male: Purple rim, opaque to the edge. Lilac, lavender, raspberry, red plum, green and dried herbs, and cassis on the nose. Raspberry and floral entry. Lifted leather and herbs mid. Drying tannins and good acid on the finish. 90

Calcareous Vineyard 2008 Meritage
Paso Robles, $38.00

420 cases produced
Female: Eucalyptus, floral notes and espresso aromas. Yummy dark plum flavors with coffee and mocha notes. Very nice! 90

Male: Black currant - big and powerful in the glass and on opening. Ripe fruit with coffee and clove mid-palate. Nice acid and soft tannin. 91

Cass Winery 2009 Estate Cabernet Blend
Paso Robles, $90.00

225 cases produced
Female: Honey aromas with earth and red fruit. Juicy classic palate with berry, cherry, cocoa powder, forest leaves, and raisin. Big but refined tannins with dark fruits hiding underneath on the finish. 90

Male: Dark ruby in color. Pretty eucalyptus on the nose. Tannins over cassis on opening then leather, earth and black fruit mid. The finish is long with anise and coffee. Good acid balance. 90

Deerfield 2006 Rancho Salina Cabernet Blend
Sonoma Valley, $75.00

485 cases produced
Female: Brown baking spices in the glass. Ripe cherry with cinnamon notes on the palate. Vanillan notes on the big finish. 88

Male: Understated nicely evolved aromatics. Rich front palate of ripe red fruit leads to a well defined finish. 90

Deerfield 2006 DRX Cabernet Blend
Sonoma County, $85.00

275 cases produced
Female: a touch of cost and a touch of Cough syrup on the nose opening to sour cherry notes. The palate mirrors the nose with added tannin notes. Tobacco on the finish. Balanced. Young but will evolve nicely. 89

Male: Warm red fruit, spice and small oak aromas. Plum and cedar on opening. Tobacco and anise mid-palate through the finish. 87

Ecluse Wines 2010 Ensemble Cabernet Blend
Paso Robles, $42.00

396 cases produced
Female: Pretty nose - chocolate, cherry and spice box - Great! Young but wonderful. Big and rich in the mouth. Chocolate covered cherries and cherry pipe tobacco. Yum! 91

Male: Roasted coffee beans with chocolate on the nose showing nice new French barrels. Nicely textured mid-palate of black fruit and spice. Length and definition on the finish is lovely. 90

En Garde - Adamus 2009 California Cabernet Blend
Diamond Mountain District, Napa Valley, $78.00

60 cases produced
Female: Earthy low notes. Deep red and black fruit aromas with floral back notes. Soft on opening moving to juicy with great acid and tannin. Gentle use of oak. Still very young but incredibly well balanced. 91

Male: Smoky and woodsy nose. Pleasant dark fruit. Nicely balanced. 89

Muscardini Cellars 2010 Rancho Salina Cabernet Blend
Sonoma Valley, $49.00

470 cases produced
Female: Black cherry, herbs and forest notes on the nose. Complex palate going back and forth between sweet and sour red fruit with espresso notes mid. Nicely evolved tannin structure. This is a baby on its way to a beautifully balanced mature wine. 91

Male: Blackberry, licorice and lighter cherry aromas. Lean palate that shows great potential to develop in bottle. Dry red fruit flavors and evolving tannins with black pepper on the finish. 89

Rocca Family Vineyards 2009 Estate Cabernet Blend


Napa Valley, $50.00

RED

641 cases produced
Female: Forest floor aromas arise from the glass. As the wine opens, black raspberry comes through moving to black cherry on the soft opening. Great body. Bold but smooth. 90

Male: Dense fruit on the nose - black cherry, currant and a hint of coffee. Smooth tannins and a lingering finish showing lush black cherry. 91

top
Other
Vinoce 2009 Cabernet Franc Blend
Mt Veeder, $60.00

450 cases produced
Female: Herbal aromas with green pepper notes lead to a rich palateful of black cherry and plums with dried herbs and savory spice. Nicely balanced and varietally spot on. Well made with pretty tannins and well-integrated oak. 92

Male: The nose is brambly with a pronounced herbaceousness and cherry aromas. The rich palate of black currant, black cherry and black blackberry flavors has black pepper back notes. Nicely proportioned. 92

top