The 2007 Cabernet Sauvignon Shootout
Complete results of the Cabernet Sauvignon Shootout with comments by gender
Choosing wine to enjoy should not be a nail biting challenge. Our lives are moving very fast these days and making choices for me seems to be getting harder. There is an abundance of selections in everything. Take television for example. If you have cable or satellite TV, it seems that there are an endless amount of programs to watch - at least until you actually try to choose something to entertain and/or educate you. So much of the programming is repetitive be it the same theme or just a rerun. If you're a football fanatic like my husband, you can watch the NFL network over and over and see the same game 20 times or more but if you think you're more discerning, you tend to trust the recommendations of friends, family or one of the many reviewers in the newspapers, in magazines, on television, or the Internet. So it is with wine.
The power of the press is awesome when it comes to wine and has the biggest impact on Cabernet Sauvignon. I remember when the editor of a major wine publication made a sweeping statement about the 1997 and 1998 vintages of California wines condemning them to poor quality. Producers had a tough time selling their wines for those vintages so prices were reduced and I had a ball buying up great Cabernets for my cellar...wines that I enjoyed for many years - a few that we're still enjoying. I trusted my own palate, the reviews of some wine writers whose palates are similar to mine and the recommendations of some great wine retailers.
Read reviews but remember it's your palate that counts. Try to find a wine critic who commends wines that you like. We have partnered with International Wine Review and Wineworks because we like how they taste and review wines. Additionally, our judges included other wine writer palates that we respect: Michael Cervin; Ray Johnson, Good Life Guide to Enjoying Wine; James T. Kennedy; Bill McNabb, Piedmont Post; Ben Narasin; Laura Ness; and Mike Potashnik.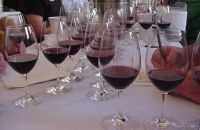 Don't feel that you have to like the wines that wine critics praise. Don't be intimidated! If a movie reviewer gives 5 stars to a film, do you feel that you're unsophisticated if you don't like it too? Wine is no different. Personal preference is what counts. So drink and enjoy what you like. At Affairs of the Vine we say, "If you like the way it looks and you like the way it smells and you like the way it tastes...it's good wine. So use our recommendations as a guide but you are the authority of what provides "Love at First Sip" for you.

If you see anything in these results which you think is of interest or noteworthy, we would love to hear from you and we will put as many comments up on our website as possible. And remember, trust your own palate. It's the only one that matters.

The 2007 Cabernet Sauvignon Shootout began with a series of blind tastings over a six week period as the wines were tasted in groups of 32 wines per session. The top wines were then tasted blind to determine the best of the best. The final tasting was held at Bistro Boudin in San Francisco. Our professional panel brought their experienced palates and love of Cabernet to this task. One thing that all of these wines have in common is balance. It is the quality that we look for when tasting and evaluating wines both for immediate consumption and long term aging. We are delighted to share their observations on these wines. Click here to see results...

The process and manner utilized by Affairs of the Vine for assessing and judging the entries is unique within competitions in that it employed the following procedures:
The tasting panels was comprised of a diverse range of wine industry professionals from varying disciplines including restaurant and retail trade, winemakers, wine writers, wine educators, and viticulturalists.

Rounded up for The Cabernet Shootout Panel were the following professionals: Barbara Drady, Affairs of the Vine, Wine Writer, Educator; David P. Jones, Wine Works, Wine Writer, Educator; Mike Potashnik, PhD, Co-Publisher, International Wine Review; Michael Cervin, Wine Writer; Susan Darwin, Wine Consultant; Debra Del Fiorentino, Wine Consultant, Proprietor: Vine & Barrel Wine Shop, Petaluma; John Drady, Vintner; Alan Goldfarb, Wine Writer: Appellation America; David Heppberger, Wine Consultant, Buyer Menlo Circus Club; Linus Hollis, Wine Consultant; Ray Johnson, TasteWine: Wine Writer, Educator; James T. Kennedy, Wine Editor, Gastronomic Society of Southern California; Ellen Landis, Wine Director: Landis Shores Oceanfront Inn, Half Moon Bay, CA; Ken Landis, Chef, Landis Shores Oceanfront Inn, Half Moon Bay, CA; Bill McNabb, Wine Editor, Piedmont Post; Kathe Morris, Wine Educator; Ben Narasin, Freelance Food & Wine Writer; Laura Ness, Wine Writer & Educator; Martin Reyes, Wine Buyer, St. Helena Wine Center; Sid Sall, Wine Consultant; Christopher Sawyer, Wine Writer, Sommelier: Carneros Bistro at the Lodge at Sonoma, Proprietor: Vine & Barrel Wine Shop, Petaluma; Edgar Vogt, Wine Educator, Wineworks; Walter Vornbrock III, Wine Consultant; and Liza Zimmerman, Wine Writer & Educator.


All wines were tasted blind. (How could you ever do it differently?)


All wines were tasted without reference to producer, appellation or price.


The wines were delineated by vintage in the first round of tastings but no vintage reference was made in preceding rounds.


Each wine was judged and reviewed on its own merit.


The wines were rated using a 100 point scale. The wines were placed into flights and evaluated by a team of judges. The 55 top wines selected by the team of judges were then submitted to the entire panel for review.
All wines reviewed indicate a numerical score and are recommended "from the heart" with the additional reference of

's designating the following:




= Love at First Sip




= An Affair to Remember



= Will Provide Fond Memories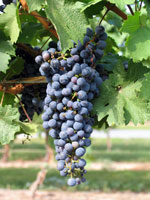 Cabernet Sauvignon
(cab-er-nay saw-vin-yawn)

Often called the "King" of red wine, Cabernet Sauvignon, is a classic Bordeaux varietal.

A wine labeled Cabernet Sauvignon may be and often is less than 100% Cabernet Sauvignon. Although laws are different in different countries, in the United States, a wine must only be 75% varietal in order to be labeled as such. The most common wines blended into Cabernet Sauvignon wines are Cabernet Franc, Merlot, Malbec, and Petit Verdot, the other Bordeaux varietals. Syrah and Zinfandel may be part of the final blend. The blending of other varietals can add to the complexity and of the wine.

About 10% of the wines we tasted were Bordeaux blends, where the Cabernet Sauvignon grape represented less than 75% of the final blend. We have identified these wines on our results page.

Cabernet Sauvignon can possess a complex and impressive structure, displaying aromas and flavors of black currant, cassis, black cherry and plum, with chocolate, cedar and smoky nuances. Some bell pepper or weediness can also be evident. Climates and vintages that are either too cool or too warm, rich soils, too little sun, harvesting too early may lead to more vegetal characters with less fruity character in the wine.

Cabernet Sauvignon on good quality has a liveliness and richness on the palate but usually finishes with firm tannins on a youthful wine and softer rounder tannins on an older wine. Some astringency on the finish is totally acceptable.

Cabernet Sauvignon is grown in renowned wine regions throughout the world including California, France, Washington, Italy, Australia, Argentina, and Chile. The best growing areas for Cabernet Sauvignon are moderately warm, semi-arid regions with a long growing season, on well-drained, not-too-fertile soils.

Cabernet Sauvignon is a candidate for aging, often improving, sometimes into a truly great wine. With age, the distinctive black currant aromas can develop nuances of cedar, violets, leather, or cigar box and the tannic edge often associated with young Cabernets may soften and round out. Because these wines can age gracefully over 5-10 years, letting their flavors to mellow, Cabernet Sauvignons are ideal candidates for blending with other grapes, primarily Merlot. This blending softens the Cabernet, adding appealing fruit tones, without sacrificing its innate character.

Typical fruit aromas and flavors found in Cabernet Sauvignon include black currant, blackberry, cherry, plum, and black cherry. Oak accent are displayed as vanilla, coconut, sweet wood, smoke, toast, nuttiness, and tar. Herbal notes include bell pepper, eucalyptus, menthol, asparagus, tobacco, tea, and green olive. Spices often recognized are oregano, tarragon, ginger, green peppercorns and anise. Bottle age may show as cedar, cigar box, mushroom, earth, and leather.

Good examples of Cabernet can be medium-bodied to full-bodied, with high tannins which provide structure and often intrigue while delivering a rich, ripe berry, tobacco and sometimes green pepper flavor.

A full-bodied wine, Cabernet is well-suited to hearty and rich cuisine, and pairs well with beef, lamb, goose, venison, hearty stews, pastas with red sauce, pates, and bittersweet chocolate. Be careful with spicy foods as heat in the food tends to accentuate oak and alcohol in the wine.

For ultimate enjoyment, serve your Cabernet Sauvignon or other Bordeaux blends at approximately 65° F. If your wine is stored at 70-72°F, put the wine in the refrigerator for approximately 40 minutes. If the bottle is stored at 80°F, add 30 minutes to the chilling time.

Good news about Cabernet Sauvignon was discovered in a recent study carried out by scientists at the Mount Sinai School of Medicine. They found that drinking Cabernet Sauvignon red wine moderately cuts the risk of developing Alzheimer's disease. In case you needed another reason to enjoy Cabernet.

Fortunately for wine lovers, the choices of good Cabernet Sauvignon continue to grow as indicated by the confirmed old favorites as well as the rising stars reviewed in the 2007 Cabernet Shootout.

"Bang for Your Buck Cabernet Sauvignons". Wines which were awarded



or more hearts and selling for under $15.