Ken's Chicken Piccata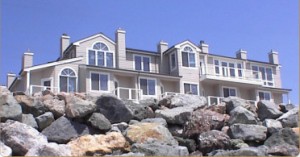 Ken & Ellen Landis own Landis Shore Shores Oceanfront Inn
in Half Moon Bay. They are fabulous Inn Keepers but even better friends. When we have the time, one of our favorite things to do is spend a night at the Inn. If we're really lucky, we get to spend the evening with Ellen and Ken. We often bring the wine and Ken cooks. This is one of my favorite dishes that he has ever prepared for us. Simple, elegant and delicious.
KEN'S CHICKEN PICCATA
Ingredients
2 large lemons
4 boneless, skinless chicken breasts (about 1 1/2 pounds), rinsed, dried thoroughly, trimmed of excess fat, and cut in half (sort of butter-flied) so you have 2 very thin breasts. (you can pound them, but cutting them this way is better)
½ cup unbleached all-purpose flour
4 tablespoons vegetable oil
1 small shallot , minced (about 2 tablespoons) or
1 small garlic clove, minced (about 1 teaspoon)
1 cup chicken stock or canned low-sodium chicken broth
¼ cup dry white wine
2 tablespoons small capers , drained
3 tablespoons unsalted butter , softened
2 tablespoons minced fresh parsley leaves
Instructions
1. Adjust oven rack to lower-middle position, set large heatproof plate on rack, and heat oven to 200 degrees.
2. Halve one lemon pole to pole. Trim ends from one half and cut crosswise into slices 1/8 to 1/4 inch thick; set aside. Juice remaining half and whole lemon to obtain 1/4 cup juice; reserve.
3. Sprinkle both sides of cutlets generously with salt and pepper. Measure flour into pie tin or shallow baking dish. Working one cutlet at a time, coat with flour, and shake to remove excess.
4. Heat heavy-bottomed 12-inch skillet over medium-high heat until hot, about 2 minutes; add 2 tablespoons oil and swirl pan to coat. Lay half of chicken pieces in skillet. Sauté cutlets, without moving them, until lightly browned on first side, 2 to 2 1/2 minutes. Turn cutlets and cook until second side is lightly browned, 2 to 2 1/2 minutes longer. Remove pan from heat and transfer cutlets to plate in oven. Add remaining 2 tablespoons oil to now-empty skillet and heat until shimmering. Add remaining chicken pieces and repeat.
5. Add shallot or garlic to now-empty skillet and return skillet to medium heat. Sauté until fragrant, about 30 seconds for shallot or 10 seconds for garlic. Add stock, wine and lemon slices, increase heat to high, and scrape skillet bottom with wooden spoon or spatula to loosen browned bits. Simmer until liquid reduces to about 1/3 cup, about 4 minutes. Add lemon juice and capers and simmer until sauce reduces again to 1/3 cup, about 1 minute. Remove pan from heat and swirl in butter until butter melts and thickens sauce; swirl in parsley. Spoon sauce over chicken and serve immediately.