Black Pepper Cookies & Cabernet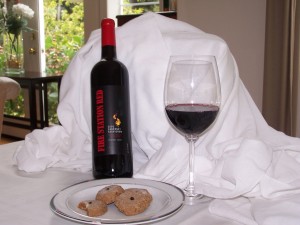 1 cup Flour
1 teaspoon Baking Powder
1 cup Sugar
1½ teasp oons Black Peppercorns, coarsely crushed
½ cup Butter
Whole Black Peppercorns
In a food processor, combine flour, baking powder, ¾ cup of the sugar, and crushed peppercorns. Whirl until blended.
In a 2 quart pan, stir butter over medium heat until browned, (stir through the foam to check). Add to flour mixture, whirl until dough forms a compact ball, about 1½ minutes.
Pinch off 1-inch pieces of dough and roll into balls. Arrange balls, slightly apart on an ungreased baking sheet. Dip the bottom of a glass into the remaining ¼ cup of sugar and press gently on each ball to ½-inch thickness. Sprinkle sugar over the cookies. Place a peppercorn into the center of each cookie and press gently.
Bake on the lowest rack of a 300° F oven until browned on bottom, 30 to 35 minutes. Transfer the cookies to a wire rack and cool completely.
Enjoy with a great bottle of Cabernet from our Cabernet Shootout!