Grilled Shrimp with Champagne & White Chocolate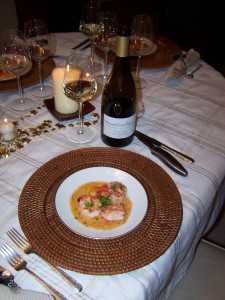 Serves 4

2 Tablespoons Olive Oil
2 Tablespoons Sweet Butter
1 Large Shallot – peeled and minced (about 2 T)
½ cup Champagne or Sparkling Wine
1 cup Whipping Cream
2 Tablespoons Salsa
Salt to Taste
1 Large Red Pepper,seeded & deveined – cut into thin strips
1 Large Yellow Pepper, seeded & deveined – cut into thin strips
1½ Tablespoons minced fresh tarragon or 1 teaspoon dried tarragon leaves, crumbled
&nbsp
Grilled Shrimp:
12 Jumbo Shrimp, peeled and deveined
2 Tablespoons olive oil
2 Tablespoons Fresh Chives, chopped
1½ ounces of White Chocolate, grated and chilled
SAUCE:
Combine the oil and butter in a skillet over low heat. Add the shallots and cook for about 2 minutes, until they are soft. Add the champagne. Raise the heat to high, and cook 5 minutes longer, or until the champagne is reduced to 2 tablespoons. Add the whipping cream and cook about 5 minutes, or until it is reduced by half. Add the salsa and salt to taste. Add the peppers and tarragon and heat through. Adjust the seasonings and keep the mixture warm.
GRILL THE SHRIMP:
Position a rack 2 inches away from the heat source. Brush the shrimp with the olive oil and grill or broil about 2½ minutes, turning once and brushing the shrimp occasionally with the oil
ASSEMBLY:
Divide the sauce among four warmed plates. Place three shrimp on top of the sauce. Sprinkle each with chives and white chocolate. Serve immediately.
Serve with Sonoma Coast Vineyards Sauvignon Blanc. Amazing!