Grilled Teriyaki Flank Steak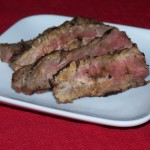 1 flank steak (about 1.5 pounds):
Have the membrane removed but not scored in tenderizer. Remove fat and gristle or you can just buy flank steaks at Costco, they're all ready to go.
 
For the Marinade, combine:
1 cup beef boullion (or 2 beef bouillon cubes dissolved in 1 cup hot water)
1/3 cup finely minced onion
3/4 teaspoon crushed garlic
1/2 cup tamari sauce or low sodium soy sauce
2 tablespoons fresh lemon juice
2 tablespoons honey
Place the flank steak in a container or ziplock bag and pour the marinade over the strips. Marinate about 24 hours.
Prepare the grill. You want a fairly hot fire.
Take the steak out of the marinade bag and drain for a moment or two. Place the steak on the hot grill. Grill for 4-6 minutes on each side. Half way through grilling on each side, turn the steak 90° so that you get more grill marks.
Flank steak is best eaten medium rare; well done will make it too tough.
When the steak has cooked, remove from the grill and place on a cutting board. Cover with aluminum foil to hold in the heat and to keep the steak from drying out. Let the meat rest for 10 minutes before slicing.
You will want to slice the steak against the grain, and at a slight diagonal. 
Enjoy the steak  with grilled veggies: peppers, zucchini, onion, mushrooms & tomatoes. For an extra treat add grilled pineapple too.
Two great wine pairings:
Girard 2006 Petite Sirah, Napa Valley
Windsor 2007 Zinfandel, Sonoma County
This recipe works very well as an ice block on a camping trip. After placing meat in marinade (use a ziplock bag to save on space), freeze and place in your ice chest. Should be defrosted and ready to serve in approximately 2 days.