Meyer Lemon Dream with Blueberries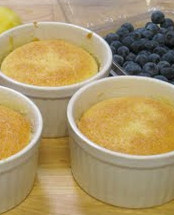 Serves 4 elegantly
2/3 cup superfine sugar
2 eggs, separated
2/3 cup reduced fat buttermilk (I use the Saco Buttermilk Blend that I always keep in my pantry)
2 tablespoons lemon juice (fresh squeezed from 1-2 Meyer lemons is always best)
1 tablespoon Meyer lemon zest
1/4 cup all-purpose flour
1/4 teaspoon salt
Approximately 1 tablespoon unsalted butter – for coating the inside of the ramekins & some extra sugar for dusting
1 cup fresh blueberries
2 tablespoons confectioners' sugar
Preheat oven to 325 degrees F.
Butter and lightly sugar 4 ramekins (each about 1-cup).
To the bowl of  egg yolks, add buttermilk, lemon juice, and lemon zest. Beat on medium until well combined.
Reduce the speed to low and sift in flour, sugar, and salt.  Sift in the dry ingredients even if your using pre-sifted flour to prevent lumps. Continue to mix until combined.
In a separate bowl, beat egg whites until you get stiff peaks. (The egg whites should cling to the bowl it upside down).
Gently fold the egg whites into the egg yolk mixture, a little at a time. The whole mixture should be incorporated.
Divide the mixture  evenly between the ramekins. Set the ramekins in a roasting pan and fill the pan until the water comes halfway up the sides of the ramekins.
(This creates a water bath for the lemon delights.)
Bake for 60 minutes until the top springs back when gently pressed and the cakes have a nice golden brown color.
Allow to cool slightly, then carefully invert onto a plate. Serve with fresh berries and dust with powdered sugar.

Adapted from a recipe by Tyler Florence on Food Network TV.