Oven Roasted Tomatoes and Pesto on Seeded Toasts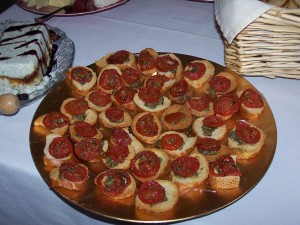 4 Small to Medium Tomatoes, sliced ¼-inch thick
Olive Oil
Salt
White Pepper
Herbs de Provence
Sugar
Seeded French baguette, sliced in 1/8 to 1/4-inch thick
Pesto Sauce
Core the tomatoes, and turn them upside down to drain for 15 minutes.
In the meantime, preheat the oven to 325°F.
Line a large sided cookie sheet with aluminum foil.
Generously rub the aluminum foil with olive oil.
Slice the tomatoes, arranging the slices in a single layer on the cookie sheet.
Sprinkle the tomatoes with the salt, white pepper, herbs de Provence, and sugar.
Roast the tomatoes until the tomatoes start to shrivel and the edges begin to turn brown. The liquid around the tomatoes will begin to carmelize – about 35 to 40 minutes.
Roasted tomatoes with keep in the refrigerator for 7-10 days.
Slice the baguette and bake the slices in a 350°F oven for 10-12 minutes, until just lightly golden.
To serve, put a small amount of pesto sauce (either homemade or store bought) on a toasted baguette slice and top with an oven roasted tomato.
Enjoy with Sonoma Coast Vineyards Syrah!