Spicy Red & Cool White Gazpacho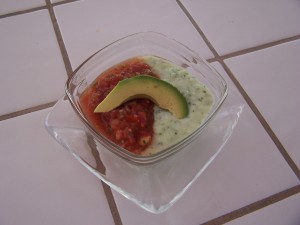 Cool White Gazpacho
2 large English cucumbers (about 1 pound), peeled and
coarsely chopped
1 large regular cucumber, peeled, seeded and coarsely chopped
4 cups plain low fat yogurt
2 tablespoons lemon juice
1 teaspoon crushed garlic
4 tablespoons minced cilantro
4 tablespoons thinly sliced green onions (including tops)

Place cucumbers in a blender or food processor with yogurt, lemon juice, and garlic; whirl until coarsely pureed. Pour into a large bowl. If the gazpacho is too thick, add water or nonfat chicken broth 1/4 cup at a time until desired consistency. Cover and refrigerate for at least 2 hours or until next day.
Enjoy alone who side by side with the Spicy Red Gazpacho.
Spicy Red Gazpacho
3 pounds fresh ripe tomatoes, cored and coarsely chopped
1 large red onion, peeled and coarsely chopped
2 large jalapeno chilies, seeded and coarsely chopped
1 green bell pepper, seeded, ribs removed and coarsely chopped
1 large cucumber, peeled, seeded and coarsely chopped
2 tablespoons of chopped cilantro
6 tablespoons red wine vinegar
1 teaspoon crushed garlic
2 teaspoons sugar
4 cups tomato juice (I prefer Spicy V8)
1 teaspoon salt
1/2 teaspoon black or white pepper
In several steps, place the veggies into a food processer with a small amount of the liquid and process until minced and combined. As you complete each batch, put into a bowl or container. Once all of the veggies and herbs have been processed, add the remaining liquid to the container. Stir it together. Taste and adjust the seasonings if necessary.
Chill at least two hours or overnight.
Enjoy alone or side by side with the Cool White Gazpacho.
To serve side by side: You will need both gazpacho batches in front of you with one ladle in each. Tilt the bowl to one side and ladle 1/2 to 3/4 of the Cool White Gazpacho into the bowl. Keep the bowl tilted and gather a ladle of the red gazpacho. As you begin to ladle it into the other side of the bowl, tilt the bowl back gently. Serve to rave reviews.