Passion for Pinot Noir #7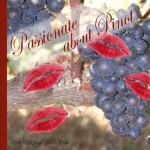 7th Annual Pinot Noir Shootout & Summit Results
I've been drinking Pinot Noir for more years than I like to admit but I never tire of the experience. You'd think that after seven years of concentrated Pinot Noir tastings, I'd have nothing left to say about the wines but Pinot inspires emotional reactions and lots of words, sometimes sighs and occasionally moans (usually of pleasure).
Being the magical wine that it is, one might think that you can grow Pinot the way that Jack grew his beanstalk but Pinot Noir is notoriously difficult to grow and vinify. If Pinot Noir grapes are to become unforgettable wine in your palate memory, wines of elegance and subtlety the stars have to line up.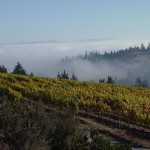 • The vineyards must be in the right place (cool climates) with the right soils (well-drained). It's all about terroir.  [According to the Wine Lover's Companion: French for "soil" and used in the phrase gout de terroir ("taste of the soil") to refer to the earthy flavor of some wines. When French wine producers use the term terroir, it not only includes reference to the type of soil (chalky, claylike, gravelly, sandy), but also to other geographic factors that might influence the quality of the finished wine like altitude, position relative to the sun, angle of incline, and water drainage. In the United States, wine producers use the term Microclimate to encompass the same considerations.]
• Mother Nature must provide a good growing season. Early bud break, warm days (but not too warm) and cool nights allowing for long hang time.
• The winemaker must be at his or her best. The great Pinot Noir winemaker is an artist. The difference in my mind between a good Pinot Noir winemaker and an amazing one is similar to the difference between a good cook and a great chef. A good winemaker can follow the rules and make a good, even an excellent wine. The great Pinot winemaker has an innate ability to "read" the vines and the wines and make truly sublime Pinot Noir.
Pinot Noir…
creates a lasting impression.
Great Pinot Noir creates a lasting impression on the palate and in the memory.
is difficult to ferment.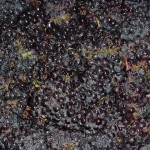 Andre Tchelistcheff, Beaulieu Vineyards' legendary winemaker from 1938 to 1968 and a mentor to a whole generation of winemakers, is rumored to have said that "god made Cabernet Sauvignon, whereas the devil made Pinot Noir." Difficulties plague Pinot Noir at every step from propagation through bottle aging. No single grape type is more temperamental or difficult to work with than Pinot Noir. Pinot Noir ferments violently partially due to the 18 amino acids present in the grapes.
It is difficult to retain the color in the wine and can be tricky to maintain desirable aromas and flavors through fermentation and aging.

belongs on a psychiatrist's couch. Pinot Noir has multiple personalities. It is complex and delicate, temperamental, fragile and difficult to grow, a challenging wine to ferment, finicky, silky and sexy, and reflective of the Gout de Terroir (the flavor of the soil). Pinot Noir lovers have endless adjectives to describe the flavors and aromas of these intoxicating wines. Fruit flavors and aromas are varied including black cherry, raspberry, cranberry, fresh strawberry, strawberry jam, Bing cherry, black cherry, and blueberry. Look for rose petal, cinnamon, vanilla, anise, black pepper, and an array of assorted other spices.
is unstable.
At least genetically so. The parent vine can produce offspring that have markedly different characteristics – fruit that varies in size and shape of the berry or cluster. The grapes may have different aromas, flavors and the vines may produce more or less fruit than their parent vine. There are 200 to possibly 11,000 clones of Pinot Noir worldwide. Compare that to twelve identifiable clones of Cabernet Sauvignon.
is vulnerable.
Almost every problem known to affect vines is common in Pinot Noir vineyards. Pinot Noir survives well in cold climates but it is very susceptible to Spring frosts. The sharpshooter, the insect that carries Pierce's Disease, finds Pinot Noir vineyards a good place to thrive. Pinot Noir vines over ten years old are very susceptible to leaf-roll virus. Birds often feast on Pinot Noir grapes since the vines do not produce adequate leaf coverage.
is not inky.
Don't expect deep inky colors like you find in Cabernet Sauvignon. The color of Pinot Noir ranges from a light red almost rose to a deep garnet.
is an exciting wine to explore.
One of the most complex of all varietals. Pinot Noir should be delicate with deliciously ripe, concentrated strawberry, raspberry, cherry or other berry flavors and can have mushroom or barnyard overtones and luscious spices. It is difficult to describe all the flavors and styles of Pinot Noir. It is estimated that there are more than 11,000 different clones worldwide that produce a wide variety of styles from heavy, jammy, "in your face" wines, to light, delicate but complex wines and all possible combinations in between. Pinot Noir can be full-bodied and rich but should not be heavy or high in alcohol. The wine should have acids without being acidic and balanced tannins without being tannic. If your glass of Pinot Noir is special, the mouth feel will be rich and silky if not outright velvety. Pinot Noir at its best is sexy; elegant, smooth and velvety on the tongue…satin sheets in a bottle. Wonderful Pinot Noir caresses and embraces.
is good for you.
Pinot Noir is three to four times higher in resveratrol than other varietals, especially when it is grown in cooler and more humid climates.
Complete results with comments by gender.
Pinot Noir lovers are adventurers, always seeking the next great and best ever Pinot Noir and will often go to extremes to find a unique or new Pinot Noir that they have heard about. They are willing to taste through a lot of wines to find it. Some may call us obsessed. Perhaps Pinot Noir lovers belong on the psychiatrists' couch too. So call our Pinot Noir panel a little bit crazy.
Our panel is very fortunate indeed to have the opportunity to taste these wonderful wines and we are very cognizant of the fact that our conclusions matter and have impact, so we take our responsibility very seriously.
The incredible lineup of 267 top quality Pinot Noirs submitted from growing regions the world over were critically reviewed by a diverse panel of 53 wine professionals.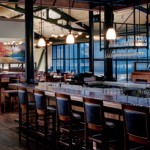 The 7th Annual Pinot Noir Shootout finals were held on January 19, 2009 and, were again, generously hosted by Boudin Bakery on Fisherman's Wharf in San Francisco.
Boudin Bakery: fabulous bread, yummy food, an amazing location, and wonderful people!
 
Affairs of the Vine, International Wine Review and Wine Radius orchestrated the 7th Annual Pinot Noir Shootout which followed on the heels of other highly acclaimed "Shootouts." The tasting panels are comprised of a diverse range of wine industry professionals from varying disciplines including restaurant and retail trade, winemakers, wine writers, wine educators, and consultants. The Pinot Noir 7th Annual Pinot Noir Shootout judging panel included:
The wines worthy of note are reviewed here. Each wine is awarded a numerical score and are recommended "from the heart with the additional reference of

's designating the following:
Key:




= Love at First Sip



= An Affair to Remember


= Will Provide Fond Memories
At the completion of our finals, forty-four top rated wines participated in the Pinot Noir Summit on April 5, 2009. Over 300 lucky Pinot Noir Lovers gathered at the Osher Marin Jewish Community Center in San Rafael, California to participate in a blind tasting of award winning Pinot Noirs, attend Pinot Noir workshops and meet the winemaker's. The delegates to the Pinot Noir Summit, seduced by Pinot Noir, indulged their passion.
They tasted forty-four luscious Pinot Noirs in The Final Showdown of this year's Pinot Noir Shootout. The wines were tasted totally blind and were assigned random colors for identification purposes. The wines could be tasted in any order to avoid any undue advantage to a particular wine or group of wines. The delegates pitted their palates against the expert panel's findings. The top three choices by gender as chosen by the delegates and the panel are noted below.
Please note that all of these wines are winners. All received





and cumulative scores of 90 or above by our judging panel.
Top wines as announced on April 5, 2009
At the Summit:
Men:
First Place
David Bruce 2005 Reserve Pinot Noir, Sonoma Coast ~ Purple
Second Place
Claiborne & Churchill 2006 Twin Creeks Pinot Noir, Edna Valley ~Periwinkle
Third Place
Left Edge Winery 2007 Bodega Ridge Vineyard Pinot Noir, Sonoma Coast ~ Red
Women:
First Place
Left Edge Winery 2007 Bodega Ridge Vineyard Pinot Noir, Sonoma Coast ~ Red
Tied for Second Place
Lucienne 2006 Lone Oak Pinot Noir, Santa Lucia Highlands ~ Orchid
AND
David Bruce 2005 Reserve Pinot Noir, Sonoma Coast ~ Purple
Third Place
Brutocao Cellars 2006 Estate Bottled Pinot Noir, Anderson Valley ~ Pumpkin
Our Shootout Panel By Gender:
Men:
First Place
Left Edge Winery 2007 Bodega Ridge Vineyard Pinot Noir, Sonoma Coast ~ Red
Second Place – Just a heart beat behind first place
Heart O' The Mountain 2006 Estate Pinot Noir, Santa Cruz Mountains ~ Coral
Third Place
David Bruce 2005 Reserve Pinot Noir, Sonoma Coast ~ Purple
Women:
First Place
Bohemian Vineyard 2007 Freestone Estate Pinot Noir, Russian River Valley ~ Turquoise
Tied for Second Place
Segue Cellars 2007 Filligreen Vineyard Pinot Noir, Anderson Valley ~ Khaki
AND
Sonoma Coast Vineyards 2006 Freestone Hills Pinot Noir, Sonoma Coast ~ Black
Third Place
Claiborne & Churchill 2006 Twin Creeks Pinot Noir,
Edna Valley ~ Periwinkle
The results of the delegates were compiled and verified by three volunteers.
The colors were assigned randomly. Coming up with 44 different colors is not easy. If you have some additional suggestions for future Summits on colors or other aspects, we welcome your input.
Click here for the complete results of the 7th Annual Pinot Noir Shootout.
At the Pinot Noir Summit the forty-four wines were tasted blind and rated by the Summit attendees. The Wine Lovers who attended The Pinot Noir Summit voted for their top three wines in order of preference after tasting them blind. The wines were wrapped individually and identified by a random color. The male and female votes were tallied separately.
The Pinot Noir delegates agreed with the panel…the wines tasted were fantastic! The Summit delegates however, did not rank the wines in the same order.
The Male Pinot Noir Lovers top choice at The Pinot Summit on April 5, 2009 was David Bruce 2005 Reserve Pinot Noir, Sonoma Coast.
The Female Pinot Noir Lovers top choice at The Pinot Summit on April 5, 2009 was Left Edge Winery 2007 Bodega Ridge Vineyard Pinot Noir, Sonoma Coast.
The Male Wine Lovers first choice was not the same as the Male Judges' panel. The Female Wine Lovers and Female Judges did not select the same wine as their first choice. What does that prove? Who's right? Who wins? Everybody!
For your review check out the wines tasted with ratings and observations by both male and female judges.
My personal observation is that the top rated wines from the panels and the delegates were balanced and elegant, a trend that we have seen over the last three years. It seems as if the style of Pinot Noir that wine lovers are embracing is more like traditional Pinot Noir and less like the burly, Syrah-like styles that had been popular in the early part of the decade. A wine style that is still highly rated and endorsed by some top wine reviewers.
It is especially interesting to note that the women delegates at The Pinot Noir Summit leaned toward the Pinots that were viewed as silky, elegant, velvety and well balanced by the female judges. Pinot Noirs that, in most cases, displayed finesse over structure.
We tasted Pinot Noirs from 54 different appellations including Amity Hills, Oregon; Anderson Valley; Arroyo Grande Valley; Arroyo Seco, Monterey; Bennett Valley; California; Carneros; Central Coast; Central Otago; Chehalem Mountains; Curico Valley, Chile: Dundee Hills; Edna Valley; Eger, Hungary; Finger Lakes; Lake Michigan Shore; Leelanau Peninsula; Marin; Marlborough; Mendocino County; Monterey; Napa Valley; Nelson; North Coast; North Fork of Long Island; Oregon; Pavia, Italy; Pemberton; Penedes, Spain; Pennsylvania; Rogue Valley; Russian River Valley; San Luis Obispo County; Santa Barbara County; Santa Cruz Mountains; Santa Lucia Highlands; Santa Maria Valley; Santa Rita Hills; Snake River Valley, Idaho; Sonoma; Sonoma Coast; Sonoma County; Sonoma Valley; South Australia; South Island, New Zealand; Sta. Rita Hills; Szekszárd, Hungary; Twenty Mile Bench; Umpqua Valley; Vin de Pays d'Oc, France; Waipara Valley;Willamette Valley; Yamhill Carlton District; and York Mountain.
So what do these wines have in common? Everyone one of these wines is outstanding!
Taste and enjoy them all if you're fortunate enough to have the opportunity. Keep buying your old favorites but try new ones too. When you find a style you like, try other wines that are similar. Do you like this wine as much? See if you can determine the similarities in the wines you like best. Is it appellation? Winemaking style? Winemaker?
Hopefully, you have a retailer or sommelier that can help to guide you. Let your wine guide know the Pinots you have enjoyed and the ones that have been less to your liking. A good retailer or sommelier can help you make appropriate selections for your palate.
Begin an Affair with these great wines tonight!
If you have difficulty finding them at your local retailer, feel free to email Affairs of the Vine. We will be happy to put you in touch with someone at the winery who can help you acquire the wines that entice you.
There was a definitive gender split – men and women did not agree with each other or with the panel on numerous wines. When there were large discrepancies, the female delegates chose wines that were more elegant and balanced where the male delegates chose wines that were a bit more bold.
For your review, The Pinot Noir Summit wines are listed alphabetically in the table below indicating the ranking by the Pinot Noir Shootout panels – male and female and the ranking by the male delegates and the female delegates. Note that wines in the final competition were tasted by two distinct groups (to ensure that we maintained our goal of only 32 wines tasted per day by our panel). These are the best wines of the over 267 wines we tasted. Everyone of these wines are outstanding.
Our Mantra…Trust Your Own Palate
Read reviews but remember it's your palate that counts. Try to find a wine critic who commends wines that you like. Don't feel that you have to like the wines that wine critics praise. Don't be intimidated! If a movie reviewer gives 5 stars to a film, do you feel that you're unsophisticated if you don't like it too? Wine is no different. Personal preference is what counts. So drink and enjoy what you like. At Affairs of the Vine we say, "If you like the way it looks and you like the way it smells and you like the way it tastes…its good wine. So use our recommendations as a guide but you are the authority of what provides "Love at First Sip" for you.
If you see anything in these results which you think is of interest or noteworthy, we would love to hear from you and we will put as many comments up on our website as possible. And remember, trust your own palate. It's the only one that matters.
Check out the "Bang for Your Buck Pinot Noirs" Wines which were awarded three (3) or more hearts and are selling for under $20.
Twelve of our Summit delegates, six men and six women tasted through the forty-four wines utilizing the Siryel digital pen that downloads information into a complex analysis using proprietary software. Affairs of the Vine worked with Siryel to create appropriate observations that were specifically relevant to the Pinot Noir tasting in this format. The results from the tasting of the forty-four Pinot Noir Summit wines with the Siryel Digital Tasting Pen was quite interesting. Click here for the full report.
Lots of information to here. If you have any questions, or need clarification, please feel free to contact me: barbara@affairsofthevine.com