Team Building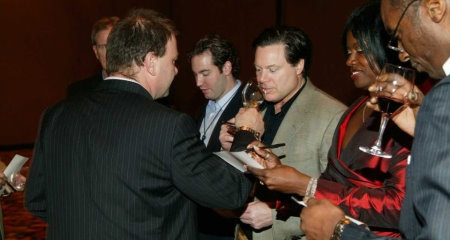 Affairs of the Vine creates and conducts outstanding Wine Adventures in Wine Country or they will bring Wine Country to you. They will engage, educate and entertain your group. Affairs of the Vine is prepared to exceed expectations while assisting you in producing a flawless program.
For companies seeking to rebuild and reengage teams fractured by corporate change, Affairs of the Vine creates unique team building workshops and events incorporating wine and food that will reestablish a strong working culture and enhance team execution within your company.
The Affairs of the Vine team boasts extensive business experience and decades in the wine business. They understand corporate team culture and how wine workshops and events draw employees, customers and vendors together.
Affairs of the Vine welcomes the opportunity to help you create a memorable and dynamic event. Affairs of the Vine's interactive adventures provide an ideal opportunity to solidify and strengthen relationships.
If you really want to get your team moving in the same direction, I highly recommend Barbara's Wine Boot Camp®. Truly a unique experience that has tremendous take-away value and is a blast to participate in!
"At Affairs of the Vine events, folks walk in single file and walk out hand-in-hand."
Bob Dawson
Managing Director at i-Myth, Inc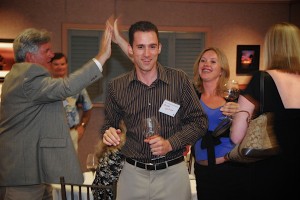 Employee Engagement, Relationship & Team-Building Workshops
Developing the Perfect Balance" A Wine Blending Workshop stimulates interaction and excitement as each team blends a bottle of wine for each of their team members from selected varietals. The blends will be judged by Affairs of the Vine and the winning team will be awarded bragging rights. A trophy and a prize for each participant on the winning team can be included. A great team building or relationship enhancing workshop!
Wine Component Workshop: Learn to identify the components of wine such as tannin and acid. Discover the importance of a balanced wine. Learn the secrets for defining the sensations imparted by wine and understand the difference between recognizing a wine characteristic and liking that trait. Be empowered and acquire a personal vocabulary that will enable you to communicate your observations about wine.
Get Creative..Wine Label Design Competition: The team competition will continue as your attendees bring their creative flair to the table. Each team will be encouraged to name their wine blend and design their own label.
Making Sense of Wine…An Aromatic Workshop stimulates interaction and excitement as each team has four minutes to identify ten aromas often found in wine. This experience will encourage the creation of a culture that values collaboration, fostering a teamwork environment that rewards cooperative thinking,
planning and working together. The winning team will receive special recognition.
What Is That Scent? "An Aromatic Team Building Competitionstimulates interaction and excitement as your guest have only four minutes to identify ten aromas often found in wine. Your guests may work alone or with a team. This experience will encourage the creation of a culture that values collaboration, rewards cooperative thinking, planning and working together. You may choose to have prizes for those who successfully identify all ten aromas.
Interactive Team Building Wine Receptions create conversation, intrigue, excitement and interaction. Our Wine Evangelists will share their knowledge and passion with your group. Wine reception themes can be customized for your group, such as, wines that are good for the heart for cardiologists or wines you can count on for accounting firms. This wine adventure can be conducted as a reception only or we can incorporate some interactive wine related games for your group. Let Affairs of the Vine help you to customize a wine reception that will WOW them!
Food & Wine Pairing Adventures: Affairs of the Vine Wine Evangelists will present Food & Wine Pairing Adventures for your guests. The Evangelists will discuss and demonstrate the secrets in selecting the perfect wines to complement the flavors of a meal. The experiences will be interactive. These can be conducted in a classroom setting, as part of a meal or as free flowing walk around experiences. As your guests enjoy any of these adventure, they will develop the ability to taste the differences in wine and apply them to food pairing experiences.
The Original Wine Challenge (A Blind Tasting) ~ Affairs of the Vine Wine Evangelists will introduce your guests to the art of blind wine tasting by tasting two wines. The remaining wines will be tasted blind. The group is given clues to identify the wines. The theme of the tastings may vary. The group may be asked to identify the varietal, the appellation, the common or diverse flavor characteristics, the relative price of the wine, or any combination of these.
The Ultimate Food & Wine Pairing Challenge is a never-to-be forgotten experience. This interactive wine pairing dinner that creates excitement, laughter and discussion…a unique event that is sure to please. Designed to develop Relationships, create Access, activate Response, and focus on Empowerment, this incredible dining adventure is available only through Affairs of the Vine.
Wine Boot Camp® is customized program that provides the experience and knowledge needed to become totally confident in the understanding and appreciation of fine wine. Wine Boot Camp® is designed to engage attendees that possess all levels of wine knowledge. This event works well as a relationship building experience. Relationships will grow stronger as the attendees are divided into teams and work on exercises in the vineyard, cellars and grounds of the winery. This is an experience that your prospects/clients will not forget.
The Wine Country Scavenger Hunt requires team members to plan a strategy for locating obscure and hidden elements around a selected winery and capturing those using cell phone cameras or Polaroid cameras if technology is not an option on the winery property. The team must include themselves in the pictures in all of the photo challenges. The challenges include using vital business skills such as listening, negotiating, deductive reasoning, and collaboration"all skills that make them better employees. They work either in groups comprised of their current work team or work with people that they don't have interact with on a daily basis. Either way, they end up with a better understanding of their team mates, and learn new ways of dealing with work challenges.
A Walk Through the Vineyards, a unique progressive wine dinner with the attendance and active participation of winemakers, provides a fabulous and intimate wine country experience even for large groups. The group is divided into a minimum of four different teams. Each terrific course will be paired with a different wine. The winemaker from each winery will be at the event to talk about his (or her) wine with the specific course and speak with each team individually. A night to remember!