Interactive Team Building Wine Receptions
Affairs of the Vine Team Building Wine Receptions
Guests will be welcomed to a unique wine reception. Team Building Wine Receptions create conversation, intrigue, excitement, and interaction.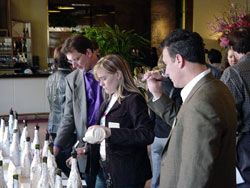 The wines at the reception can be tasted with the labels in full view or be tasted blind with the labels hidden from view. Our Wine Evangelists will share their knowledge and passion with your group. Either way your guests will have a fun and educational time with the wine and each other.
Wine reception themes can be customized for your group. Wine tasting stations with different themes can be incorporated into the evening. Some of our past themes:
Wines You Can Count On ~ Value wines for an accounting firm.
Heartfelt Wines ~ Red wines that are good for your heart for a group of cardiologists.
The Best of the Best ~ A tasting of imported caviar and French Champagne.
Undiscovered Treasures ~ Hot new discoveries and possibly some new vintages from some old friends. You won't find these beauties at your local grocery store.
Satin Sheets In A Bottle…A Pinot Noir Affair ~ An exploration of Pinot Noir that unveils the subtle sexy flavors of this marvelous grape.
Passionate Wines from Passionate Winemakers ~ Wines from the most passionate winemakers we know.
Life Is A Cabernet; Passionate About Pinot; Great Whites; Ramatazz Reds; Sexy Italians; Merlot Madness; Just Desserts; Romancing the Rhone; All That Sparkles; Ole! No Bull; Great Spanish Wines; A Rose by Any Other Name ~ Choose a combination of these themes to create your own unique Wine Tasting Reception.
Or we can provide a unique experience, the twist being that all of the wines are tasted blind. In either event, your guests will have an exciting, fun and educational adventure.
The Original Wine Challenge (A Blind Tasting) ~ An Affairs of the Vine Wine Evangelist will introduce your guests to the art of blind wine tasting by tasting two wines.
The remaining wines will be tasted blind. The group is given clues to identify the wines. The theme of the tastings may vary. The group may be asked to identify the varietal, the appellation, the common or diverse flavor characteristics, the relative price of the wine, or any combination of these.
Networking Wine Event ~ this event is designed to get participants moving and interacting with one another. Following a short course on basic wine tasting principles, participants are each given a glass of wine. Using their newly acquired tasting skills, students must describe their wine and find the other participants in the room drinking the same wine.