The Extreme Sonoma Coast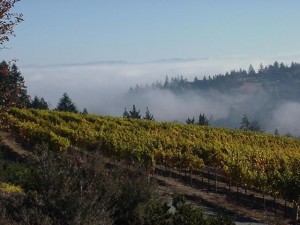 The Extreme Sonoma Coast is perfectly positioned to produce wines that benefit from the rigorous challenges of a cold climate environment.
Located within a 4-5 mile radius of the town of Freestone, the area extends west and south of the Russian River Valley and as close as four miles from the cold Pacific waters. Cooler sites don't imply thinner flavors or excess acid. The grapes grown here are producing wines of exceptional quality. The vines are delivering mature fruit at the lowest possible sugar levels, translating into wines with mature flavors and mature tannins. Balanced and elegant wines that reveal fruit that is true to the varietal. These characteristics can only develop with long "hang time." I love hanging out with these grapes – sometimes they aren't harvested until mid November, as we pray for dry weather and the grapes slowly mature.
The factors responsible for the slower ripening process are wind, fog and elevation. Elevation here is crucial. One of the things that it took me a long time to figure out, is that when you are in the mountains, the higher you are, the colder you are but here on the coast, the lower you are, the colder you are. Many of the vineyards I love lie at 250-350 feet above sea level. Just a mile or two away, the vineyard land rises to 750-1150 feet.
Marine fog raises the moisture in the air, and lowers the air temperature so our foggy nights put the grapes in the refrigerator every night and when the fog burns off or the ocean breezes carries it off, the sun slowly and surely ripens the vines.