12th Pinot Noir Summit Defines Excellence for New World Winemaking

Complete details here

Join Pinot Noir Shootout Competition Director, William "Rusty" Gaffney, M.D., the Prince of Pinot and other wine celebs, at The 12th Annual Pinot Noir Summit, a not to be missed whole body sensory experience, on March 9, 2014 at the Golden Gate Club in the Presidio in San Francisco.
The 12th Annual Pinot Noir Summit Continues the Legacy of Outstanding Pinot Noir
We are thrilled to welcome Rusty Gaffney, The Price of Pinot to our Affairs of the Vine Pinot Noir Shootout and Summit team. Rusty is the Editor & Publisher of PinotFile, a unique biweekly online newsletter dedicated to keeping readers apprised of news in the pinotphile world including latest releases, wine reviews, winery news, winemaker profiles, what to buy, and how to get your hands on it. More…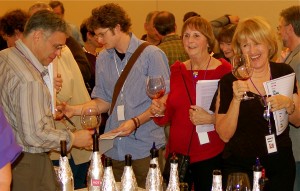 Sunday, March 9, 2014
Golden Gate Club at the Presidio
135 Fisher Loop
San Francisco, CA 94129
Get Directions
If you love Pinot Noir or just want to know what all the fuss is about, you must attend this interactive, educational and fun event.
The Pinot Noir Summit is produced by Chief Wine Evangelist, Barbara Drady and Affairs of the Vine, the Sonoma-based company dedicated to converting people to wine.