The Rhone Shootout Challenge ~ Green Team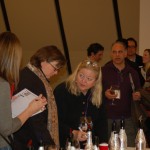 The Rhone Shootout Challenge
GREEN TEAM
Professional wine tasters consider the following: Clarity/Appearance, Color, Aroma/Bouquet, Acidity, Sweetness, Body/Texture, Taste/Flavor, Bitterness, Astringency, Finish, Overall Quality.
All that really matters is what you like. 
Make notes that make sense to you. Using your notes as a guide, vote for your favorite wines with the chips provided.
You have 5 chips with which to make your selections. You may vote for as many as 5 wines or as few as one. Indicate your passion for each wine by the number of chips you drop in the "ballot box."


Green Group:
Wine & Color
Professional
Male
Judging
Panel
Scores
Professional
Female
Judging
Panel
Scores
Anaba 2011 Annadel Estate Grenache Rose,
Sonoma Valley, $22
Hot Pink
91
91
Berryessa Gap 2007 Tradition Rocky Ridge Collection,
Yolo County, $25
Orchid
92
92
Bonny Doon Vineyard 2011 Vin Gris de Cigare,
Central Coast, $16
Dusty Rose
91
91
Bourassa Vineyards 2010 Syrah,
Coombsville Napa, $40
Dark Green
90
92
Calcareous 2010 White Blend,
Paso Robles, $20
Yellow
91
93
Cass Winery Rockin' One 2009 Cass Vineyard Red Blend,
Paso Robles, $42
Gold
92
90
Dierberg Vineyards 2008 Syrah,
Santa Ynez Valley, $36
Periwinkle
88
95
Drytown Cellars 2010 Estate Petite Sirah,
Amador County, $18
Pumpkin
90
91
Fortunati Vineyards 2011 Viognier,
Oak Knoll District Napa Valley, $28
White
90
90
Guglielmo 2011 Marsanne,
Santa Clara County, $20
Mint Green
93
90
Hahn Winery 2010 GSM,
Central Coast, $14
Red
94
91
Hug Cellars 2009 El Pape,
Central Coast, $30
Brick
91
90
Kandarian Wine Cellars 2009 Syrah,
Bennett Valley, $28
Gray
91
92
Michael David 2010 Cinsault,
Lodi, $20
Khaki
92
92
Poetic Cellars 2007 Muse Vineyard Mourvedre,
Livermore Valley, $29.00
Beige
90
90
R&B Cellars 2009 Bingham Ranch Petite Sirah,
Napa Valley, $28
Eggplant
92
90
South Coast Winery 2010 GVR,
Temecula Valley, $24
Coral
92
91
Spangler Vineyards 2009 Serenade Syrah,
Southern Oregon, $25
Wedgewood

91
88
The Messenger/The Art Farm
Multi-Vintage Red Blend, CA, $16
Lime Green
92
91

.

VIE 2008 Las Madres Vineyard Syrah,
Los Carneros, $39
Turquoise
91
93
Zaca Mesa 2008 Roussanne,
Santa Ynez Valley, $25
Tan
91
90