The Ultimate Food & Wine Pairing Challenge
The Ultimate Food & Wine Pairing Challenge is a never-to-be forgotten experience. A RARE event, designed to develop Relationships, create Access, activate Response, and focus on Empowerment, this incredible dining adventure is available only through Affairs of the Vine.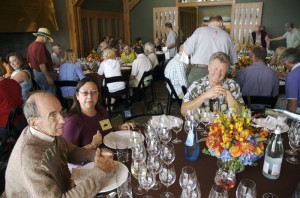 The Ultimate Food & Wine Pairing Challenge is A Sensory Exploration…A Discovery of Wonderful Wine and Food. An interactive wine pairing lunch or dinner that creates excitement, laughter and discussion…this is a unique event that is sure to please.
Here's how it works: two wine experts will pair wines with a multi-course meal. The selection of each expert will be poured with each course. Each expert will represent a unique wine perspective. For example; California vs. France, Napa vs. Sonoma, Italy vs. Spain, or Cool Climate vs. Warm Climate. We can customize this to the group.
The wine experts will direct the guests through the pairing and explain why each wine was selected. Lobbying for their own pairing, of course.
And the winner is…
Who will decide the winner?
YOUR GUESTS WILL!
Affairs of the Vine's friendly, expert staff educate without intimidation.
As your guests are wined and dined throughout the event, the wine educators from Affairs of the Vine will guide the group. Your guests will decide the winner of each course. We can guarantee great dining, fabulous wines and rave reviews.