White Group Wines: 10th Annual Pinot Noir Summit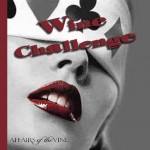 Here are directions given to the attendees who tasted the 21 wines in the White Group at the 10th Annual Pinot Noir Summit.
Remember that all wines are tasted blind without reference to vintage, appellation or price.
Professional wine tasters consider the following: Clarity/Appearance, Color, Aroma/Bouquet, Acidity, Sweetness, Body/Texture, Taste/Flavor, Bitterness, Astringency, Finish, and Overall Quality.
All that really matters is what you like.
Make notes that make sense to you.
Using your notes as a guide, decide which wines are your favorites.
Go to the "voting booth" and exchange your wine lover's voting card for 5 chips (red for women and blue for men).
Cast your vote for your favorite wines with the chips provided. You may vote for as many as 5 wines or as few as one. Indicate your passion for each wine by the number of chips you drop in the "ballot box."
White Group

AQUA MARINE

Davis Family Vineyards 2009 Soul Patch Pinot Noir, Russian River, $42

BEIGE

Grey Stack Cellars 2009 Pinot Noir, Bennett Valley, $30

BLUE

Alysian 2008 Allen-Rochioli Blocks Rochioli Vyd Pinot Noir, Russian River Valley, $65

BRONZE

Phantom Rivers 2009 Estate Mar Vista Vyd Pinot Noir, Arroyo Grande Valley, $35

BURGUNDY

Estancia Estates 2008 Reserve Pinot Noir, Santa Lucia Highlands, $31

DARK RED

HKG 2009 Estate Bridge Selection Pinot Noir, Russian River Valley, $38

DEEP PURPLE

Bargetto 2009 Reserve Regan Estate Vineyards Pinot Noir, Santa Cruz Mtns, $40

DUSTY ROSE

Morris Ranch 2009 Middle Block Pinot Noir, Sonoma Coast, $48

GOLD

Leucadia Red 2009 Pinot Noir, Russian River, $18

GRAY

Stephen's 2008 Estate Pinot Noir, York Mountain, $38

GREEN

Kenneth Volk Vineyards 2008 Enz Vineyard Pinot Noir, Lime Kiln Valley, $60

GUNMETAL

Styring 2008 Estate Pinot Noir, Ribbon Ridge, Oregon, $35

HOT PINK

Coghlan Vineyard 2009 Pinot Noir, Santa Rita Hills, $47

LIGHT BLUE

Bonneau 2009 Sangiacomo Vineyards Pinot Noir, Sonoma Coast, $34

LIGHT YELLOW

Orentano 2006 Pinot Noir, Russian River Valley, $36

MINT GREEN

Laurier 2007 Pinot Noir, Los Carneros, $20

ORANGE

Harlow Ridge 2010 Pinot Noir, Lodi, $11

ORCHID

Solomon Hills 2008 Solomon Hills Vineyards Pinot Noir, Santa Maria Valley, $57

SALMON

Petite Abeille 2009 Petite Abeille Vineyard Pinot Noir, Russian River Valley, $50

TAN

Wild Horse Winery & Vineyards 2010 Pinot Noir, Central Coast, $20

WHITE

Lazy Creek Vineyards 2009 Estate Pinot Noir, Anderson Valley, $42