Enlist
2015 Wine Boot Camp® Missions To Be Announced
Wine Boot Camp®, the extreme insider experience for adventurous Wine Lovers, challenges recruits to dive into wine by rolling up their sleeves and plunging into winegrowing and winemaking during a one-day reconnaissance mission.
Recruits will enjoy an aromatic workshop, wine tastings, breakfast, lunch in the vineyard, a wine blending experience and a sumptuous gourmet dinner. All of this packed into an intensive 12-hour day.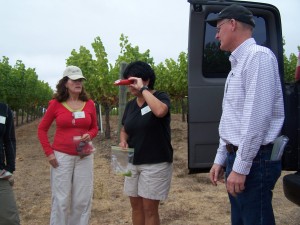 Wine Boot Camp groups are small so that all of the recruits can work hands-on in the vineyard and the winery.
The cost of the one-day WINE BOOT CAMP® adventure includes all workshops, educational materials, lunch in the vineyard, a gourmet dinner paired with wines, extensive wine tasting, a bottle of wine created by the recruit, transportation to all events, a WINE BOOT CAMP® cap, and an "I Survived WINE BOOT CAMP®" T-shirt. Enlistment is $600 per person plus tax. Contact Major Drady at 707-874 -1975 or camp@affairsofthevine.com for any questions.