2013 Rhone Shootout/Romancing the Rhones Results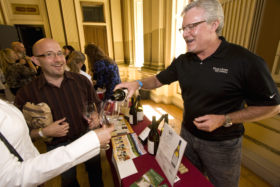 Complete Results of the 2013 Rhone Shootout here
Some Personal Notes and Observations:
Those of you who have been following me for a long time, know that I have always been ALL ABOUT PINOT. So why a Rhone Shootout? I was persuaded by several members of our judging panel and I am very happy that I was convinced to Romance the Rhones.
This is the 2nd Rhone Shootout. Last year's tasting and event was so much fun, we decided to do it again.
We put out the word and the wines came in daily with deliveries from GSO, UPS, Fedex, and DHL. Rhone wines came from a myriad of producers all over the world. The wines were catalogued and sorted.
Truth be told, more…
In this, the 2013 Rhone Shootout, the Affairs of the Vine professional judging panel tasted 261 Rhone wines, most from California and Oregon but some from Washington, Texas, Michigan, Australia, and France. We found outstanding examples of Rhone wines from wineries that we know and we're delighted by many of the wines submitted from producers new to us. The overall quality of the wines was incredible. In fact, we awarded more gold medals on a percentage basis than we have ever awarded in any previous Shootout and for the first time ever, awarded Double Gold Medals to those wines that were found to be outstanding by both our female and male judges.
The Rhone Shootout was a comprehensive and focused tasting of Rhone wines. The judging panel, an incredibly diverse panel of 62 wine professionals, tasted 261 wines over a three-month period. Just 32 wines were tasted by the experts per day, allowing the judges to be completely immersed, focused and fair to the wines. Palate fatigue is not a factor in our tastings. The wines are tasted completely blind without reference to appellation, vintage or price. Each wine submitted to the Rhone Shootout was tasted a minimum of twice. The top rated wines were then tasted by our panel of experts at the Rhone Shootout Finals on June 15, 2012. Again, each judge was responsible for tasting, scoring, and analyzing only 32 wines.
Detailed notes accompany the scores of each judge. Gender counts…scores and comments are recorded separately and posted on the Affairs of the Vine website.
The Rhone Shootout judges' decisions should have been put to the test during the Rhone Shootout Challenge at Romancing the Rhones which was scheduled for on July 14, 2013 on Treasure Island in San Francisco. Unfortunately, I had to cancel the event. I had unexpected surgery in late June and was concerned that I would not be able to pull everything together for a fun and professional event if I was not functioning at full capacity. It was the right decision. Without further ado, THE RESULTS
Key:
DOUBLE GOLD = 92 points+ by both the Male and Female Judges




= Love at First Sip - Gold



= An Affair to Remember - Silver
Scores: Women Judges
Scores: Women Judges Bang for Your Buck
Scores: Men Judges
Scores: Men Judges Bang for Your Buck
Alexander Valley Vineyards 2010 Estate Syrah
Alexander Valley, $20.00

2575 cases produced


DOUBLE GOLD


Female: Spicy aromatics open to red cherry and smoked plum that is replicated on the palate. Lovely juicy fruit, spice and oak components. Smooth palate with nice lingering spice on the finish. 92

Male: Intense cracked black pepper, bacon, plum aromas…Yum! The aromas continue onto the palate and are joined by coriander and meaty spices. Incredibly balanced wine showing fruit, oak and alcohol in proportion through the long finish. 96

Ashton Vineyard 2004 Estate Ashton Vineyard Syrah
Sonoma Mountain, $49.00

189 cases produced
Female: Dark and spicy fruit aromas. Lush fruit flavors with a hint of pine and dried fruit on the finish. 85

Male: Definitely has some age as defined by the color. Wild berry, plum and smoky bacon aromas repeat on the palate. A touch of coffee and some fun spice on the finish. Drink soon. 85

Ashton Vineyard 2005 Estate Ashton Vineyard Syrah
Sonoma Mountain, $49.00

210 cases produced
Female: Beautiful brown baking spice...cinnamon, cloves and allspice. Smoke, dried cherry, pomegranate, and spice flavors. Soft finish. 91

Male: Deep ruby with a garnet rim. Nicely reserved style shows in the nose - mocha and prune with toasted oak notes. Black cherry, sweet stewed fruit, damp leaves and coffee flavors. Good balance and acidity with a spicy soft finish. 89

Aver Family Vineyards 2009 Blessings Petite Sirah
Santa Clara Valley, $49.00

100 cases produced
Female: Brooding aromas and sweet fruity entry. Layers of black plums, licorice and dry earth. Dense and full bodied. Nicely rich and balanced. 90

Male: Cola, blackberry and spice on the nose. Rich palate adds leather and plum. Balanced finish. 87

Aver Family Vineyards 2010 Hope Red Blend
California, $38.00

100 cases produced
Female: The nose is dark with a masculine quality showing black cherry and spice - you can almost smell the weight of the wine. Black cherry, black plum, black pepper, and spice in the mouth with a lovely sour cherry finish. Nicely balanced. "I see myself sitting by the fireside wanting more." 92

Male: Deep ruby leaning towards purple in color. Plum, blueberry and smoke on the nose. Loads of fruit in the mouth with coffee on the finish. Firm tannins, nice structure and complexity. 91

Aver Family Vineyards 2010 Faith Red Blend
California, $38.00

100 cases produced
Female: Brooding dark berry aroma. Concentrated ripe boysenberry and blackberry flavors. Powerful, rich and deep. 90

Male: Warm vanilla and brooding black cherry in the nose. The palate takes the aromatic profile forward with great structure through the complex palate and finish. 90

Aver Family Vineyards 2010 Homage Syrah
Santa Clara, $40.00

24 cases produced
Female: Deep ruby in color. Dark fruit, coffee, smoky, and intriguing nose. Tobacco, chocolate, bramble, cigar box with grainy tannins on the palate. Nice acidity on the long finish. Grilled meat and veggies would be a great pairing. 90

Male: Smells like Graffeo coffee, ripe raspberries and light bacony notes. Nice nose. Stately palate presence echoing the aromas. Soft tannins. Stylish. 89

Bar Z 2006 Clairette
Texas High Plains, $28.00

68 cases produced
Female: Dried plums, bell pepper skins, and cedar shavings on the nose. Dried red fruit flavors with herbaceous notes on opening finishing with a cherry candy note. 84

Male: A fascinating and unique nose showing sauteed mushrooms, black currant, and cedar. Dusty tannins surround dried black cherry and herbs. 83

Callaway Vineyard & Winery 2010 Special Selection Mourvedre
Temecula, $28.00

399 cases produced
Female: Bright rose petals, stewed mushrooms, blackberry, plum, and a lovely smoky character. Bright and clean on the palate with earthy black cherry, cherry cordial and herbs de Provence flavors. Lovely juicy finish and spice accented finish. Would pair beautifully with a blue cheese burger. 89

Male: Snappy, spicy, deep and smoky. Smoke, cherries, herbs, and cinnamon in the glass. Lots of promise here. Rich and deeply textured. Coconut and lots of vanilla showing through. Some nice Provencal/garrique notes. Interesting wine showing rustic notes with lovely herb and fruit blend. Yummy! 89

Carol Shelton Wines 2011 Coquille Blanc White Blend
Paso Robles, $24

495 cases produced
Female: Smoky, Asian spice aromas with a low note of light petrol. Gorgeous lush mouth. Ripe pineapple, peach and Mandarin orange with a nice spice element on the finish. The oak adds interest. A touch grassy and great acidity on the finish. Yummy! 90

Male: Deep golden color in the glass. Intense apricot, Froot Loops, toasted coconut, cinnamon, and honey aromas. Lush and ripe fruit with a faint bitterness that is just right. The finish is Viognier dominant with nice balance and touch of new oak. 90

Chateau La Nerthe Blanc 2010 White Blend
Chateauneuf du Pape, $59.99

?? cases produced
Female: A touch of smokiness, then lemon, lime, stone fruit, and mineral notes arise from the glass and continue onto the palate and through the zingy finish. 90

Male: Beautiful complex aromas and flavors. The honey, earth, toasted coconut and ripe apricot nose leads to a juicy palate finishing with crisp acidity. 90

Chateau La Nerthe Rouge 2009 Red Blend
Chateauneuf du Pape, $59.99

?? cases produced


DOUBLE GOLD


Female: The aromatics are smoky with the dark fruit note showing cooked cranberry and blueberry compote. The palate is consistent with the nose showing rhubarb, spiced red cherry, blue fruit, and black pepper notes. Quite nice! Lovely with food. 92

Male: Beautiful aromas showing molasses, prune, stewed black cherry, and cinnamon. Loads of fruit with black pepper give good support to the oak. The tannins are big but well structured supported by the fruit components. 94

Cline Cellars 2012 Viognier
North Coast, $12.00

21000 cases produced
Female: Tropical fruit and spice notes with floral complements emanate from the glass. Exotic flavors of white peach and lychee fruit with spicy bacon notes in the mouth. Lovely silky texture. Balanced and very enjoyable. 95

Male: The color is dark straw with a pale copper hue. The flavors show ripe peach, apricot and melon, a virtual fresh fruit cocktail. Beautiful texture. 88

Cline Cellars 2011 Ancient Vines Mourvedre
Contra Costa County, $16.00

19700 cases produced
Female: The smoky nose is intriguing with leather, tea, lavender, herbs de Provence, strawberry, and blackberry. Bold black fig, loganberry and juicy bergamot flavors. Nicely structured. 90

Male: Ideal! Brown spice and blackberry on the nose. Black fruit continues onto the palate with layers of baking spices, cocoa and dark chocolate. 92

Cline Cellars 2010 Syrah
Sonoma County, $12.00

19700 cases produced
Female: Earthy notes on the nose. Soft berry flavors with chocolate and cola notes. Lovely baking spices on the finish. 89

Male: Blackberry, blueberry and coffee aromas with some very high toned minerality. Classic French style. Balanced with good acidity on the long finish. 89

Cline Cellars 2011 Cashmere Red Blend
California, $16.00

33000 cases produced
Female: Aromas and flavors are consistent. Delicious rich, dark and dense. Bing cherry, red and black plums, good spice, black pepper, and a touch of licorice. 89

Male: Strawberry, cherry aromas with a hint of violet and fennel. The palate reflects the nose. Soft tannins and vibrant acidity with long fruit and mineral on the finish. 89

Cloak & Dagger 2010 The Conspirators Reserve Dove Pond Vineyard Syrah
Paso Robles, $59.00

75 cases produced


DOUBLE GOLD


Female: Earthy, darkly fruited aromas, very intriguing! Layered fruit, spice, earth, and vanilla intermingle on the palate deliciously. 92

Male: Rich cassis, cola and clove on the nose. Quintessential Syrah flavors on the palate - repetition of the aromas plus coffee and other dark berries blend well. Rich and elegant. 92

Crane Brothers 2008 Crane Ranch Vineyard Syrah
Napa Valley, $36.00

99 cases produced


DOUBLE GOLD


Female: Big blackberry, plum, forest floor, and mocha, yum! Great nose! Peppery spice. Classic Rhone. Luscious mouthfeel with consistent flavors. Fantastic! 94

Male: Smells huge - ripe blackberries and cracked black pepper. Coffee and lively sweet sour black fruit in the mouth. Rich and mouth filling. Beautiful tannins and juicy acidity, Gorgeous! 92

Davis Family Vineyards 2010 Cuvée Luke Sierra Foothills White Blend
Sierra Foothills, $26.00

656 cases produced
Female: Delicate nose with a touch of caramel. Creamy in the mouth - almost a lemon brulee quality. Nice acid on the finish. A crowd pleaser. 89

Male: Citrus and earth aromas with a touch of orange and a light note of pencil shavings (very interesting). Nice honey, almonds and sweet citrus fruit continues through the finish. 87

Davis Family Vineyards 2010 Marco Mistral Red Blend
Sonoma County, $35.00

158 cases produced


DOUBLE GOLD


Female: Wow! Curry spice and juicy black fruit on the engaging nose. "Come to Mama!" Big, rich and balanced in the mouth with consistent flavors. Pretty oak integration. Powerful and fantastic! 94

Male: Herbs, leather and floral notes in a black fruit matrix. Nicely built black fruit, cherry and boysenberry framework. Bright cherry throughout the palate. Well balanced. Nice wine! 92

Davis Family Vineyards 2010 Estate Soul Patch Syrah
Russian River Valley, $42.00

360 cases produced


DOUBLE GOLD


Female: Deep, opaque and inviting. Aromas of cassis, kirsch and anise arise from the glass. Dark and rich. Nicely structured tannins balanced by acidity and fruit with chocolate on the finish. Decadent! "I see myself sipping by the fireside wanting another glass." 94

Male: Sweet berries and herbs on the nose. Rich and thick berry driven wine. Super juicy and ripe with mocha lingering on finish showing smooth tannins. Almost jammy but balanced. 92

Domaine Berrien Cellars 2011 Estate Viognier
Lake Michigan Shore, $15.50

271 cases produced
Female: Petrol, tangerine and grapefruit aromas. Almond and ripe fruit medley on the palate with a tangy finish. 85

Male: Orange blossoms with back notes of yeast on the nose. The palate is fresh and lively with zippy grapefruit, citrus and a touch of minerality on the finish. 84

Domaine Berrien Cellars 2011 Estate Marsanne
Lake Michigan Shore, $13.50

465 cases produced
Female: The nose is varietally right on showing mineral notes, honey and baking spices. Comice pear on the palate with a slightly tart and nutty finish. 88

Male: Golden honey in color. Very dense nose of earth, pineapple and smoke. Tropical fruit flavors give way to a racy finish. 88

Domaine Berrien Cellars 2010 Estate Syrah
Lake Michigan Shore, $20.00

161 cases produced
Female: Medium light in color and body. Alpine strawberries and tart raspberries move from the nose to the palate where cherries join in. Unusual but delightful. Quaffable. 86

Male: Aromas of cedar, red plum and a hint of cocoa. The palate is lean with light tannins. Some very hard to describe flavors including floral and menthol notes. Not true to character but still enjoyable. 85

Domaine de La Renjarde 2011 Red Blend
Cotes du Rhone Villages, $18.99

?? cases produced


DOUBLE GOLD


Female: Big, black fruit - blackberry, plum and spice notes. Yum! Fantastic in the mouth - loads of black fruit and peppery spice. Elegant and structured with great acid. The finish goes on and on. 95

Male: Cool wine! Elevated, wonderful ripe cherry nose. Nicely restrained palate with great definition. Red fruit with forest floor notes on the elegant palate. Great finish! 94

Ecluse Wines 2009 Rendition Red Blend
Paso Robles, $38.00

215 cases produced
Female: Big, dark and rich. Red and black cherry with lots of black and white pepper undertones and tarragon on the finish. Just a baby. Needs time. 88

Male: Well developed aromatics of black fruit, spice and barrel notes. Early stages of development on a great palate. 89

Ecluse Wines 2010 Improv Lock Vineyard Red Blend
Paso Robles, $36.00

300 cases produced


DOUBLE GOLD


Female: Plum, coffee and black pepper on the nose. A touch of funky earthiness on the plate but lots of ripe fruit - gorgeous! Luscious mouthfeel. 93

Male: Spiced red cherry with back notes of coffee, cedar, cassis, and orange zest in the glass. Same on the palate adding smoky bacon and white pepper to the complexity. Vibrant acids that propel the exceptional length. 92

Ecluse Wines 2010 Lock Vineyard Grenache
Paso Robles, $34.00

75 cases produced


DOUBLE GOLD


Female: The nose just keeps on giving… coffee, cedar, cherries, chocolate, and vanilla. The palate is rich with chocolate, black cherry, currant, and black pepper complements. Light bodied but with tons of flavor to satisfy. The perfect summer BBQ wine! 92

Male: Snappy, spicy, deep and smoky. The nose shows dark ripe cherry with cinnamon and chocolate accents. Ripe, rich and deeply textured. The sweet fruit flavors bond with the charred oak in this lovely wine. The finish is dry with medium plus tannins. 93

Exuberance by Canihan 2008 Exuberance Canihan Family Vineyard Syrah
Sonoma Valley, $49.00

260 cases produced
Female: Spicy! Garrique, black fruit and pepper aromas. Classic! Zippy and juicy in the mouth with flavors consistent with the nose. 90

Male: Rich blackberry pie aromas highlighted by coffee bean, mushroom and bacon fat notes. Big and meaty with plum and spice notes. Nice! 90

Exuberance by Canihan 2009 Exuberance Canihan Family Vineyard Syrah
Sonoma Valley, $49.00

300 cases produced
Female: Subdued dark red fruit aromas. Blueberry and sour cherry on the palate. Lovely! 89

Male: Grilled meat, floral notes, and maple syrup on the nose. Palate shows blackberry, cinnamon and herb flavors that hang in through the finish. 88

Family Album 2010 Family Album Red Blend
Santa Clara Valley, $29.00

100 cases produced
Female: The nose and palate are consistent - dill, black cherries, tarragon, and oregano notes. Bring on that rare steak! 89

Male: Roasted coffee and game notes plus black fruit on the nose. Dried black fruit flavors. Will age nicely. 89

Fernwood Cellars 2008 Reserve, Estate Syrah
Santa Cruz Mountains, $45.00

200 cases produced
Female: Plum, strawberry and cherry aromas with strong floral notes. Dark fruit and black pepper coats the mouth and stays through the finish. 84

Male: Smoky bacon, leather and black cherry aromatics. Mouth filling wine. Black pepper on the finish. 84

Fernwood Cellars 2009 Estate Red Blend
Santa Cruz Mountains, $38.00

200 cases produced
Female: Sweet smoked black cherries immediately invade your senses supported by savory baking spices and earth notes. Blackberry with mulled Christmas spices in the mouth. Balanced and easily enjoyed. 90

Male: Deep ruby pink with a purple rim. Caramel and plum aromas with mocha, mushroom, barnyard, and leather back notes open to gobs of fruit in the mouth with a powerful and appealing funky, spicy finish. 92

Fernwood Cellars 2008 Machado Creek Vineyard Petite Sirah
Central Coast, $30.00

350 cases produced


DOUBLE GOLD


Female: Super deep opaque purple. Lovely, dark fruit and spice aromatics. Great texture and balance. The palate displays nice depth of fruit. Prolonged tannins and great spice on the finish. Well made and approachable. 92

Male: Deeply opaque blue/black with legs that stain purple. Black cherry, mocha, cinnamon, and dark roasted coffee aromas. Massive on the palate. Dry with gripping tannins. "Just what a Petite Sirah should be." 92

Field Stone Winery 2011 Staten Family Reserve Viognier
Alexander Valley, $25.00

186 cases produced


DOUBLE GOLD


Female: Pale gold in color. Elegant aromatics of stone fruit with minerality and baking spice back notes. Vibrant entry to the palate which carries nectarine, orange zest and spice notes through the nice finish. Creamy mouth feel. Great sipper. 94

Male: Pale straw yellow in color. Subtle floral aromas open to pear, lime and white peach. Astoundingly expressive and layered palate. The aromas repeat on the palate with the addition of dry dried apricot. Balanced, clean and fresh. Beautifully restrained. 92

Field Stone Winery 2012 Heritage Block Petite Sirah Rose
Alexander Valley, $20.00

223 cases produced


DOUBLE GOLD


Female: Delicious, crisp and mouthfilling. Vibrant pink with a purple hue in the glass. Sweet rhubarb, cherry and spice aromas. Playful entry to the palate which just slips along bringing refreshing fruit flavors supported by a peppery spice. What a lovely experience! Definitely leaves you ready for the next taste. 95

Male: Dark rosé color in the glass, almost candy apple red. Animal notes on the nose with crab apple and raspberry back notes. The palate reflects the aromas. Juicy ripe red fruit mid-palate. Clean with a dry hint of tannin on the finish. Fun and yummy! 92

Field Stone Winery 2010 Staten Family Reserve Petite Sirah
Alexander Valley, $35.00

497 cases produced
Female: Blackberries, blueberry and eucalyptus aromas. The palate is highly textured, dense and dark with vibrant dark plum and spice flavors. Well-balanced showing good integration of oak and nice acidity on the finish. 90

Male: The wine is opaque blue/black. The glass is stained by the purple legs when the glass is swirled. "Blueberry, prune and anise aromas made my mouth water." A syrupy and hedonistic monster with gripping tannins and white pepper on the finish. "I like!" 93

Field Stone Winery 2011 Marion's Block Syrah
Alexander Valley, $25.00

272 cases produced
Female: Berry blast - loads of blackberry, raspberry, forest floor, and floral notes. Bright and juicy in the mouth. Really nice! Long and juicy finish. 89

Male: Violets and light cherry with pine forest notes on the nose. The palate is nicely formed and reflective of the nose. Nice wine. 89

Four Sisters Ranch 2009 Syrah
Paso Robles, $16.00

3000 cases produced
Female: Sweet cherry aromas expand in the mouth to dark Bing cherry, black cherry. Black tea and espresso notes jump in mid-palate through the finish. This is a BIG wine and begs for food. 88

Male: Oak, spice, very ripe fruit, and dark chocolate on the nose and the palate. Very nice. 88

Guglielmo 2010 Private Reserve Estate Carignane
Santa Clara Valley, $25.00

175 cases produced
Female: Aromas of a fruit laden wild berry and gingerbread. Consistent on the palate which is chock full of blackberry, black plum and a touch of nicely integrated oak. Clean and pure throughout. 90

Male: Pretty red raspberry aromas with a hint of mint. Lively mid-palate. "Very Russian River-like." Bright fruit finish. 89

Guglielmo 2010 Private Reserve Estate Petite Sirah
Santa Clara Valley, $25.00

350 cases produced
Female: Gingerbread and cranberry on the nose - uncharacteristic for this varietal. Lovely red fruit with black pepper undertones. Nice acid. "Elegant, if you can that about Petite Sirah." 88

Male: Tight raspberries and some coffee on the nose and in the mouth. Solid structure. Balanced with a long toasty finish. Good wine. 89

Guglielmo 2010 Private Reserve Syrah
Santa Lucia Highlands, $25.00

200 cases produced
Female: Sandalwood and Patchouli on the nose. Delicate red fruit palate with baking spice accents. Nice acid on the finish. Very pleasant. Not a big meaty Syrah. 86

Male: Interesting nose of black cherry, hazelnut, cocoa powder, and perfume. Lean but developed palate of black fruit and cherry. 86

Handley Cellars 2011 Whispering Oak Vineyard Viognier
Mendocino County, $22.00

246 cases produced
Female: Spicy inviting nose featuring Comice pears. Juicy tropical fruit flavors laced with a hint of honey, lush and pure with racy acidity off-setting the pretty fruit on the long lingering finish. 90

Male: Very pretty vanilla with honeysuckle and elderflower undertones. Big mouthfeel, stone fruit hints with a hit of green apple and citrus on the finish. 89

Handley Cellars 2010 Kazmet Vineyard Syrah
Redwood Valley, $25.00

417 cases produced
Female: Sweet dark fruit aromas with black pepper and spice notes carry through onto the palate with added earth and herbal layers. Lovely texture. Black licorice on the finish. 90

Male: Raspberry, earth and stones lead to a sweet, thick palate with black cherry, blackberry and spice flavors. A slight olive note comes through on the finish. 90

Hearthstone 2012 Pearl Hearthstone Vineyard Select White
Paso Robles, $26.00

198 cases produced
Female: Peach and tropical fruit high notes, some almond low notes. Lush peach and pineapple flavors with vanilla back notes. Nice acid on the finish. 89

Male: Layered nose of dried flowers, hazelnuts and quince. Silky texture. An almost buttered popcorn-like character combines on the palate with ripe orange and light coconut. Nice use of oak. Full bodied with a very long and complex finish. 89

Hearthstone 2012 Estate Hearthstone Vineyard Roussanne
Paso Robles, $26.00

75 cases produced
Female: Pretty and delicate aromas showing white flowers, toasted almond, orange, and Pippin apples. Mouth filling fruit with peach, lime and lemon curd on the finish. Really nice! 90

Male: Nice varietal representation. Floral notes and honey aromas. Orange and lemon flavors. Lovely balance of fruit and spice. Nicely focused palate. Cool banana and ocean air on the finish. Nice! 92

Hearthstone 2009 Slipstone Hearthstone Vineyard Red Blend
Paso Robles, $28.00

173 cases produced
Female: The savory red fruit aromatic is complemented by cinnamon and other brown baking spice notes. The palate shows a sweet band of red cherry with smoky back notes. Interesting finish. Pair with duck breast in red cherry sauce. 91

Male: Dramatic and elevated spiced black cherry aromas and flavors. Molasses and cooked dark fruit also with faint tea back notes. The wine shows gobs of sweet fruit with white pepper, oak and grippy tannins. This calls for a rare steak. 89

Hearthstone 2009 Lodestone Hearthstone Vineyard Red Blend
Paso Robles, $32.00

173 cases produced


DOUBLE GOLD


Female: Aromas: fresh forest floor, blackberry and mocha. Wow! Rich and balanced in the mouth with loads of fruit and spice. 94

Male: Delicious! Spiced cherry, cola, dark chocolate, and coffee on the nose. Lovely mid-palate of fruit and spice. Grippy tannins but well integrated. The finish lingers for another sip. Nicely structured and balanced. Perfect wine for lamb or grilled pork. 93

Holly's Hill Vineyards 2011 Estate Red Blend
El Dorado, $30.00

394 cases produced
Female: Scents of fresh berry compote fill the senses. Oak, vanilla and coconut accents join black raspberry, blackberry and wild berries filling the mouth. Juicy and full. 89

Male: Dramatic black cherry and baking spice combine with vanilla on the long rich palate. Black pepper adds the "Wow" factor. Blueberry notes linger. 90

Jessie's Grove Winery 2008 Ancient Vine Carignane
Lodi, $28.50

162 cases produced
Female: Inviting nose of red fruit with smoke, dust and light vanilla back notes. The blueberry and boysenberry fruit flavors are enhanced by judicious use of oak. Nicely structured tannins on the long finish. Well balanced. 90

Male: Brown sugar, coffee, licorice, and rich black cherry aromas draw you in. Great palate of lush cherry and black cherry. Precise finish. 90

Kandarian Wine Cellars 2009 Pepper Melange Syrah
Bennett Valley, CA, $30.00

150 cases produced


DOUBLE GOLD


Female: Wow! Garrique and blackberry, plum and spice. This is Rhone with a capital "R." Great mouthfeel, balance and consistency. 94

Male: Deep, rich and intense. The aromas of spiced graham crackers with black fruit repeat on the palate, great! Finishes with berry and spice. Very balanced. A winner! 93

Kandarian Wine Cellars 2010 Carpenter Hill Vineyard Syrah
Rogue Valley, OR, $30.00

60 cases produced
Female: Intriguing exotic spice aromas. Medium bodied and supple wine with tangy cherry, red raspberry, goji berry, vanilla, and pipe tobacco flavors. Juicy mouthfeel. Round and lovely. 90

Male: Captivating nose - brown butter, blackberry pie, chocolate and cedar. The lovely nose leads to a rich and smoky palate of blackberry and cedar. Balanced finish. 88

Kandarian Wine Cellars 2011 Roussanne
Rogue Valley, OR, $15.00

125 cases produced
Female: Almond milk and apricot aroma with a touch of citrus. Round in the mouth with ripe pear at the core. Finishes with hints of lemon zest. 88

Male: Very aromatic. Honey, almonds and citrus nose. Flavors open up on the palate showing vibrant white peach with a touch of citrus. Nice length. Perfect balance. 88

Kandarian Wine Cellars 2012 Unfiltered Picpoul Blanc
Walla Walla, WA, $15.00

90 cases produced
Female: A bit cloudy in the glass ("Unfiltered, I think.") The nose is inviting with lemon and lemon meringue notes. The citrus aromas carry through onto the palate. Medium+ weight and texture. Well-balanced. Beautiful acidity. Tart and crisp with lovely tingling on the long palate. True to varietal. 92

Male: Pretty tinge of green in the glass with a slight haze. Apple, apricot, white flowers, and wet rock aromas. Dry and crisp. An almond note adds complexity. Medium plus length. It is possible that neutral oak was used here. Nice! 90

La Cote Sauvage, Fide et Arte 2010 Cairanne Red Blend
Cotes du Rhone Villages, $26.99

2000 cases produced


DOUBLE GOLD


Female: "Oh my, I could swirl and smell this wine all day." Meaty and smoky, black fruit and bacon aromas. Really nice! Juicy and rich in the mouth. A classic wine! Blackberry, dark roasted coffee, bittersweet chocolate, vanilla and lovely spice notes on the palate where smoked red fruit flavors join in. Yes! 92

Male: Deep ruby with a purple rim. The aromatics arise from the glass showing plum, violets, granite, white pepper, bacon, and anise. The complexity continues in the mouth thick raspberry, bacon, earth, and licorice. Generously big and beefy with a lovely lingering acidity. Savory and yummy! 95.5

Les Coteaux Schisteux, Seguret, Fide et Arte 2010 Seguret Red Blend
Seguret, Cotes du Rhone Villages, $25.99

2000 cases produced
Female: Red and blue fruit aromas with some floral notes late. Very light chalky texture. Pretty ripe red fruit flavors moving to sour cherry on the finish. 89

Male: Root beer and black cherry aromas moving to an attractive and lively palate of raspberry and other red fruits. Well balanced with tannins and nice acid on the finish. 89

Les Coteaux, Fide et Arte 2010 Red Blend
Cotes du Rhone Villages, $16.99

5500 cases produced
Female: Elegant aromatic displaying oak, currant and big spice. Subtle fruit is deftly and judiciously surrounded by oak. "This is lovely and definitely French." 90

Male: A core of cherry fruit, light earthy background. Soft tannin, medium bodied. A touch of orange peel on the mid-palate adds interest to the red fruit. There is a dusty, earthy quality on the warm, long finish. Complex and well made. "I like!" 90

Longevity 2009 deb-ru-vee Red Blend
California, $38.00

125 cases produced
Female: The nose and palate are consistent: strawberry, cherry, pomegranate, white pepper, cedar and mild toast that is well integrated. Structured with a long finish. 85

Male: Boysenberry, oak and black tea nose. Cassis, plum, cloves, spice, and herbs on a complex palate accented with sweet oak. Long, consistent finish. 86

Longevity 2010 Syrah
Contra Costa County, $24.00

129 cases produced
Female: Blackberry, mocha and a touch of jalapenos in the nose. Black pepper and red berry fruit in the mouth. Pleasant. 84

Male: Coffee, espresso, black cherry, and smoke in the glass. Some very ripe black cherry, wild blackberry and spices on entry with tartness kicking in mid to late. 84

Longevity 2010 Petite Sirah
Lodi, $30.00

68 cases produced
Female: Ripe berry and dried prunes with some dusty earth elements on the nose follows through onto the palate displaying rich sweet fruit with dark chocolate overtones. Lovely spice on the finish. 90

Male: The wine is opaque black with blue highlights. Red and black cooked fruit and camphor on the nose. A massive wine showing blackberry and nice cherry fruit. Solid tannins on the velvety finish. 90

Longevity 2012 Viognier
Lodi, $24.00

43 cases produced
Female: Pale gold hue with fresh earth, lavender, orange blossom and herbs on the nose. Pineapple, passion fruit and papaya grace the palate. Very full bodied with low acidity. After the dramatic start, I was hoping that the finish would be longer. 87

Male: Very rich, earthy nose showing lime and spiced orange with light toasted almonds. Peach, pineapple, honey, and lemon zest on the palate with some lingering oak notes. 88

Lucas & Lewellen 2009 Estate Vineyards Syrah
Santa Barbara County / Santa Ynez, $26.00

309 cases produced


DOUBLE GOLD


Female: Inviting spice, dark fruit and smoke aromas draw you in. Smells like chocolate covered cherries. The palate is smoothly textured with blue and black fruit accented with savory spice. Balanced and elegant. Really pretty! 92

Male: Chocolate, coffee, rich fruit and dried roses on the sexy nose. Lush black cherry flavors. Great acidity. Long chocolaty finish. Nicely structured. Yummy! 92

Lucas & Lewellen 2012 Estate Vineyards Viognier
Santa Barbara County, $19.00

402 cases produced
Female: Light honeysuckle aroma - ("Less floral than I usually find in Viognier"). Melon and pineapple on the nose. Apricot and peach with tea and flowers that linger on the palate. Intriguing! "Nice finish that makes me want another sip." 90

Male: Subtle aromatics of citrus and melon. Rich palate with a touch of sweetness. A great quaffer! 89

Manzoni 2009 Home Vineyard Syrah
Santa Lucia Highlands, $26.00

295 cases produced
Female: Blackberry, oak and mint aromas open to black fruit flavors with coffee and chocolate notes. Balanced finish. 86

Male: Warm spice and black cherry with toasted barrel notes. Very ripe black currant flavors. Well defined finish. 86

Miro Cuvee Sasha 2011 Select Red
North Coast, $20.00

800 cases produced
Female: This blend of Grenache, Mourvedre and Syrah has a lovely cherry, black cherry and black raspberry nose. Lush and ripe red fruit in the mouth. Finishes with a rush of nice acid. Beautiful! 92

Male: Raspberry and cracked pepper aromas move to bright cherry and sweet strawberry fruit on the palate. The intense fruit is balanced with perfect acid and tannins. Really mouthwatering and juicy. Delicious! 91

Nottingham Cellars 2012 Viognier
Arroyo Seco, $28.00

448 cases produced
Female: The mineral and citrus blossom aromas lead to honeydew melon on entry through the mid-palate. Minerality kicks-in on the finish. 88

Male: Apple and light peach are nicely proportioned on the nose. Fresh lively palate dances with fruit and minerality. 88

Nottingham Cellars 2011 Awakening GSM Blend
Livermore Valley, $36.00

225 cases produced


DOUBLE GOLD


Female: Blackberry, mocha, black pepper, and lovely floral notes on the nose- really nice! Even better in the mouth! Quaff City! Consistent flavors and rich, juicy mouthfeel. 92

Male: Anise, blackberry and earth with some high toned spice in the glass. Lush berries and cocoa in the mouth. Bright and spicy, round and delish! Great food wine. 92

Nottingham Cellars 2011 Casa De Vinas Petite Sirah
Livermore Valley, $36.00

224 cases produced


DOUBLE GOLD


Female: Nice spice and dark ripe fruit aromas. Cherries, plums, exotic dark spices, and flowers with black pepper on the finish. Very friendly and enjoyable. 92

Male: Brown sugar, cherry pie, licorice, and gingerbread from opening aromas through the finish that is touched with the right amount of acid. Nicely framed wine. 92

Nottingham Cellars 2010 Micro Lot Reserve Casa De Vinas Petite Sirah
Livermore Valley, $44.00

44 cases produced
Female: Deep dark ruby in color. The black fruit, vanilla and smoky aromas are confirmed on the palate. Silky tannins are balanced by acidity. The finish lingers gently without being overpowering. 88

Male: Dark berry and spice aromas. Ripe blackberry flavors. Good acidity. Bright and fresh. Good PS! 89

Pedroncelli 2010 Family Vineyards Petite Sirah
Dry Creek Valley, $17.00

600 cases produced
Female: Earthy aroma leads to dark berry, tobacco and spice flavors. Deep and full bodied. Nicely balanced with plenty of acidity on the finish. 89

Male: Blackberry and cedar on the nose, joined by licorice and cola in the mouth. Balanced finish. Nicely restrained with enough umphff. Well made. Both fun and serious. 89

Pend d'Oreille Winery 2012 Willard Vineyard Roussanne
Columbia Valley, $18.00

77 cases produced
Female: Apple, light apricot, a touch of diesel, and minerality on the nose. Bosc pear flavors with lemon zest nd pith on the finish. 87

Male: Aromas of summer peach and ripe apricot with light honey back notes. Peach and apricot flavors on opening with honey notes. Brown spices join mid and continue through the finish. 85

Pend d'Oreille Winery 2008 Syrah
Columbia Valley, $21.00

168 cases produced
Female: Great color! Big, rich, deep dark cherry aromas advance to the palate where they are joined by ripe strawberry, sage, and cherry cola notes. Nice length. 86

Male: Lush and vibrant cherry, plum, brown spices, and a hint of maple syrup on the nose. Soft tannins in a firm structure with a vibrant finish. Complex and interesting. 87

Pickett Road White 2011 Estate Grown Kenefick Ranch White Blend
Calistoga, $24.00

288 cases produced
Female: Very ripe apricot, lemon and toast aromas arise from the glass. Lemon verbena, ripe apricot, toast, and orange spice tea on the palate. Big mouth feel. Complex! "The nice acidity makes me want to drink more." Delightful finish! Definitely a food wine. Grilled shrimp anyone? 91

Male: Medium yellow with a faint greenish hue. Delicate citrus, under ripe peach, melon, creek bed, and minerals on the complex nose. The palate mirrors the aromas. A surprising amount of mouthfeel, well defined acidity and a long finish of tropical fruits and honey. 90

Pickett Road White 2012 Estate Grown Kenefick Ranch White Blend
Calistoga, $24.00

150 cases produced
Female: Light floral notes and Asian pear aromas. Crisp Bosc pear flavors with citrus notes on the mid-palate through the finish. 89

Male: Very subtle aromatics of citrus and green apple. The palate is simple yet pure and precise. This wine begs for oysters. 89

Prieure de Montezargues 2012 Rose
Tavel, $22.49

?? cases produced


DOUBLE GOLD


Female: So pretty! Rose petals, strawberry and cherry aromas - fresh and lively. Bright and juicy in the mouth. The perfect dry finish is loaded with strawberry, cherry and cranberry. Lovely food wine. 95

Male: Beautiful aromatics of strawberry, light spice, roses, and minerals. Lovely red fruit flavors. Precisely balanced. 95

R&B Cellars 2010 Pizzicato Bingham Ranch Petite Sirah
Napa Valley, $30.00

372 cases produced
Female: Black pepper, blackberries and blueberries aromas and flavors. Dark and deep palate. Fruit and nice acidity helps to round out the tannins. 90

Male: Blackberry, mint, smoke, and coffee nose. Classic Petite Sirah. BIG tannins but lots of fruit to carry. 88

R2 Wine Company 2011 Rhapsody Red Blend
Santa Barbara County, $26.00

665 cases produced
Female: Strawberry, vanilla, spice, and cherry arise from the glass. Black cherry, cola and a hint of almond paste in the mouth. Beautiful acid! 93

Male: Lovely arrangement of black fruit, wild strawberry and raspberry aromas repeat on the palate with black tea, green tea and bright acid on the finish. Balanced. 90

R2 Wine Company 2011 Vin Blancs White Blend
Santa Barbara County, $24.00

438 cases produced
Female: Ripe mango and sweet floral notes on the nose. Lush pineapple and tangy lemon/lime flavors. Finishes with pleasant acid. Subtle and balanced creating a very pleasant experience. 90

Male: Ripe, sweet peach aromas with a little note of honey underneath. Pretty and round in the mouth with pear and a light floral character. Juicy and supple with a soft lingering finish. 90

R2 Wine Company 2011 Carignane
Santa Ynez Valley, $38.00

64 cases produced
Female: Fruit bomb of plum, blackberry, gaminess, and spice - great! Perfect balance of black fruit and peppery spice. Yum! 93

Male: Bright cherry and black cherry with sweet vanilla aromas. Cherry (carbonic maceration) and boysenberry flavors with lovely acidity and nice grainy tannins. 91

Rocca Family Vineyards 2009 Estate Grigsby Vineyard Syrah
Yountville, $50.00

230 cases produced


DOUBLE GOLD


Female: Layers of engaging red, blue and black fruit aromas. Dark plum, blackberries, cloves, spice, and tea merge seamlessly on the palate. Blueberry cobbler comes through on the finish. Beautifully structured tannins and well integrated oak on the lingering finish. Yummy! 92

Male: An opaque purple color in the glass. Blueberry, plum, barnyard, and spice aromas open to tons of fruit and boysenberry syrup with black pepper and smoke coming in mid-palate through the long finish. Well-balanced fruit, alcohol and tannins. Lovely Syrah! 93

Rockin' One Blanc 2011 Cass Vineyard White Blend
Paso Robles, $32.00

450 cases produced
Female: Honeysuckle, peach, spice, green herbs, and white flowers on the nose. Great in the mouth! Citrus notes on the palate at first that are joined by green apple and pear. Yum! Creamy palate with zippy acidity on the rich and long lingering finish. 93

Male: Honey, spice and orange blossoms on the nose. Classic Rhone fruit elements in the nose. Nicely formed palate showing pineapple with tasty barrel elements. Richly structured. Well made. 90

Rockin' One Red 2010 Cass Vineyard Red Blend
Paso Robles, $42.00

665 cases produced


DOUBLE GOLD


Female: The color is deep and opaque - red, almost black. The sexy, smoky nose displays leather, spice and dark fruit. The richly textured palate displays an almost syrupy quality with smoky black cherry flavors supported by earthy/leathery components and baking spice. Nicely balanced. This is a WOW! 92

Male: A hedonistic wine showing stewed mixed berries on the nose with gobs of sweet fruit and oak on the palate. Long and precise finish. New World style. Very nice! 92

Sayler-Tait Family Cellars 2010 Premiere Coastal Vineyard Syrah
Santa Barbara, $49.00

25 cases produced
Female: Alluring spiced dark fruit aromatics appear again on the palate which is vibrant, well-balanced and spicy. 91

Male: Blueberry syrup and cherry juice on the nose. Great fruit in the mouth. Hedonistic. Luscious. Mollydooker-style wine 90

Shannon Ridge 2010 Single Vineyard Caldwell Ranch Petite Sirah
High Valley, Lake County, $24.99

495 cases produced
Female: Fresh blueberry nose. The palate is dense with blueberries, dried currant, and rich wild berry compote in the mouth with black tea and coffee on the finish. 89

Male: Meat and leather on the nose. Blackberry, roasted meat and smoky bacon on the palate. Giant tannins but really fun! Perfect pairing - BBQ with sweet sauce. 88

Shannon Ridge 2010 High Elevation Petite Sirah
Lake County, $22.99

6250 cases produced
Female: Chocolate, mocha and dark berry nose. Yummy berry and chocolate flavors. Nicely balanced. 87

Male: Black pepper and licorice aromatic. Solid juice. Good structure. Solid, long finish. 86

Sierra Vista Vineyard and Winery 2011 Estate Mountain Vineyard Roussanne
El Dorado, $20.00

300 cases produced
Female: Honey and pineapple aromas. Flavors are minerally and fruity - star fruit and crisp pears. Balanced and clean. 89

Male: Dried herbs and toasted almonds on the nose. Richly defined palate of pear, citrus, papaya, and spice. Seamless wine, linear with a long and balanced finish. 89

Sierra Vista Vineyards and Winery 2012 Estate North Slope Viognier
El Dorado, $21.00

300 cases produced


DOUBLE GOLD


Female: Stone fruit aroma with a nice touch of diesel. Citrus flecked nectarine and peach flavors persist on the palate. Rich mouth feel, long finish. Fresh and clean start to finish. Fantastic! 94

Male: Bright lemon, lime, spice, and floral aromas carry through onto the palate beautifully. Big body. Well made. Just enough acidity. "Could be French." 92

Sierra Vista Vineyards and Winery 2009 Estate Grenache
El Dorado, $20.00

350 cases produced
Female: Gorgeous cherry/sour cherry aromas with a touch of cinnamon late. The palate reflects the nose with clove notes on the finish. I want a burger! 90

Male: Ruby in the glass with a pink/orange rim. The nose is complex…cherry, strawberry, saddle leather, horse sweat, dust, and stewed fruit arise from the glass. The palate is layered with anise, five-spice, cedar, prune, sweet oak, and dried leaves. There is a nice note of cranberry on the finish. Pure and snappy with great acidity. Very nice. 89

Sierra Vista Vineyards and Winery 2009 Estate Red Rock Ridge Syrah
El Dorado, $25.00

350 cases produced
Female: Closed at first, then opening to cedar aromas. Flavors of raspberry and cherry sprinkled with dried herbs. Great food pairing wine. Well balanced. 89

Male: Pretty nose of dry earth, cherry, cranberry, and loganberry. Gorgeous mid-palate showing bright expansive fruit. A lighter style of Syrah with tremendous length on the finish. 90

Six Sigma Ranch and Winery 2010 Reserve Syrah
Lake County, $45.00

98 cases produced
Female: Cassis and dark fruit nose. Chocolate, tobacco, cassis, and blackberry flavors. Big finish. Very youthful. Lay this down. It will get better and better. 89

Male: Big and thick. Leather, blackberry, raw beef, and tobacco leaf on the nose. Soft, supple, focused, and then expansive palate where lots of texture kicks in. Coffee on the finish. 90

Sobon Estate 2012 Viognier
Amador County, $16.00

2050 cases produced
Female: Earthy notes and meadow flower aromas carry onto the palate and are joined by pear and melon flavors. Grapefruit notes mid-palate. The finish is nice, if a touch short. 87

Male: Lovely honeysuckle and light orange aromatics at first opening to light spice and toast. Rich palate of pear and tropical fruit. I would love to see a touch more acid here. 87

Sobon Estate 2011 Syrah
Amador County, $16.00

900 cases produced
Female: Red raspberry, strawberry and white pepper aromas carry through onto the palate and highlighted by white pepper, clove and tobacco notes. Lush and ripe. 88

Male: Lively blackberry, cedar and cola on the nose. Red fruit in the mouth with the cedar and cola repeating. Sour cherry notes on the finish. 86

Sol Rouge 2009 Gypsy Rouge Red Blend
Lake County, $28.00

275 cases produced
Female: Spicy dried fruit nose. Baked fruit with spice in the mouth. Vibrant and satisfying. Great with roast pork. 89

Male: Cherry and vanilla nose. Silky texture. Fruit and oak combine seamlessly on the palate. Moderate tannins. Fine balance, classic structure and a vibrant finish. 89

Sol Rouge 2009 Syrah
Lake County, $32.00

175 cases produced
Female: Deep dark red in color. Spicy mulled fruit with hints of tobacco with savory spice. Dark and alluring on the palate defined by black plum, black cherry and cloves. Nicely balanced. Good finish. 91

Male: This is a really neat wine showing raspberries and chocolate. Deliciously juicy and layered. Almost liqueur. Thick and sweet with a smoky finish. 90

Sol Rouge 2009 Mourvedre
Lake County, $29.00

47 cases produced
Female: Cedar, cranberry and strawberry on the nose. The red berries continue onto the palate with white pepper and earthy back notes. Grainy tannins provide structure and finish. This would be lovely with grilled meats. 90

Male: The restrained and elegant nose opens to a lovely wine. Broad and mouth filling. Precise mid-palate of fruit and spice with a fair amount of barrel. Nice acidity and light tannins on the finish. 90

South Coast Winery 2012 Grenache Blanc
Temecula Valley, $18.00

420 cases produced


DOUBLE GOLD


Female: Pale straw with a slight peach color in the glass. The aromas are seductive, showing floral, white peach and fresh fruit salad scents. Some fruit flavors continue onto the palate and are enhanced by mineral notes. Lovely texture. Well-balanced. 93

Male: Pale onion skin color with a light pink tinge. Delicate dried strawberry, and melon aromas. No oak detectable. Bright and soft - easy drinking. Fresh fruit forward but with a dry touch. Lovely! 93

South Coast Winery 2009 Wild Horse Peak Syrah
South Coast, $30.00

548 cases produced
Female: Nice medium ruby-garnet color. Lovely perfume edge. Very unusual wine. Bright berry flavors with slight maple syrup and baking spice. Strawberry-rhubarb pie on the finish. 87

Male: Aroma singularly of intense candied lavender. The palate adds strawberry and a touch of cranberry to accent this unusual but surprisingly enjoyable wine. 87

South Coast Winery 2008 Red Blend
Temecula Valley, $16.00

929 cases produced
Female: Asian spice, violets, gardenia, rose petal, and fresh red fruit aromas and flavors. Complex and layered on the palate with dried fruit and baking spice joining mid. 89

Male: Violets and light cherry with pine forest in the nose. The palate is nicely formed with the addition of roasted game notes and blackberry flavors. Nice wine! 89

South Coast Winery 2012 Roussanne
Temecula Valley, $20.00

425 cases produced
Female: Light gold in color, clear at the rim (meniscus). Banana, tropical fruit and subtle white floral aromas lead to tart pineapple and almost ripe peach flavors. Smooth and balanced with a long, lingering pineapple finish. 91

Male: Lovely lavender, honeysuckle and spice aromas. Bright pear and banana with citrus and honey undertones. Lots happening on the palate, yet clean and refreshing. 92

South Coast Winery 2012 Viognier
Temecula Valley, $20.00

438 cases produced
Female: Nice nose of hyacinth and tropical fruit - guava, pineapple and lychee. Medium+ acidity gives this wine some zip. Slightly more citrusy than the nose would have you guess, but lovely. Nicely balanced. A good food wine. 92

Male: Warm spice with floral notes introduce a wine with a classic Viognier personality. Pink grapefruit and tangerine flavors are well proportioned. Lovely complex wine with perfect balance. 90

South Coast Winery 2011 GVR
Temecula Valley, $20.00

1056 cases produced
Female: Medium straw in color. Sweet fruit and floral notes with a mildly creamy accent. Richly textured on the palate. Lovely complement of fruit, acidity and alcohol. White peach, orange blossom and spice with a trace of minerality. Love it! 93

Male: Pale straw yellow in color. Apricot, allspice and tropical notes then aromas with hints of red and gold apples, dried pears, floral and vanilla notes. Fat and waxy notes indicate Marsanne and/or Roussanne participation to me. Sweet vanilla and fruit on the palate. Lots of texture. Clean with a long finish and great acidity of the floral and lingering finish. Very nice wine! 90

The Winery SF 2009 Red Blend
North Coast, $15.99

1000 cases produced
Female: Rich, deep garnet color. Beautiful nose and initial palate. Perfectly ripe fruit - wild blackberries, cassis, mushrooms, smoked meats, great delivery all around. Subtle spice and slight leather on the long finish. Great balance. 89

Male: Deep brooding black fruit and spice in an elevated aromatic. Rich texture with great balance. Old World meets New World. 89

Ventana 2010 Estate Ventana Vineyards Red Blend
Arroyo Seco, $22.00

2500 cases produced
Female: Cherry pipe tobacco, black pepper and curry spice - masculine and exotic aromas. Really nice in the mouth. Sweet vanilla, blueberry and blackberry flavors are balanced with tannin and acidity. Lovely dusty finish. A perfect quaffer. 91

Male: Richly proportioned fruit without being over the top. Smooth and balanced with red fruit accented by leather notes. Totally a wine that can be sipped and enjoyed without food. 91

VIE Winery 2009 Las Madres Syrah
Carneros, Sonoma, $39.00

150 cases produced
Female: Blackberry, blueberry and floral aromas. Lovely herbal quality adds to the black cherry and coffee flavors. Finishes nicely. 89

Male: Inky in the glass. The bouquet is smoky with blueberry, herbs and some gamey notes. Lush fruit in the mouth with oak showing mid-palate. Zesty orange peel and black pepper on the finish. 89

VIE Winery 2009 White Hawk Vineyard Syrah
Santa Barbara, $45.00

48 cases produced


DOUBLE GOLD


Female: Aromas of blackberry and garrique (wild flowers, sage, rosemary, pine) with a hint of violets - nice! Really nice and juicy in the mouth. Yum! 94

Male: Chocolate cherries in the nose. Wow! Bright cherry flavors enhanced with lively spice. Yum! 95

VIE Winery 2009 Les Amours Syrah
Santa Barbara, $42.00

175 cases produced
Female: Sweet cherry and dried herb aromatic. Cherry pie flavors on entry turning to sour cherry on the finish. Nice wine but will get better with additional bottle aging. 90

Male: Intriguing Jolly Rancher watermelon component in the nose with light cherry apparent on aeration. Bright cherry and lively brown spice with a touch of gaminess in the mouth. 90

Vigilance Vineyards 2011 Petite Sirah
Red Hills, Lake County, $24.99

6134 cases produced


DOUBLE GOLD


Female: Deep dark berry aromas. Round and rich. Full bodied. Floral notes - violets add to layers of fruit and allspice. Clean and pure. Powerful finish. 94

Male: Milk chocolate, coffee, cocoa plus black fruit on the nose. Smoky white pepper leads to initial sweet cherry followed by spice and citrus zest on the big finish. Yummy! Perfect! 93

Wente Vineyards Small Lot 2011 Grenache
Livermore Valley, San Francisco Bay, $40.00

?? cases produced


DOUBLE GOLD


Female: Medium purple-red in color. Forward nose of cassis and black cherry with dust and spice accents. Great launch to the palate -aromatics carry through in the mouth enhanced by a lovely black pepper component and lovely gamey notes. Great texture and balance. Can't wait for the next sip! 94

Male: Beautiful ruby color in the glass. Brambly strawberry, fresh cherries, raspberry, and spice nose. Super clean fruit in the mouth with bright acid on the finish. Well-balanced. Spice, earth and cranberry show through on the medium plus length. Pure and snappy. Great acidity. Excellent with or without food. 94

Zaca Mesa Winery 2009 Zaca Mesa Vineyards Roussanne
Santa Ynez Valley, $25.00

1946 cases produced
Female: Pale golden color. Very aromatic nose with flowers leaping from the glass along with tropical and stone fruits. Low acidity on this full-bodied wine. Melon, peach and pear flavors. Lingering finish. 89

Male: Really layered aromatic of Asian spices, caramel, toast, and ripe citrus. Golden color. Honeyed fruit flavors. Nice depth. Interesting wine. I'd really like some creamy goat cheese now. 89

Zaca Mesa Winery 2011 Estate Zaca Mesa Vineyards Viognier
Santa Ynez Valley, $16.00

600 cases produced
Female: Pale medium gold in color. Orange blossoms lead the nose with baked apple, toasted coconut and cinnamon notes following. The aromas are replicated on the palate with lovely lemon and lemon zest on the bright finish. Yum! 90

Male: Nicely layered and complex. Apricot and floral aromas arise from the glass opening to mango, lime and a ripe, slightly sweet earth note. The palate shows dried gold apple and lots of fruit with malic acid and a hint of tannin on the finish. Well balanced. 90

Zaca Mesa Winery 2010 Estate Zaca Mesa Vineyards Red Blend
Santa Ynez Valley, $20.00

3447 cases produced


DOUBLE GOLD


Female: Inviting aromatics of spiced red cherry, leather and touch of dill. Beautiful campfire smokiness shows on the palate of this delicately textured wine - an almost velvety quality. Flavors are spicy and smoky and earthy with lush red fruit notes. Wonderful for a BBQ. "Dill spice and everything nice!" 94

Male: Aromas of wild berries, cinnamon and sweet fruit are replicated on the palate with the addition of cured meat and smoke accents. A beautifully balanced wine - acid, tannin, oak, and alcohol are all in sync. Clean and restrained. 92

Zaca Mesa Winery 2009 Estate Zaca Mesa Vineyards Syrah
Santa Ynez Valley, $25.00

8316 cases produced
Female: Sweet black cherry aromas and flavors with smoky notes and brown spice complements. Nicely textured with a touch of bitterness on the finish. 87

Male: Roasted dark berries, dark spice, wood, and a hint of licorice on the nose. Flavors = black cherry and raspberry with vanilla back notes. Nice length. 88