International Rhone Shootout Registration and Overview
Romancing the Rhones:


A Seductive Wine Shootout
Over the last thirteen years, Affairs of the Vine has conducted 32 unique Wine Shootouts. Our Pinot Noir Shootout and Cabernet Shootouts have been repeated year after year. Two years ago we decided it was time to Rhone!
Affairs of the Vine will again "Romance the Rhones."
If you make, sell or market Rhone wines …Submit your wines to The International Rhone Shootout. Submissions accepted through July 15th. All wines must be received no later than July 22nd.
The finalists will be showcased at The Romancing the Rhones Grand Tasting Event on Saturday, September 6, 2014 in the historic 1925 ballroom at the Kensington Park Hotel, Union Square. The consumer event, The Romancing the Rhones Grand Tasting, is the culmination of the Rhone Shootout. There will be great food and music to add to the merriment. See pictures from the 2012 event here.
2013 International Rhone Shootout Results
The Shootouts are a fascinating way for consumers (and wine professionals) to discover wines and wineries they've never heard of, or to rediscover old favorites.
A series of blind tastings are conducted, leading up to a stellar collection of finalists, which are then presented to the public at The Romancing the Rhones Grand Tasting Event. The finalists are tasted blind (of course!), and attendees get to vote for their favorites: male palates are pitted against female palates, judges palates against consumers. In addition, each participating winery may purchase a table where they sample whatever they wish.
Our Shootouts have always attracted fabulous wines from great producers. We'd love to include your wines in this year's competition.
We will taste and assess all Rhone varietals.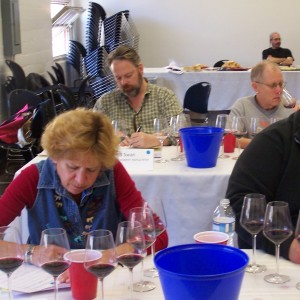 A wide array of palates emphasizing both traditional and new media will gather to assess the best Rhone wines from all over the world at the Rhone Shootout finals on August 23rd in San Francisco, California.

Affairs of the Vine will conduct The Rhone Shootout prelims throughout July and August of 2014.
The final judging will be conducted on Saturday, August 23rd in San Francisco by the Rhone Shootout Judges.
The Rhone Shootout will be featured on Twitter, Facebook, and other Social Media networks and in numerous wine publications.
The comments and reactions to the wines will be accessible on the Affairs of the Vine website and will be posted by September 4th.
All wines must be registered by July 15th (no exceptions!)
Click here for online registration form
Vintners wishing to partake in this event must register by July 15th and must send four bottles of each entry to be received by July 22, 2014.
WINES TO BE SENT TO:
Affairs of the Vine
696 Elliott Lane
Sebastopol, CA 95472
707-874-1975
Attention: Rhone Shootout
Please provide the information requested on the submission form for each wine submitted. It will be helpful if you will include a spec sheet when you send your wine.
With over 4100 followers on Twitter Barbara Drady @wineevangelist, 10,000+ connections on Linked In, and 2900+ friends on Facebook…we're Romancing the Rhones!
WINES MUST BE ENTERED BY July 15, 2014 and RECEIVED NO LATER THAN July 22, 2014.
The fee for each wine entry is $65.00.
Click here to Register online and save $10 per entry.
Register 4 or more wines and receive an extra $5 per entry discount – just $50 per wine.
If you would like to have the submission form sent as an attachment or faxed to you, please call 707-874-1975 or
Email Barbara Drady.
*Please ensure that all wines submitted are currently available or will be available for purchase soon. Older vintages should only be submitted if they are still available for purchase either at retail outlets or through your tasting room or website.
Romance us and seduce us with your wines…
For each wine submitted, please send a minimum of four (4) bottles ASAP.
Send 4 bottles of each wine to:
Affairs of the Vine
696 Elliott Lane
Sebastopol, CA 95472

Rhone Shootout Results