The Ultimate Pinot Noir Lover's Adventure!
Noon - 3:30 PM
Pinot Noir Shootout –
The Final Showdown:
Pinot Noir lovers taste 40 of the top-rated wines from 8th Annual Pinot Noir Shootout in a blind tasting at the Pinot Noir Summit. Pinot Noir lovers, wine industry attendees and media will taste the selected wines and pit their palates against the expert panel. Each guest will taste the wines and rate their preferences. Scores will be tallied and compared with the findings of our panel. Male and female preferences will be noted.

Pinot Noir Workshops Session One ~ Guests may attend one workshop.
3:30 PM – 4:15 PM Choose one of the following:
When Pinot Sparkles... ~ Blanc de Noirs are sparkling wines made from black grapes, typically Pinot Noir. Taste some wonderful examples of these wines, explore how these wines are produced. The panel will discuss the process, appellations and food pairings.
Moderator: Ellen Landis, Sommelier: Wine Director: Landis Shores Oceanfront Inn, Half Moon Bay, California
Panelists: Kim Beto, Champagne Pommery; Tom Tiburzi, Winemaker, Domaine Chandon; Steve Urberg, Winemaker, Gloria Ferrer.

Winemaking 101 ~ The challenges a winemaker faces from harvest through bottling. When are decisions made and how do you decide? Four winemakers discuss the "process" as each share a wine that has not been released as yet.
Moderator: Mike Potashnik, Publisher, International Wine Review
Panelists: John Clark, Owner/Winemaker, Brophy Clark; Eric Luse, Owner/Winemaker, Eric Ross Winery; Patrick Melley, Owner/Winemaker, Russian Hill Winery; Ken Volk, Owner/Director of Winemaking, Kenneth Volk Vineyards.
Discovering New Stars ~ An introduction and tasting of wines from young wineries producing fabulous Pinot Noir.
Moderator: C. Jason Mancebo, Wine Blogger, $20 Dollar Wine Blog
Panelists: Bradley Brown, Owner/Winemaker, Big Basin Vineyards; Bradley Ken Post, Winemaker, Mariposa Wine Company; Mark Ray, Winemaker, Perception Wines.

4:15 – 5:00 PM– Cheese Intermezzo

Pinot Noir Workshops Session Two ~ Guests may attend one workshop.

5:00 – 5:45 PM Choose one of the following.
Food and Pinot Noir Pairing ~ An exploration of Pinot Noir pairings. What works with which style of Pinot Noir?...Taste for yourself.
Moderator: Rick Bakas
Panelists: Leon Glover, CEO/Winemaker, Lionheart Wines; Debra Morris, General Manager, Mariposa Wine Company.

A Global Perspective on Pinot Noir ~ Yes, it's the same grape. Are the wines different? Find out as we taste wines from four different classic growing regions: Burgundy, Russian River Valley, New Zealand and Santa Cruz Mountains.
Moderator: Sid Sall, Wine Director, Great Chefs of Marin
Panelists: Ted Elliott, TR Elliott; Sal Godinez, Winemaker, Vine Hill Winery; Anthony L Westfall, Co-Founder and President, Good Company Wines.

Sustainable? Organic? Does it matter? ~ What effect do vineyard practices have on the quality of the wine? A panel of winemakers and wine growers discuss this very controversial subject as they share wines produced from their vineyards.
Moderator: Don Winkler, Editor, The International Wine Review
Panelists: Paul Clifton, Winemaker, Hahn Family Wines; Ramona Nicholson, Proprietor and Vineyard Manager, Nicholson Ranch; Rachel Ormes, Viticulturist, Vine Hill Winery.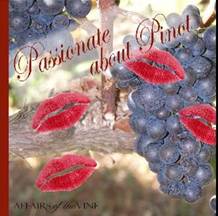 6:00 PM - 8:30 PM
Pinot Noir Reception and Awards Ceremony: The final results will be announced at The Pinot Noir Summit at 8:00 PM on February 27, 2010 and the winners will be unveiled during a reception featuring top Pinot winemakers and winery owners showcasing their wines with specially paired hors d'oeuvre.
Complete results of the 8th Annual Pinot Noir Shootout will be posted no later than March 15, 2010.
Pinot Noir Summit $125
(includes Blind Tasting, Workshops,
Reception & Awards Ceremony)
Pinot Noir Reception & Ceremony $75
Only 250 tickets are sold for The Pinot Noir Summit. It has sold out every year, and we expect the eighth annual to be no different. Get your tickets early before they're gone.