Passionate About Pinot?
This is the Wine Event for you!
The Pinot Noir Summit, one of the best Pinot Noir events in the world, returns to the Bay Area for its 8th year on February 27, 2010.
Pinot Noir can be mysterious and somewhat intimidating. This event creates fun, excitement and allows people to trust their own palates.
If love Pinot Noir or just want to know what all the fuss is about, you must attend this interactive, educational and fun event.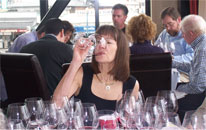 Saturday, February 27, 2010
Pinot Noir Summit
Osher Marin Jewish Community Center
200 N. San Pedro Road
San Rafael, CA 94903
Full Day: 12:00 p.m. to 8:30 p.m.
Awards Ceremony & Grand Tasting: 6:00 to 8:30 p.m.
See Fantastic Food menu here....
Click here for directions - parking will be provided across the street at Venetia Valley Elementary School

Pinot Noir Summit $125
(includes Blind Tasting, Workshops,
Reception & Awards Ceremony)
Pinot Noir Reception & Ceremony $75
Only 250 tickets are sold for The Pinot Noir Summit. It has sold out every year, and we expect the eighth annual to be no different. Get your tickets early before they're gone.
A portion of each ticket purchased to the Pinot Noir Summit will be donated to Palm Drive Health Care Foundation in support of Palm Drive Hospital. Palm Drive Hospital, located in Sebastopol, is in the heart of some of the best Pinot Noir in the world - the Russian River and the Sonoma Coast.

The day long Pinotcentric events begins with The Pinot Noir Showdown, a blind tasting of 40 top-rated Pinot Noirs. Attendees become wine judges for the day and pit their palates against the expert panel, tasting and voting on their favorites.
Following the Showdown, guests may attend two Pinot Noir workshops featuring wine experts from around the country exploring the many faces and facets of Pinot with top winemakers and viticulturists.
An incredible array of cheeses to enjoy with your Pinot will be offered mid-afternoon and food will be available for purchase on site throughout the day.
The event concludes with a grand tasting as winemakers, proprietors, and winery personnel will share their outstanding Pinot Noirs and a taste of other wines they produce. A fantastic array of hors d'oeuvre will be served.
The identity of the wines tasted at the Pinot Noir Showdown will be revealed. The final results will be announced at the Awards Ceremony at The Summit at 8:00 PM on February 27, 2010.
See the Pinot Summit Schedule here...
•You be the judge ~ taste and review 40 top-rated Pinot Noirs from around the globe in a blind tasting
•Enjoy Pinot Noir Workshops conducted by expert winemakers, viticulturists and wine educators
•Meet and taste with top Pinot Noir winemakers at the Grand Tasting, specially paired hors d'oeuvre
•Attend the Pinot Noir Shootout Awards Ceremony ~ your vote counts
•Have the experience of your life tasting some of the best wines produced
•Taste wines blind and learn to trust your own palate
•Have fun with other Pinot Noir lovers
•Be among the select few to be a part of this event – you opinion counts!
See a list of wineries and judges here...

Ultima Burgundy Glasses provided by IWA.
*Food will be available for purchase on site throughout the day.
Complete results of the 8th Annual Pinot Noir Shootout will be posted, no later than March 15, 2010.