The Wine Evangelist, March, 2009
Dear Wine Lover,
Wine Judging
Do you ever wonder how wines are judged and rated? Get an insider's view of wine judging competitions as Barbara Drady, CEO and Chief Wine Evangelist at Affairs of the Vine shares her experiences and opinions on wines and how they are rated.
"I was quite candid about wine judging when I was interviewed on Grape Radio last week," stated Barbara. I'd love to hear your feedback.
Check out the interview at http://www.graperadio.com/
Passionate about Pinot Noir?
Attend the 7th Annual Pinot Noir Summit

On Sunday, April 5, 2009 consumers, press and trade will gather for the remarkable "7th Annual Passionate about Pinot Noir Summit" in San Rafael, California.
View complete details

The Pinot Noir Summit is the culmination of the Pinot Noir Shootout, the most comprehensive and focused tasting of Pinot Noir in the US. Affairs of the Vine, International Wine Review, and Wine Radius have partnered to bring you this amazing event.
Pit your palate against the panel…The Pinot Noir Shootout is the only competition in which the judges' conclusions are put to the test by an unbiased panel of wine lovers. Be among the 250 Pinot Noir loving attendees to the Summit: taste 40 of the top wines blind, your opinion counts; attend Pinot Noir workshops conducted by expert winemakers, viticulturists and wine educators; and join us at the Pinot Noir Awards reception featuring top Pinot Noir winemakers showcasing their wines with specially paired hors d'oeuvre.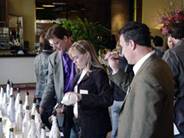 Attendance is limited to 250 Pinot Noir lovers.

Pinot Noir Summit $100 per person
Complete details can be viewed at


http://www.affairsofthevine.com/pn_summit_7.php
Click here to attend the Pinot Noir Summit
Have you checked out the Affairs of the Vine blog?
The Wine Evangelist Blog

Comments and personal views from California Wine Country and Wine Down Under.
Barbara will provide views and ramblings from the Extreme Sonoma Coast.
Lauren will share her unique views from Down Under where she is attending Adelaide University. She is beginning the Master of Wine Business program. She'll share her insider views of Australia and her educational experience.
Hope you have fun traveling back and forth with us across the Pacific.
Is your company surviving in the current economy?
Has your company downsized? Are you trying to achieve your goals with fewer people who are under incredible stress? Today, it is the employees who are left who must given every tool possible to be successful. Team building, bonding, learning and taking a break every once in awhile are all critical to getting through these difficult times.
"Water separates the people of the world, wine unites them."
Let Affairs of the Vine create a unique Team Building Workshop. We will customize an event to meet your goals.

Corporate Team Building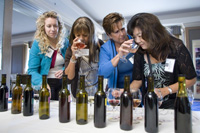 As companies downsize or undergo management changes, one of the greatest challenges they face is keeping employees engaged, involved and enthusiastic in their work. By promoting engagement in your workplace, employees will take more pride in their work and sustain higher morale — which fosters greater individual commitment to meet larger company objectives.

People are your company's most valuable asset and its most sustainable resource. The greatest return on your investment can be found by taking measures to improve employee engagement; it is fundamental to any company's continued success.

Proof Positive
A recent Gallup study found that companies with higher levels of employee engagement outperformed the S&P by 24% over a three-year span. The study demonstrates that by creating a culture of collaboration and building successful teams, your company can increase employee retention, strengthen customer relations, generate more business and positively affect your bottom line. Focus on developing existing talent, maximize core strengths and minimize weaknesses and your company will not only endure the current economic climate, but thrive beyond it.

Corporate Events by Affairs of the Vine

Let Affairs of the Vine customize a fun and interactive wine workshop or event for your team. Wine Boot Camp®, Wine Blending Workshops, and Food and Wine Pairing Team Challenges are sophisticated and fun team-building events that creatively encourage working relationships where "none of us is as good as all of us".

Create Positive and Sustainable Changes in Your Team
We are not only a wine event company; Affairs of the Vine specializes in designing workshops that will help your company meet particular business objectives. We survey your group prior to the team-building event, customize a workshop to meet your specific goals, observe team interaction during the event, and assess your team's performance in a final report, offering in-depth consultation and powerful advice on best practices.
We take pride in delivering a measurable Return on Investment for our clients. Contact us and learn more about how we can create an unforgettable and valuable experience for you and your company!

Stretch Your Budget
Expensive conferences and elaborate offsite functions may not be built into your current budget. Let Affairs of the Vine come to your site and produce a team event that works within your budget restrictions. We'll create a memorable, engaging experience that will help your company build morale, improve performance and increase productivity.
Join us in Wine Country or let Affairs of the Vine bring Wine Country to you!

Affairs of the Vine's expert and congenial staff educate without intimidation. Affairs of the Vine is prepared to exceed expectations while assisting you in producing a flawless program.

Weather or not...
Most of us pay attention to the weather when we are planning activities outdoors. Is it going to be beach weather, should I take an umbrella, or bring a jacket?

In the wine business, weather rules!

No two vintages are the same. Mother Nature is unpredictable and often teaches hard lessons. All of us here in Northern California Wine Country thought we were in for another tough lesson in 2009.

Northern California vintners had been quite concerned because we have had such beautiful weather. Yes, that's exactly what I said. Up until a few weeks ago, we were suffering from lack of rain.

Over the last few weeks, we have been getting lots of rain, thank goodness. Not knowing where we stand now from the vineyard perspective, I called Nick Frey this morning. Nick is the president of the Sonoma County Wine Grape Commission (link to www.sonomawinegrape.org) and my go to guy for all things Sonoma County vineyard related.

When asked how the vineyards are doing, Nick replied, "Better than we were a month ago." He went on to tell me that with all of the lovely weather we had in November, December and January that bud break is coming and it's coming fast. Until the recent rains, vineyard owners were quite concerned about having enough water to be used for irrigation and frost protection, if needed.

I invited Nick to gaze into his crystal ball and tell me what he sees for the 2009 vintage. He told me that he thinks there are good prospects for a decent crop and that harvest will most probably me at the usual time. Sparkling wine grapes coming in mid to late August and the rest of the varietals in September and October. Hedging his predictions a bit, he said, "Depending on whether or not we have a warm or cool summer, harvest times could go a week or two either way."

We'll keep an eye on the crop and keep you updated.

Barbara Drady

Chief Wine Evangelist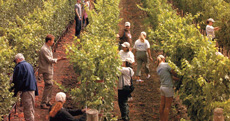 Wine Boot Camp®
The dates for our 2009 season have been set.
Winery partners will be announced in our next newsletter.
View the Wine Boot Camp video

Click here to enlist in 2009 Wine Boot Camp®
August 15, 2009 - Napa Valley Wine Boot Camp

[Click here to purchase]
September 12, 2009 - Sonoma County Wine Boot Camp

[Click here to purchase]
For additional information, contact Major Drady at 707-874 -1975 or camp@affairsofthevine.com
OUR MANTRA...TRUST YOUR OWN PALATE
Read reviews but remember it's your palate that counts. Check out our gender based reviews at http://www.affairsofthevine.com/shootouts.php
Find a wine critic who likes wines that you like. Don't feel that you have to embrace the wines that wine critics praise. Don't be intimidated! If a movie critic gives a film five stars, do you feel that you're unsophisticated if you don't like it too? Wine is no different. Personal preference is what counts. So drink and enjoy what you like. At Affairs of the Vine we say, "If you like the way it looks and you like the way it smells and you like the way it tastes...its good wine. So use our recommendations as a guide but you are the authority of what provides "Love at First Sip" for you.