Sign up to become a member of Affairs of the Vine and receive our free newsletter by contacting us at member@affairsofthevine.com
Wine Love Letter, July 2003
Dear Wine Lover,
| | |
| --- | --- |
| | On July 4, 1776, we claimed our independence from England and democracy was born. It is a tradition in my family to celebrate the 4th of July each year by eating too much, enjoying fireworks, drinking good wine, and reflecting on how lucky we are to live here in Wine Country. |
This year, as we reflected on independence and freedom, it occurred to me that all wine drinkers should exercise their right to drink what they like, when they like.
At Affairs of the Vine we say, "If you like the way it looks and you like the way it smells and you like the way it tastes...it's good wine!" So let Affairs of the Vine share our opinions about the wines we taste and help you discover new wines, but above all else, remember to trust your own palate!
Celebrate Independence Day with us and exercise your freedom to choose.

After a very mild winter and an unusually wet April, the vines played catch-up in May. Much of the vineyard work that should have been completed in April was postponed until May, so the vineyards were very busy with workers and with changes in the vines.
Nunes Vineyard, June 4, 2003 (Nunes no ~ so it is pronounced "New-ness")
Although there was lots of rain, the rain was steady, allowing for the vineyards to absorb the water, the well-soaked ground allows the vines to get much needed nutrients from the soil.
Bloom was as much as two weeks early in many areas. The onset of bloom varies by area but usually occurs between mid-May and the first week in June. Once the flower is pollinated the berry sets, and thus begins the journey from vine to wine.
Budbreak in the Oak Tree Block, Nunes Vineyard
Fruit Set, May 22, 2003
Crown thinning -Fred, Mario, & Gustavo; Nunes Vineyard
Early berries, June 20, 2003
Due to the cool weather during bloom the crops in most of Wine Country are at least 20% lighter than last year. The clusters are looser but the quality looks to be excellent.
Work in the vineyard right now is vigorous, with canopy management being the main focus. Vineyard workers are leaf thinning, shoot thinning, and suckering. Other tasks include irrigation management, pest monitoring, and mildew protection.
Next Newsletter: Veraison, the turning point...

Wine Boot Camp offers a Crash Course from Vine to Wine
ATTENNNNSHUN!
The count down has begun - only three Wine Boot Camp Missions remaining this year.
Enlist now in Wine Boot Camp 2003
| | |
| --- | --- |
| | If you are intimidated by sommeliers or wine knowledgeable friends, feel out of your depth when confronted by rows of wine bottles, or unsure of which wine to buy next, then Wine Boot Camp will give you the knowledge and experience to get maximum enjoyment from wine. |
Wine Boot Camp offers one day of intensive wine training and is the ultimate fantasy experience for wine lovers.

Wine novices and experts can experience firsthand the joys and frustrations of winemaking. You'll have the opportunity to work hands-on in the vineyard and the cellar under the tutelage of top winemakers and viticulturists. Wine workshops and tastings of outstanding wines are an integral part of the program.

Conducted by AFFAIRS of the VINE, Wine Boot Camp is a challenge to the senses, awareness, and understanding of fine wines. Upon completion of basic training, your marksmanship in the field of fine wines will be right on target. Business associates and friends will marvel at the leadership of Camp graduates as they storm the wine lists of America and the world.

Raw recruits and wine generals alike are welcome to attend Wine Boot Camp. Only the strongest will survive!

The cost of WINE BOOT CAMP includes all seminars and educational materials, lunch in the vineyard, dinner paired with appropriate wines, extensive wine tasting, a bottle of wine created by the recruit, transportation to all food and wine events, and an "I Survived Wine Boot Camp" T-shirt. Enlistment is $375 per person.

To enlist in WINE BOOT CAMP contact Major Drady at camp@affairsofthevine.com or 707-874-1975.

July 26 Napa Valley Wine Boot Camp

August 23 Monterey Wine Boot Camp

September 20 Sonoma County Harvest Wine Boot Camp
MAIL CALL
Read what some are saying about
their Wine Boot Camp experience.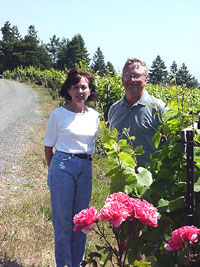 LIVING ON THE EDGE...
Meet Paul and Vicki Michalczyk of Hawk Hill Vineyard
Vicki and Paul Michalczyk, owners of Hawk Hill Vineyard, graciously agreed to take time from their busy schedule to talk to Affairs of the Vine.
Vicki & Paul are native Californians and have been married for 34 years. "We met as children," Paul deadpans. They actually met in college where they both studied business. After college came the corporate world. Both of them worked for large companies - Vicki in Human Resources (Personnel, in those days) and Paul in Finance.
The Michalczyks decided that they didn't like working for big companies so they started a custom boatyard business in Newport Beach, California.
Ten years later, Vicki and Paul sold their successful enterprise. Looking for a new challenge, they purchased a tiny business in Cotati in Sonoma County. Success ensued. They sold that business and they got involved in everyone's dream in Northern California - they planted a vineyard.
Hawk Hill Vineyard
June 17, 2003

Chardonnay, Hawk Hill Vineyard
June 17, 2003
AOTV: Why a vineyard?
HHV: We enjoy growing things. We literally like to see the fruits of our labors. The thing about farming is that you see the project mature, getting recognition for creating something extra special and if you do something wrong, you get to do things over every year, correcting your mistakes and making the good things better. When we bought the property, we weren't sure what we were going to grow. We considered Christmas trees, Asian pears, apples, vegetables, cut flowers, and of course, grapes.
AOTV: Why plant your vineyard here?
HHV: We bought the property for its views, the area, and because it had friendly soil. We later found out that the locals used to call our property Vinegar Hill because the first people to plant a vineyard here couldn't get the grapes to ripen so every year, all they could produce was vinegar. The problem was the varietal. They had planted Zinfandel and it's simply not warm enough here.
We were the first vineyard to plant in this area using modern techniques and careful clonal selection. That was in 1993, and now there are 300 planted acres within our visual range.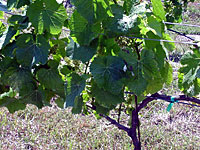 Pinot Noir, Hawk Hill Vineyard
June 17, 2003
We are the world epicenter for the best of cool-climate Chardonnay and Pinot Noir.
AOTV: Do you have any input on the style of wine that is produced from your grapes?
HHV: No. However, we choose to sell our fruit to those people who have the knowledge and appreciation to produce excellent cool-climate wines, winemakers who can make great wine from these finicky and touchy grapes. The grapes are very high in acid and very low in sugar, and take special knowledge to produce stellar wines. It is more difficult to produce great wines but the rewards are apparent when you taste wines made from Hawk Hill Vineyard.
Look for more from Vicki & Paul in the next Affairs of the Vine newsletter.
Let Affairs of the Vine help you create RARE alliances with your team, customers and vendors.
Searching for a unique event to exceed expectations?
Looking for an unforgettable dining experience?
The Wine Challenge Dinner Showdown is just what you're looking for. Designed to enhance Relationships, create Access, activate Response, and focus on Empowerment, this incredible dining adventure is available only through Affairs of the Vine.
The Wine Challenge Dinner Showdown is "An Ultimate Evening of Exploration...A Discovery of Wonderful Wine and Food." An interactive wine pairing dinner that creates excitement, laughter and discussion, this is a unique event that is sure to please.
Here's how it works: two wine experts will pair their wines with a multi-course dinner. The challengers will have no previous knowledge of the menu and will have 3 minutes the wine that best matches the flavors of that course as it comes out of the kitchen. The selection of each expert will be poured with each course.
The wine experts will explain and direct the guests through the pairing and explain why each wine was selected.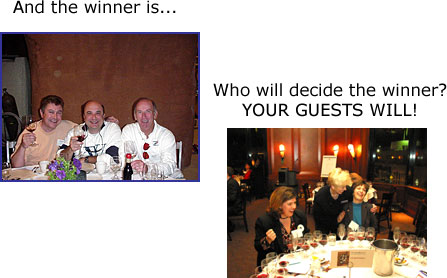 Affairs of the Vine's friendly, expert staff educate without intimidation.
As your guests are wined and dined throughout the evening, a wine educator from Affairs of the Vine will guide the group. Your guests, will decide the winner of each course. We can guarantee an evening of great dining and fabulous wines.
Select from the following Wine Challenge Dinner Showdowns or we can create a new Wine Challenge for you.
California vs. France
California vs. Australia
Napa Valley vs. Sonoma County
Russian River Valley vs. Napa Valley
Monterey County vs. Sonoma County
Australia vs. New Zealand
U.S. vs. Italy
Old World vs. New World
North America vs. South America
France vs. Italy
Whether you require an elegant evening to impress your most entertainment weary clients, or a fast-paced challenge for the most demanding of teams, let Affairs of the Vine create an event that is highly enjoyable and unique. We will help you accomplish your goals and win unprecedented thanks.
Contact Affairs of the Vine to discuss unique programs that will help you accomplish your goals. We can customize events for your specific needs or industry. Call Barbara Drady at 707-874-1975 to discuss your event or meeting planning needs today.
SHOWDOWN AT THE SHOOTOUT CORRAL


The Cabernet Sauvignon Shootout...A Wine Challenge
| | |
| --- | --- |
| | The Cabernet Shootout was amazing with over 310 Cabernet Sauvignons submitted. The top 13 wines were tasted by wine industry trade and consumers who tasted against the expert panel. This new approach set the Cabernet Shootout apart from other competitive tastings. |
The million dollar question in the wine industry is whether the "experts" see wines the way the consuming public does.
Isn't it what the wine drinking public thinks that really matters?
Click here for results of the 2003 Cabernet Sauvignon Shootout.
ABC...A Bevy of Chardonnay
The excitement is building!
Incredible Chardonnays from top producers the world over have already been received at the 2003 Chardonnay Shootout headquarters.
The top ten Chardonnays will be featured at the Western Foodservice & Hospitality Expo in Los Angeles on August 2-4.
In response to hundreds of requests from wineries, retailers, restaurateurs, and consumers Affairs of the Vine, Patterson's California Beverage Journal, Santé Magazine, & Wine Works are collaborating to conduct the wine industry's most comprehensive comparative judging of world class Chardonnay.
Passionate about Pinot Noir
| | |
| --- | --- |
| The second annual Pinot Noir Shootout is scheduled for late November. Click here to see the results of the 2002 Pinot Noir Shootout. | |
MISSIONS ACCOMPLISHED...
A Wine Boot Camp Pictorial
GRAPES TO GLASS WEEKEND
Russian River Valley
August 15-17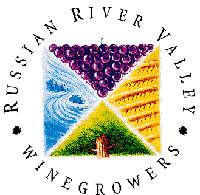 This fabulous weekend program celebrates it's 8th year and this year's program promises to take you on an unforgettable journey through Sonoma County Wine Country. Created, organized and hosted by the families of the Russian River Valley appellation, Grape to Glass gives you the opportunity to live like a local for a weekend of winery and vineyard tours, serious tastings, seriously fun bike rides, canoe trips and backyard barbecues.
For additional information or questions contact the Russian River Valley Winegrowers at 707-521-2534 or rrvw@sonic.net.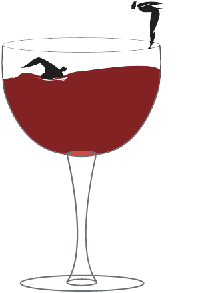 Affairs of the Vine has always believed that sharing and learning about wine should be fun. Yes, there is a lot to know but the information can be served with smiles and even laughter.
We have discovered a columnist who not only shares our mission but delivers a terrific weekly wine column, loaded with information and delivered with humor. Jennifer Rosen's columns make me laugh out loud.
Just a sip of some of Jennifer's articles:
State of Alert by Jennifer Rosen
Warning: reading wine columns while performing
brain surgery may cause lawsuits.
I'm writing this from Vinexpo, the giant wine convention in Bordeaux, France, where people from all over the world come to spit in buckets and jockey for invitations to the coolest parties.
Spellbound by Jennifer Rosen
Once Upon a Vine lived a giant called France, who ruled justly over all the other little winemaking countries. Then along came September 11th, a recession, a worldwide glut of wine, a boycott and a weak dollar, and together they knocked the big giant down. And just to keep him from getting any ideas, they threw in a hailstorm this week that wiped out 18,000 hectares in Bordeaux. But the biggest problem of all for the poor giant was that he couldn't see he was living in a fairy tale.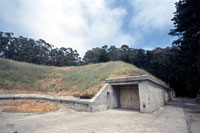 Like its consumer, wine is capable of becoming more interesting with age. But where to cellar your wine?
If you live in the Bay Area, the Presidio Wine Bunkers may be your answer. Insulated by three feet of concrete and twenty-three feet of earth, the newly opened Presidio Wine Bunkers are, indeed, a fail-safe wine storage facility. Not even the 1906 earthquake compromised the integrity of these chambers.
More than just a place to age ones vinus valuables, the Presidio Wine Bunkers may well become quite the "social" hangout for wine buffs. One alcove is being furnished as an elegant, fully stocked tasting room, where members can bring friends to weigh in on the progress of their collection. On a nice day, bring some goodies and have a picnic atop the bunker.
For more information, call (415) 221-4440 or www.presidiowinebunkers.com

Many wine experts believe that we should use screw-cap bottles on wine bottles, but there appears to be some resistance among wine consumers.
Among the advantages of a screw-cap is that it is said to eliminate the possibility of "cork taint". There is also no need for a corkscrew and the bottle is easier to reseal. What do you think?
Send your comments to member@affairsofthevine.com We'll share your thoughts in the next newsletter.
Cheers!
The Staff at Affairs of the Vine