Sign up to become a member of Affairs of the Vine and receive our free newsletter by contacting us at member@affairsofthevine.com
Wine Love Letter, June, 2005
Dear Wine Lover,
I've always thought of myself as a wine person or winer. I have never been dubbed a whiner but as I write these words, I find myself doing quite a bit of whining on wine related subjects. Shall we just call this newsletter the Whine Letter?
As I looked out my window on May 17th at what should have been a rare rainy day in May in California Wine Country, I was aware of how much I have come to depend on those things that I find familiar and comforting...sunny days in May, a weekly paycheck, my friends, and velvety, elegant Pinot Noir.
May is usually very dry. Historical weather data indicates that monthly rainfall of 0.6 inches for the entire month is the norm. As of May 18th (the end of the month's rain), Sonoma County and Napa Valley had experienced over five inches of rain (in some instances I have heard that as much as six inches of the wet stuff had fallen). The rain came in downpours surprising residents and worrying vineyard owners.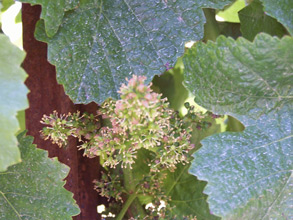 Pinot Noir
June 5, 2005
Zephyr Farms, Sonoma Coast
The rain did or did not have a negative impact on the vintage, depending on who's telling the tale. When it comes to grapes, you can be sure that weather has an influence just what that effect will be can not always be predicted early on.
For the most part, rain has disastrous effects once the vines have begun to flower. In many parts of Northern California, the grapevines had not yet begun bloom when the heavy May rains hit. Rain can cause mold, mildew and fungi that hinder germination reducing the crops. Vineyard managers have been out spraying the vines to prevent molds and fungus. Some early flowering varieties may still suffer from mold or shatter which often occurs when there has been major temperature fluctuation...the weather went from cold rains to 90 degree weather in a matter of 48 hours. There is lots of vigor (the leaves are growing like crazy) and cluster counts are up. Folks will have to leaf to make sure that the grapes aren't too shaded and manage the crop so that the grapes deliver optimum flavor. This grape growing thing is quite complicated and a delicate balance is needed in the vineyard to ensure that there is balanced wine in the bottle. We should know more about the grapes in the next couple of weeks when the bloom and set stages are complete. There is a long growing season ahead. Moderate weather may still lead to a stellar 2005 vintage...stay tuned.
I find that the older I get, the more resistant I am to change. As we were wining a few weeks ago, I was whining to a friend and fellow wine writer, Tim Teichgraeber about the recent changes in styles of Pinot Noir in California. The Pinot Noirs that I love are silky, elegant, delicate wines that age slowly and gracefully. The color of the wines that I embrace are red-toned with nary a blue cast. I was bemoaning the styles that are developing utilizing enzyme fermentations that impart deep colorants – often purple-blue pigments, deeper black fruit characteristics, and in my humble opinion, moving the style of these wines in the direction of bigger wines like Cabernet Sauvignon. Many of these wines are grabbing the positive attention of wine critics and setting a new and, in my estimation, less desirable style.
Tim, wise man that he is, pointed out that wine styles like hemlines, change. The bigger style may be popular for a while but just wait... the styles are cyclical. Meanwhile, traditionalist that I am, I will continue to seek out delicate, elegant Pinot Noir for my own enjoyment.

ARE YOU READY FOR WINE BOOT CAMP®?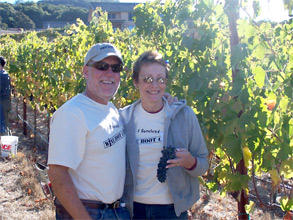 BRING A PLATOON OR JUST YOURSELF!
ATTTENNNNSHUN! We're looking for a few good palates! Sir, yes, sir! Present wineglasses!
WINE BOOT CAMP® challenges recruits to dive into wine by rolling up their sleeves and plunging into winegrowing and winemaking. A 12-hour intense wine-encounter, WINE BOOT CAMP® begins in the vineyard tending vines and ends in the winery blending and bottling. Reach out and touch the vines. Blend your own bottle of wine.
Enlist in Wine Boot Camp®.
Raw recruits and wine generals alike are welcome to attend Wine Boot Camp®. Only the strongest will survive!
The cost of WINE BOOT CAMP® includes all seminars and educational materials, lunch in the vineyard, dinner paired with appropriate wines, extensive wine tasting, a bottle of wine created by the recruit, transportation to all food and wine events, and an I Survived Wine Boot Camp® T-shirt. Enlistment is $395 per person.
July 23, 2005 – Russian River Valley Wine Boot Camp®
A WINE BOOT CAMP® hotel rate is being offered for recruits at the
Hilton Sonoma Wine Country
3555 Round Barn Blvd.
Santa Rosa, California
1-707-523-7555
Mention WINE BOOT CAMP® when making your reservations.
August 6, 2005 - Napa Valley Wine Boot Camp®
September 17, 2005 - Santa Cruz Mountains Wine Boot Camp®
September 24, 2005 - Sonoma County Harvest Wine Boot Camp®
A WINE BOOT CAMP® hotel rate is being offered for recruits at the
Hilton Sonoma Wine Country
3555 Round Barn Blvd.
Santa Rosa, California
1-707-523-7555
Mention WINE BOOT CAMP® when making your reservations.
To enlist in WINE BOOT CAMP® contact Major Drady at camp@affairsofthevine.com or 707-874-1975.
Enlist Today!!!
Affairs of the Vine's exclusive Wine Boot Camp® 2005 program can be scheduled as a "private" affair. Call Major Drady today at 707-874-1975 to discuss your group's particular team-building or special event needs.
PENCIL US IN
Need a speaker at your next event? Want to add a wine tasting to your annual meeting agenda? Seeking a unique team building activity? Make that next convention a tad "unconventional" by letting Affairs of the Vine educate and entertain your audience! Affairs of the Vine's expert and congenial staff educate without intimidation. Call Affairs of the Vine at 707-874-1975 to discuss your event or meeting planning needs today.
Hands-on in the vineyard or let us bring Wine Country to you.
PINOT NOIR – MY PASSION
I've already expressed my love for the more traditional "Burgundian" style of Pinot Noir but my fascination with this temperamental and complex wine is because it is so chameleon-like – evolving in the bottle and unveiling itself in the glass. Nothing turns me on like Pinot Noir – let me rephrase that, no wine makes me as happy as great Pinot Noir.
Affairs of the Vine conducted our annual Pinot Noir Shootout and Pinot Noir Summit, tasting over 234 Pinot Noirs. For an overview of the Shootout and Summit, click here.
If you can't wait to see the results and aren't interested in the details of the process, click here.
OUR MANTRA...TRUST YOUR OWN PALATE
The 4th of July is Independence Day. Don't forget to be independent when it comes to choosing and drinking wines too. Read reviews but remember it's your palate that counts. Find a wine critic who likes wines that you like. Don't feel that you have to embrace the wines that wine critics praise. Don't be intimidated! If a movie critic gives
stars to a film, do you feel that you're unsophisticated if you don't like it too? Wine is no different. Personal preference is what counts. So drink and enjoy what you like. At Affairs of the Vine we say, "If you like the way it looks and you like the way it smells and you like the way it tastes...its good wine. So use our recommendations as a guide but you are the authority of what provides "Love at First Sip" for you.
AND THE WINNER IS...
Congratulations to Marie Kelly of Corpus Christi, Texas. A case of incredible wines is being delivered to you.
Thank you to all of you who responded to our survey. Winners are drawn from all respondents.
SEND US YOUR "SIP TIPS"
members@affairsofthevine.com
Have a tip for those who sip? Enter your "Sip Tip" in Affairs of the Vine's new monthly contest and you too could win a mixed case of our favorite wines. It could be a new bottle of wine you highly recommend; a food and wine pairing that you want to suggest; a favorite winery vacation spot; a new kitchen gadget you've discovered…send us your Sip Tips and we'll share them on our website at Sip Tips for your chance to win! Our panel of judges from the wine and food industries will select and highlight a Sip Tip winner on August 15th. All tips will be displayed and archived, so whether you submit a tip or just learn something new while viewing our site, you come out a winner. Visit often, visit today!
DIRECT SHIPPING
It isn't only wine-lovers who will win with the U.S. Supreme Court's decision that makes it legal to buy wine and have it direct shipped to them in 24 states that formerly prohibited direct wine shipments. The court overturned long-standing state laws that ban consumers from purchasing wines directly from out-of-state wineries.
"States have broad power to regulate liquor," the court ruled. "This power, however, does not allow states to ban, or severely limit, the direct shipment of out-of-state wine while simultaneously authorizing direct shipment by in-state producers."
With the end of Prohibition in 1933, the states were given the power to regulate alcohol sales. However, the issue put before the Supreme Court in this case on wine, was whether the states could regulate alcohol sales and trump the Commerce Clause, which gives Congress the authority to regulate trade that crosses state lines.
This ruling has potentially opened some doors but several states (Michigan and Illinois among them) are trying to slam them shut again. This could be accomplished by restricting interstate and intrastate shipments of wine. Make your voice heard. Contact your state legislators and keep the wine flowing.
Cheers!
Barbara Drady
Wine Lover
Send your comments to winelover@affairsofthevine.com. We'll share your thoughts in the next newsletter.
To be removed from the mailing list, e-mail us at never@affairsofthevine.com