Sign up to become a member of Affairs of the Vine and receive our free newsletter by contacting us at member@affairsofthevine.com

Wine Love Letter, February, 2004

Dear Wine Lover,


The month of February is the month of love, passion, hearts, and the color red. Affairs of the Vine combined all of these elements and celebrated February with The Pinot Summit.
The
2003 Pinot Noir
Shootout
culminated in the ultimate Pinot Noir Lovers Adventure!

On February 7, 2004, 100 lucky Pinot Noir Lovers gathered at the City Club of San Francisco to participate in a blind tasting of award winning Pinot Noirs, attend Pinot Noir workshops and meet the winemaker's. The delegates to the Pinot Noir Summit, seduced by Pinot Noir, indulged their passion.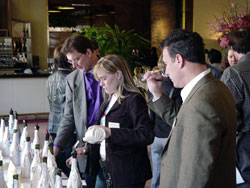 They tasted thirty luscious Pinot Noirs in The Final Showdown of the 2003 Pinot Noir Shootout, a blind tasting. The wines were assigned random colors for identification purposes and the wines could be tasted in any order to avoid any undue advantage to a particular wine or group of wines. The delegates pitted their palates against the expert panel's findings. Royal Leerdam, Carré glassware was used by the expert panel and the Pinot Summit attendees. The results as selected by the wine judges and the Pinot Noir Lovers are detailed in The 2003 Pinot Noir Shootout Results
They experienced, explored, and learned at Pinot Noir Workshops conducted by expert winemakers, viticulturists, and wine educators.
Pinot Noir Lovers met and tasted wines with some of the best Pinot Noir winemakers in the world.
And the winners are...
The wonderful news for Pinot Noir lovers everywhere is that there are many good producers and lots of wonderful wines available. For complete results, click here

If you see anything in these results which you think is of interest or noteworthy, we would love to hear from you and we will put as many comments up on our website as possible. And remember, trust your own palate. It's the only one that matters.

Complete results of the 2003 Pinot Noir Shootout - A Wine Challenge

If you love wine and want to know all there is to know, then Wine Boot Camp® can fulfill your dreams.

Conducted by AFFAIRS of the VINE, Wine Boot Camp® is an intensive, highly enjoyable one-day training program...the ultimate fantasy experience for wine lovers.

Raw recruits and wine generals alike are welcome to attend Wine Boot Camp®. Only the strongest will survive!

The cost of WINE BOOT CAMP® includes all seminars and educational materials, lunch in the vineyard, dinner paired with appropriate wines, extensive wine tasting, a bottle of wine created by the recruit, transportation to all food and wine events, and an I Survived Wine Boot Camp® T-shirt. Enlistment is $375 per person.

To enlist in WINE BOOT CAMP® contact Major Drady at camp@affairsofthevine.com or 707-874-1975.

June 12, 2004 - Russian River Valley Wine Boot Camp®

July 24, 2004 - Napa Valley Wine Boot Camp®

August 14, 2004 - Santa Cruz Mountains Wine Boot Camp®

September 4, 2004 - Monterey Harvest Wine Boot Camp®

October 2, 2004 - Sonoma County Harvest Wine Boot Camp®

October 9, 2004 - Sonoma Coast Harvest Wine Boot Camp®

Watch our website for more details.
WORLD WINE MARKET
INTERNATIONAL WINE COMPETITION
World Wine Market LLC has announced the 2004 World Wine Market International Wine Competition, which will be organized and conducted by Affairs of the Vine.
A panel of 24 distinguished judges will be sequestered in San Francisco from April 26 to 28 to blind-taste and evaluate the wines. On the evening of April 29, Opening Day of World Wine Market, awards will be presented to the winning wineries at a Gala Ceremony honoring the winemakers and the judges.
Affairs of the Vine's Barbara Drady has assembled an outstanding team of wine experts to serve as judges.
The World Wine Market Exhibition and Conference will run from April 29 - May 1, 2004 at Fort Mason Center in San Francisco. The exhibition is free of charge to the trade and media on all three days. The public (21 and over) is also welcome on Saturday, May 1, with special activities for serious wine buffs, for an admission fee of $45.
2004 CABERNET SAUVIGNON SHOOTOUT
The 2004 Cabernet Sauvignon Shootout will begin on Monday, March 8, 2004 and the final judging will be conducted on Monday, March 29, 2004.

The top performers as selected by the judging panel will be showcased at the Reno/ Tahoe Wine, Food & Jazz Festival on May 1-2, 2004 where over 3000 consumers and wine industry personnel will have the opportunity to taste the top wines in a blind tasting and challenge the findings of the expert panel.

The Reno/Tahoe Wine, Food & Jazz Festival, April 30, 2004 - May2, 2004, is a wine and food tasting extravaganza where consumers and trade will have the opportunity educate themselves on wine and food.
CORPORATE WINE EVENTS
Affairs of the Vine creates and conducts unique interactive workshops, seminars and Team Building events.
Recognized by many as the industry's top wine education company, Affairs of the Vine, originated out of love and passion for wine. Our staff are knowledgeable and experienced educators who enthusiastically share their knowledge and love of wine. The educational events are designed to be fun, entertaining, and highly informative. Affairs of the Vine conducts a broad range of corporate wine events, as well as extensive wine industry training, and team-building workshops. In the year 2003, Affairs of the Vine passionately poured wine for and share information with over 100,000 people.
Let Affairs of the Vine help you create RARE alliances with your team, customers and vendors with a customized wine tasting or wine workshop.
Do you want you team to work together more effectively? An Affairs of the Vine Wine Blending Workshop is the answer.
Affairs of the Vine's expert and congenial staff educate without intimidation. Contact Affairs of the Vine to discuss unique programs that will help you accomplish your goals. We can customize events for your specific needs or industry. Call Barbara Drady at 707-874-1975 to discuss your event or meeting planning needs today.
Cheers!
Barbara Drady
Wine Lover
Send your comments to member@affairsofthevine.com We'll share your thoughts in the next newsletter.