Sign up to become a member of Affairs of the Vine and receive our free newsletter by contacting us at member@affairsofthevine.com
Wine Love Letter, March, 2005
Dear Wine Lover,
Vertically, horizontally, upside down, or sideways, I've loved Pinot Noir forever. The romance began with a sip of 1949 Gevrey-Chambertin liberated from Adrienne's father's prized wine cellar. Was the wine especially delicious due to its illicit nature? No matter, great bottles of sexy, complex Pinot Noir make my pulse race.
If you are seduced by Pinot Noir or want to know what all the fuss is about, join us at the Pinot Noir Summit on Saturday, April 16, 2005 at the California Culinary Academy in San Francisco. 100 lucky Pinot Noir Lovers will gather to participate in a blind tasting of award winning Pinot Noirs, attend Pinot Noir workshops and meet the winemakers.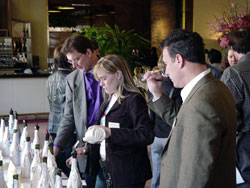 The Pinot Noir Summit in San Francisco, April 16, 2005

Taste thirty luscious Pinot Noirs top rated wines from The Pinot Noir Shootout in a blind tasting. Pit your palate against the expert panel.
Meet and taste with Top Pinot Noir Winemakers
Enjoy Pinot Noir Workshops conducted by expert winemakers, viticulturists, and wine educators
Every year, it is predicted by the wine industry that the current vintage is stellar. How else are you going to be able to market your wines? It's then up to the wine critics to say thumbs up or thumbs down on a particular vintage.
After years of drinking wine, tasting literally thousands of wines every year and reading everything I can find, I have come to my own conclusion. Few vintages should be painted with a broad brush. A great winemaker can make exceptional wine in a mediocre year and an average winemaker can make average to poor wine in an exceptional year.
So many factors figure into what you finally taste when you pull the cork or unscrew the screw-cap.
I will try to give you an overview of the 2004 Harvest as I have experienced it so far. My personal experiences have been in California, Chile and Argentina. I will rely on a few of my friends who have had the opportunity to personally encounter 2004 harvests in Australia, New Zealand and South Africa. As far as the 2004 European harvests I'll share what I have heard.

Action oriented? Have you sent in your application to Survivor, The Apprentice, The Bachelor, or The Amazing Race?
Passionate about wine? Crave a winemaking experience?
Enlist in Wine Boot Camp®.
Reach out and touch the vines. Blend your own bottle of wine.
Conducted by AFFAIRS of the VINE, Wine Boot Camp® is an intensive, highly enjoyable one-day training program...the ultimate fantasy experience for wine lovers.
Raw recruits and wine generals alike are welcome to attend Wine Boot Camp®. Only the strongest will survive!
The cost of WINE BOOT CAMP® includes all seminars and educational materials, lunch in the vineyard, dinner paired with appropriate wines, extensive wine tasting, a bottle of wine created by the recruit, transportation to all food and wine events, and an I Survived Wine Boot Camp® T-shirt. Enlistment is $375 per person.
To enlist in WINE BOOT CAMP® contact Major Drady at camp@affairsofthevine.com or 707-874-1975.
Enlist Today!!!
June 25, 2005 - Monterey County Wine Boot Camp®
July 23, 2005 - Russian River Valley Wine Boot Camp®
August 6, 2005 - Napa Valley Wine Boot Camp®
September 10, 2005 - Santa Cruz Mountains Wine Boot Camp®
September 24, 2005 - Sonoma County Harvest Wine Boot Camp®
Vineyard Mission - Forth Vineyards
Winery Mission - Peterson Winery
Wine Boot Camp has been featured in Bon Appetit, Sunset Magazine, The Chronicle, The NY Times, Santa Rosa Press Democrat, The Napa Valley Register, Food & Wine Beverage Journal International, Bay Area Business Woman, Market Watch, Bloomberg, San Jose Mercury News, Savor Magazine, The Sonoma Times, North Bay Bohemian, The Record, Best Fares, Restaurateur of Arizona, on KNBR radio, Channel 50 TV, In Wine Country (AKA Wine Country Living), Evening Magazine, California Heartland, Wine World, and The Best of California.
CORPORATE WINE EVENTS
Looking for an exceptional corporate event? Affairs of the Vine will help you achieve your goals.
Effective team building at it's best.
Affairs of the Vine's expert and congenial staff educate without intimidation.
Contact Affairs of the Vine to discuss customized events. Call Barbara Drady at 707-874-1975 to discuss your event or meeting planning needs today.
Hands-on in the vineyard or let us bring Wine Country to you.
AND THE WINNER IS...
Congratulations to Jeannette Weber of Fremont, California A case of incredible wines is being delivered to you.
Thank you to all of you who responded to our survey.
TO YOUR HEALTH
Study after study reveals that moderate consumption of alcohol, especially wine, is linked to positive health benefits. Recent studies have cited reduced risk of mental decline in older women; improved metabolic measures such as increases in HDL cholesterol, the "good" kind, and reduction of inflammation and clotting; positive effects for the heart; keeping prostate cancer in check; and preventing lung cancer positively are aided by moderate consumption of red wine.
Many doctors encourage their patients to have a glass or two of red wine everyday. We echo those sentiments to say nothing of the great pleasure we derive from drinking great wines!
Cheers! Cin Cin! Salute! Santé! Salud! Skal! To Your Health!
A GOOD READ
Never be intimidated by a cork dork again.
Wine Genius by Janice Fuhrman
I really enjoyed this well-organized book. I keep it on my desk for reference. Janice simplifies the basics with great explanations and provides the tools to continue your enjoyment and further education on wine.
www.amazon.com
Cheers!
Barbara Drady
Wine Lover
Send your comments to winelover@affairsofthevine.com. We'll share your thoughts in the next newsletter.