Sign up to become a member of Affairs of the Vine and receive our free newsletter by contacting us at member@affairsofthevine.com
Wine Love Letter, February, 2006
Dear Wine Lover,
It's been a long time since our last newsletter and lots has happened in the wine world and in my life.
First a few notes from a personal viewpoint. I have always been passionate about wine and refer to my ratings with hearts so it is fitting that the trials and joys this past year were heart-related.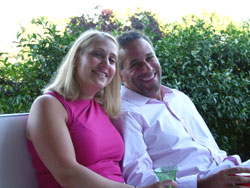 On a heartwarming note, my son, Eric, has chosen a wonderful woman to marry. Cari is incredibly special and just the right person to complement his energy and keep him challenged. She is beautiful inside and out. I will have difficulty withholding my tears of joy at their wedding on March 4th.
Late fall brought the grape harvest here in Northern California and news that my mom would have to undergo open-heart surgery during which she would have two valves replaced. She had her surgery at Sequoia Hospital in Redwood City, California in early December. It was very difficult for her and frightening for all of us who love her but she made it through with flying colors thanks to Dr. Vince Gaudiani, his partner Luis Castro and the rest of the incredible team at Sequoia. It was "heartening" to have the doctors ask if Mom drank wine. When she answered in the affirmative, the question was asked, "What color?" She responded, "Red" and was told, "That's the right answer!" Glad to have my love for red wine be endorsed by the docs!
Harvest 2005
From reports the world over, the quality of the 2005 harvest is excellent.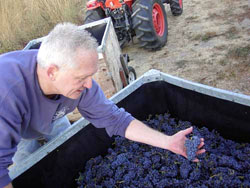 California
All over California the 2005 harvest is being touted as exceptional with most varietals producing larger than normal quantities. Spring rains throughout the state were worrisome but many vineyards set full clusters at a good point in the season with good results. The size of the harvest varies greatly by area and variety. Pinot Noir yields were down in most of California, but not in Santa Barbara County -- where "Sideways" was filmed. In fact, Southern California overall is dealing with a happy problem -- unexpectedly large crops. The abundant crop should allow you to find that much sought after bottle but don't expect to pay less for it. Grape prices held and the wineries will probably not reduce the ultimate price consumers will pay for wines this vintage.
The growing season was generally cool, leading to longer "hang time" for fruit, concentrating the flavors and producing greater ripeness. Winemakers are talking about incredible flavors and aromatics, rich soft tannin structure and inky dark colors in the 2005 reds.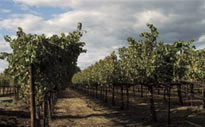 Napa Valley
As harvest began, growers were in high spirits. The grapes had extended hang time with perfectly balanced sugars and acids. Colors in red wines, particularly Cabernet Sauvignon, were intense, inky-dark and opulent. For Chardonnay and Pinot Noir the extra time on the vine provided wonderful aromatics that should translate into the final bottling.
Some wineries were taken by surprise by the abundance of the crop. Winemakers scrambled to find as much tank and barrel space as possible to store their wines as they predict that it may be one of those vintages to write home about.
Sonoma County
The 2005 Sonoma County harvest was the biggest ever for most varietals although many growers reported that Pinot Noir was affected by the spring rains with lighter clusters than normal, in some instances, devastatingly so.
Indications are that 2006 will not be as big a crop as last year, as a large crop is usually followed by a much smaller one as the vines adjust.
South Central Coast
Higher than usual rainfall in the winter and spring leached the salts out of the soils and resulted in large crops. Many growers saw a huge crop and began dropping fruit early. Even so, the 2005 crop for most varieties was larger. The size of the crop was due mainly to big clusters and larger berry size. 2005 Pinot Noir should be excellent, a moderately tannic vintage. The wines are showing beautiful aromatics and are well balanced. Chardonnay had a very large crop (big clusters and larger berry size), but very balanced.
Monterey
The Monterey County wine grape harvest continued into mid-November. Not unusual for Monterey, known for its slow, leisurely ripening from extended hang time. Bud-break occurred late February which is typically two weeks ahead of other regions. The extra month of hang time on the vine produces fruit forward characteristics that differentiate Monterey from other regions.
Ridge Watson of Joullian Vineyards reported that cluster counts were about normal in Carmel Valley, but heavier cluster weights increased tonnage up to 20 percent in many varieties. Ridge notes that the color has been excellent in the reds and the Bordeaux varieties appear to have thicker, more tannic skins which Watson feels will be good for complexity and aging potential.
Amador County
Yields were a bit lower than normal, but the long, cool growing season lead to fine flavors with lower alcohol levels for the area's famous Zinfandels.
Washington
Washington State's 2005 grape harvest boasts not only record-breaking numbers, but bold flavors as Washington state grape growers and wine producers wrapped up one of their best crushes in history.
According to the Washington Wine Commission, the 2005 harvest was a perfect combination of warm summer months, cool autumn temperatures and a mild winter, yielding quality grapes that are both large in quantity and rich in flavor. The moderate winter temperatures and a prolonged Indian summer allowed grapes the extra hang time needed to develop robust Washington wine characteristics. Concentrated flavors due to smaller berry sizes and cluster weights set 2005 apart as a stand-out quality vintage.
Oregon
It is reported that the cooler temperatures and lower alcohol levels of 2005 mark a return to a more classic Oregon vintage. After recent vintages that brought warmer weather, early ripeness and higher alcohol, this year's Oregon wine harvest occurred later than most expected, resulting in cooler temperatures that many winemakers throughout the state say will lead to lower alcohol levels, structured acidity and ideal flavor development.
France
Bordeaux
Bordeaux is reporting another classic vintage-the young wines show fresh acidity and ultra ripe fruit.
Burgundy
The quality of the Chardonnay and Pinot Noir is very good. Dry weather during the summer moving through the September harvest is reported to have produced ripe, healthy, balanced grapes with excellent acidity, ripeness, fruit, tannins and color.
Chardonnay may have a slight qualitative edge over Pinot Noir, which was affected by drought conditions during the summer.
Champagne
Reportedly very good and possibly excellent, especially for Chardonnay. May be a vintage year but it is too early to tell.
Languedoc and Rousillon
Extremely dry, drought-like conditions during the growing season and then heavy rains at harvest do not bode well for these wines. Winemakers whose grapes escaped the rains are describing the whites as minerally and the reds as elegant.
Loire Valley
By all reports, an excellent vintage with lower-than-normal yields and exceptional quality.
Rhone Valley
Another drought year with cooler temperatures than 2003 and 2004. 2005 is predicted to be another outstanding vintage with a smaller than usual crop.
Alsace
Below average quantities with predictions of an excellent vintage.
Australia
Most areas in Australia reported very good quality for the 2005 vintage. Production was up considerably on white wines while red wines were steady with 2004. Australia is facing major oversupply issues. Many growers dropped fruit to try to maintain pricing by slowing flooding of the grape and wine markets.
New Zealand
The 2005 wine vintage is the second largest ever for the New Zealand. The 2004/05 summer began unsettled and unusually cool, but from early January onwards growing conditions were ideal, producing high quality grapes through nearly all winegrowing regions. With more wine available you may be able to find that Marlborough Sauvignon Blanc you have been dying to try.
South Africa
The 2005 grape harvest quality was excellent but quantity was significantly down due to a serious drought and unpredictable weather throughout South Africa.
Pinot Noir Shootout & Summit
Don't miss the opportunity to taste top-rated Pinot Noirs from the Pinot Noir Shootout.

Don't miss the ultimate Pinot Noir Lover's Adventure!
Attend The Pinot Noir Summit in San Francisco, March 11, 2006
Attendance is limited to 150 lucky wine lovers who are passionate about Pinot Noir.
Taste thirty-five luscious Pinot Noirs top rated wines from The 4th Annual Pinot Noir Shootout in a blind tasting. Pit your palate against the expert panel.
Bring your palate to the Pinot Noir Summit and help us define whether women and men prefer different wine styles.
Meet and taste with Top Pinot Noir Winemakers
Enjoy Pinot Noir Workshops conducted by expert winemakers, viticulturists, and wine educators.
Attend the Awards Ceremony & Wine Reception
Join us at the Pinot Noir Winemaker's Dinner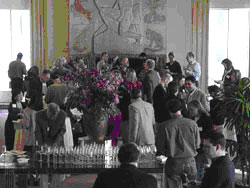 Are you passionate about Pinot Noir? Does your mouth start to water just thinking of this supple and sexy wine? The Pinot Noir enthusiast has reason to take note and celebrate. Experience the ultimate Pinot Noir lover's event ...The Pinot Noir Summit at The California Culinary Academy in San Francisco on Saturday, March 11, 2006.

2006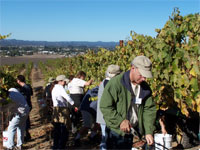 Wine Boot Camp® is the ultimate fantasy experience for wine lovers. Wine novices and experts experience firsthand the joys and frustrations of winemaking. Wine lovers have the opportunity to work hands-on in the vineyard and the cellar under the tutelage of top winemakers and viticulturists. Wine workshops and tastings of outstanding wines are an integral part of the program. More...
Conducted by AFFAIRS of the VINE, Wine Boot Camp® is a challenge to the senses, awareness, and understanding of fine wines. Upon completion of basic training, recruits' marksmanship in the field of fine wines will be right on target.
An intensive, highly enjoyable one-day training program, Wine Boot Camp® provides the experience and knowledge needed to become totally confident in the understanding and appreciation of fine wine. Business associates and friends will marvel at the leadership of "Camp" graduates as they storm the wine lists of America and the world.
Some of the missions that may be included in Wine Boot Camp® include:
Aromatic Workshop
Winery and Vineyard Tours
Vineyard Experience-recruits will learn about the vineyard and have an opportunity to some "hands on" work in the vineyard
Varietal Wine Tastings and Workshops
Food and Wine Pairing Workshop
Crack the Secret Code of Wine Lists
Wine Cellar Experience
Wine Blending Experience-become a winemaker and blend your own wine
Appellation Tasting and Workshop
Wine Boot Camp®, an interactive experience can be attended by raw recruits and wine generals alike. This exclusive Affairs of the Vine Program is offered as an open course or can be tailored as a special event or team building experience.

Wine Boot Camp® Mission Sites include the Napa Valley, Sonoma County, Sierra Foothills, Santa Barbara County, Paso Robles and Monterey County.

The cost of WINE BOOT Camp® includes all seminars and educational materials, lunch in the vineyard, dinner paired with appropriate wines, extensive wine tasting, a bottle of wine created by the recruit, transportation to all food and wine events, and an "I Survived Wine Boot Camp® " T-shirt. Enlistment is $425 per person plus tax.

For additional information, contact Major Drady at 707-874 -1975 or camp@affairsofthevine.com

2006 Wine Boot Camp® schedule
July 22
Sierra Foothills Wine Boot Camp®
August 5
Napa Valley Wine Boot Camp®

Winery Mission Site: Judd's Hill Winery

An amazing hands-on winery...I have known Art & Bunnie Finkelstein for years. Art is a magical winemaker. Their son, Judd and daughter-in-law, Holly are intimately involved in the winemaking too.

Art has been a winemaker for more than 30 years, beginning in his garage in Los Angeles when he worked as an architect during the day. He rethought his life and brought his family to the Napa Valley in the 1970s to found Whitehall Lane Winery in St. Helena. When that grew too large, they built Judd's Hill, where the family focuses on making less than 3,000 cases a year of hand-crafted, ultra-premium Cabernet Sauvignon, Pinot Noir, Merlot, Petite Sirah and Syrah.

We will have a hands-on winery experience and you will get to blend your own wine at Judd's Hill. We may even be treated to Judd's ukulele playing and/or Holly's hula dancing during the evening festivities.

For more info on Judd's Hill visit www.juddshill.com

August 19
Paso Robles Harvest Wine Boot Camp®
September 30
Sonoma County Harvest Wine Boot Camp®


Winery Mission Site: Paradise Ridge Winery

Situated high on a ridge overlooking the Russian River Valley in the heart of Sonoma County, Paradise Ridge Winery and the Byck Family Estate are producing hand crafted wines on an estate dedicated to: Family, Art, History, Nature and ultra-premium wines rich in taste and tradition. Wine Boot Camp® recruits will experience "the most spectacular view in Sonoma County," looking over the estate vineyards into the Russian River Valley and beyond to the coastal mountains. If the day is clear, you may see Point Reyes National Seashore.

Dan Barwick, Paradise Ridge winemaker, will lead the troops through the winemaking process and train them to blend their own special wine from the vineyard designated, hand picked, intensely flavored, hillside wines in barrel at Paradise Ridge Winery.

Opened in May of 1994, Paradise Ridge Winery has become a haven where locals and visitors alike come to savor the wonderful wines, bring their friends and take in the magnificent views

October 7
Monterey County Harvest Wine Boot Camp®
To enlist in WINE BOOT CAMP® contact Major Drady at camp@affairsofthevine.com or 707-874-1975. Enlist Today!!!
Affairs of the Vine's exclusive Wine Boot Camp® 2006 program can be scheduled as a "private" affair. Call Major Drady today at 707-874-1975 to discuss your group's particular team-building or special event needs.
Seasons In The Vineyard...Growing Wine
A Month by Month Overview of the Vineyard*
*This overview is for northern hemisphere wineries; in the southern hemisphere, the same activities are happening six months later.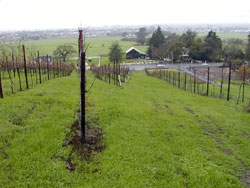 January
This is the start of the pruning season - getting the vines ready for the spring bud break. Pruning is critical for the future quality and quantity of the grapes. Grape vines are pruned back each year when they are dormant to keep the growth of the vine under control. You don't want the vine to grow too big and use too much energy growing leaves and canes. You want that energy to be concentrated in the flavors of the grapes.
Pruning is basically cutting off unwanted canes to allow the vines to produce a smaller and more intensely flavored crop the following year. Some grape growers prune vines with large volume crops in mind and others prune to achieve fewer clusters per vine. Lower yields produce fruit of more intense flavors.
February
Pruning continues.
Vines are fastened (or tied) to the trellising wire. This is done to ensure quality fruit and efficient farming.
Cover crops are planted in many vineyards to offer nutrients to the soil, a place for beneficial insects to live and to stem erosion in the vineyard.
Grafting is done at this time as needed.
March
March is a beautiful time of year in Wine Country. Everything starts to bloom...trees and flowers sport their beautiful colors and grapevines experience bud break* (when the buds push and new growth begins). Bud break usually occurs in early March in the warmer areas of Wine Country and slightly later in the cooler areas.
Once the buds appear, they are susceptible to the frigid nights and early mornings common in Wine Country in the early spring. Vineyard owners watch the thermometer very closely and must be ready with frost protection equipment (vineyard fans, sprinkler systems or smudge pots) to protect the vines if the temperatures dip below freezing.
*At Bud Break the dormant small brown buds swell and burst open. The first sign of this is a gentle swelling. If you look closely, you will see a fuzzy white line across the top of the bud. This is called the `cotton` and it is the seam that will open in the days ahead showing first a white cotton like bulb that in turn will show hints of pink and green as the first signs of the opening new leaves. This is the magical moment of bud break.
Even more magical, the tiny collection of cells that will form the bunches of grapes are already hidden inside the opening bud, and in fact were formed last spring and early summer. The crop for September or October is already there. The job for the wine grower now and for the next five or six months is to encourage, shelter and protect these still unseen seminal bunches against drought, disease, insects and nutritional deficiencies. Bud break for the grower is like suddenly having a huge family of thousands of brand new babies to love and care for.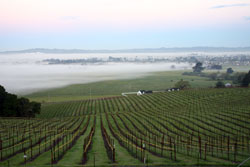 April
Spring is sprung and the vineyards need a lot of attention. The buds have pushed and the small shoots are rapidly growing. Suckering proceeds - unwanted shoots are pruned out. Frost protection continues to make sure that the young vines survive.
Usually cover crop is disced under during April to decrease the competition with the vines. Vineyards usually irrigate, fertilize and watch closely for vineyard pests that begin to pop up in April.
May
May is the commencement of bloom.* The onset of bloom usually occurs between the middle and end of May. Once the flower is pollinated the berry sets and it's on its way. This begins the grape's journey to becoming a bottle of wine.
The shoots are rapidly growing. Vineyards continue with suckering, irrigation, fertilization, replanting and grafting as needed.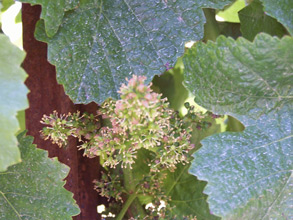 *Bloom is when the grapes flower and pollination occurs. Grapes have both male and female reproductive parts. Grapes depend on nice weather to move the pollen around not the birds or the bees. The most successful bloom happens in good weather with no extreme conditions; i.e. not hot, not cold, not too windy, not wet. Extremes cause shatter(missed pollination), and no grape forms. When a grape has completed pollination, it is called fruit set. The next critical phase is veraison which will occur 60 to 120 days after set.
June
The shoots are growing rapidly and may have reached heights of three to four feet long.
Nutrient sampling is done by taking petioles (the stem that holds the leaf to the shoot) opposite a cluster and sending them to a lab for analysis. The lab then sends back the results and fertilization is done to fit the needs of each area in the vineyard.
Canopy management is crucial this month, irrigation, pest monitoring, and fertilization continue. Practices open up the canopy and allow better light penetration and air movement. This enables better berry quality as well as disease control.
Canopy management includes leafing, shoot positioning and removing laterals.
Leafing is the act of removing leaves around the fruiting zone to allow for sunlight to penetrate into the fruit growing area. This is usually done after flowering during a period called fruit set, after the flowers become pollinated and the berries begin to grow.
Shoot positioning arranges the shoots in the trellis to allow for better sunlight penetration. Shoots are lifted and tucked into wires to decrease shading and prevent young shoots from breaking off in the wind or by a passing tractor.
Lateral shoot removal removes any lateral shoots that push from the main shoots. This decreases congestion within the canopy and allows for better air movement and sunlight penetration within the canopy.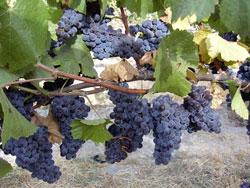 July
July is a time of rapid development of the vines. In early July, the grapes grow quickly in a stage referred to as bunch closure. In late July or early August, depending on the appellation and varietal, the berries begin to soften and slightly change color, a process called veraison. Veraison occurs a few weeks later for red varieties, when they begin to change color from green to red. After veraison, most of the plant's energy is directed from leaves, shoots, and roots to the berry for rapid sugar accumulation. The grapes begin to gain many of the varietal characteristics that will be found in the bottled wine.
August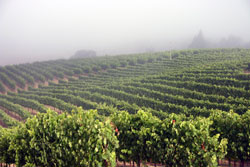 August is moving towards harvest. Once veraison is complete, sugar accumulates rapidly in the grapes. The winemaker is sampling grapes daily to determine when the grapes should be harvested. He is looking for the right levels of sugar, acids, the pH and, most importantly, the flavor profile to achieve the best possible wine.

In the warmer appellations, white varietals may be ready for harvest by the middle of August.

September
Harvest! Harvest is occurring in all but the coolest appellations. The winemaker is continuously sampling to pick the optimal date for harvest.

October
Harvest is in full swing or finishing up or just starting depending on the appellation. All are praying that the rains hold out for at least a few more weeks. For grape harvesting, picking at precisely the right moment is critical. When the grapes are ready there are, literally, not enough hours in the day. Sometimes picking goes on right around the clock. Sometimes picking goes on right around the clock.

November
Once harvest is complete, the grapes are crushed and fermented in stainless steel or barrel.

December
The vineyards are dormant. Steps must be taken to prevent erosion as the rains approach. Things are all quiet in the vineyard now...at least until January when it all begins anew with pruning.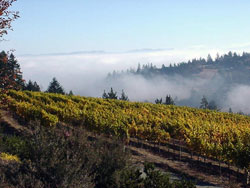 WOW YOUR TEAM AND CLIENTS!
Team building & corporate events in Wine Country or let us bring Wine Country to you.
Seeking a unique team building activity? Affairs of the Vine educates, engages and entertains your audience! Affairs of the Vine's expert and congenial staff educate without intimidation. Affairs of the Vine is prepared to exceed expectations while assisting you in producing a flawless program.
Affairs of the Vine will create an event to be remembered.
| | |
| --- | --- |
| Affairs of the Vine Workshops, Wine Receptions, Wine Dinners, and Team Building Events create RARE team and customer alliances. Affairs of the Vine will help you accomplish your goals to enhance Relationships, create Access, activate Response, and experience Empowerment. Develop new and loyal customers and strengthen your relationships with existing clients. We can help you create a stronger team! | |
| | |
Call Affairs of the Vine at 707-874-1975 to discuss your event or meeting planning needs today. Hands-on in the vineyard or let us bring Wine Country to you.
Looking for a Romantic Rendezvous or Just Need to Getaway?
We found an amazing place...Landis Shores Oceanfront Inn on Miramar Beach in Half Moon Bay, California. This five star luxury oceanfront inn overlooks a beautiful beach and the rooms - wow!
The rooms are gorgeous! The beds are so comfortable that we had to force ourselves to explore the coastal trail - really glad we did! The whirlpool in our room beckoned. Time to catch up on some reading and then it was time for appetizers with some wonderful wines hosted by innkeepers, Ellen and Ken Landis. The Landis' are wine folk. There wine list is enticing to say the least.
We slept soundly listening to the waves on the shore and breakfast - yum
Ken, Ellen and the Inn are charming and warm and wonderful - am I sounding too enthusiastic? You'll just have to visit Landis Shores Oceanfront Inn and find out for yourself.
Just 25 miles from San Francisco. www.landisshores.com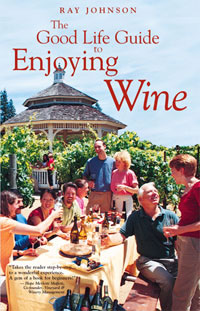 A REALLY GOOD READ!
The Good Life Guide to Enjoying Wine by Ray Johnson
Affairs of the Vine is about enjoying wine and cutting through the snobbery. When we find a book that does just that, we are thrilled and endorse it completely. This is a must read and a great gift for anyone who enjoys wine. No pretension here. A practical guide to buying, serving, and enjoying wine. Ray Johnson shares his wine knowledge with humor and common sense.
OUR MANTRA...TRUST YOUR OWN PALATE
Read reviews but remember it's your palate that counts. Find a wine critic who likes wines that you like. Don't feel that you have to embrace the wines that wine critics praise. Don't be intimidated! If a movie critic gives a film five stars, do you feel that you're unsophisticated if you don't like it too? Wine is no different. Personal preference is what counts. So drink and enjoy what you like. At Affairs of the Vine we say, "If you like the way it looks and you like the way it smells and you like the way it tastes...its good wine. So use our recommendations as a guide but you are the authority of what provides "Love at First Sip" for you.
AND THE WINNER IS...
John Kennedy of San Francisco, California. A case of incredible wines is being delivered to you.
Thanks to all of you who responded to our survey. Winners are drawn from all respondents.
Become a winner too!
BECOME A MEMBER AND TAKE OUR SHORT SURVEY
WIN A MIXED CASE OF SOME OF OUR FAVORITE WINES

Affairs of the Vine would like to know more about you. One lucky wine lover will win a mixed case of our favorite wines.
Cheers!
Barbara Drady
Wine Lover
Send your comments to winelover@affairsofthevine.com. We'll share your thoughts in the next newsletter.