Sign up to become a member of Affairs of the Vine and receive our free newsletter by contacting us at member@affairsofthevine.com
Wine Love Letter, May, 2004
Dear Wine Lover,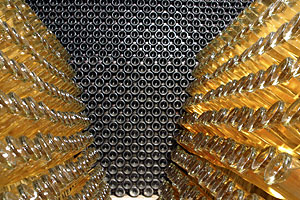 Can you ever have too much of a good thing? There are some things this does not to apply to...you can never have too many people who love you. You can never have too much good health or too much good luck. And some say, you can never be too thin, too rich, or have too much good wine in your cellar.
Over the last several weeks as I've opened my Emails, picked up my voice mail and answered my cell phone, I've realized that too much of a good thing can be downright disconcerting.
Email was going to be a quick, easy, and unobtrusive way to reach friends and business associates to ask questions or share some interesting new information, not to say anything of all of those hilarious jokes. But the sheer quantity of Email has become a problem. How many offers of bigger, better, blue, or a cheaper mortgage can any one person want?
It started me thinking. Can there be too much of a good thing in wine? Absolutely!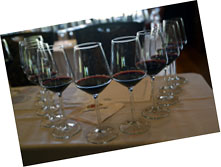 Tannin is good but too much is not. Acidity even volatile acidity is an enhancement but too much is not. The right amount of oak is tantalizing but too much is a turn off for me. Wines that have too much alcohol appear hot. I look for balance in my wines above all else...everything in harmony, - fruit, alcohol, acid, tannins - and not too much of anything. In my humble opinion, the ability to produce wines of uncompromising balance is what sets excellent winemakers and wines apart from the rest.
So...what to do about the Email avalanche? How do you sift through the unwanted garbage sent to you on a daily basis?
Affairs of the Vine has always received our share of SPAM. On a daily basis, until about 4 weeks ago, we were receiving upwards of 1200 Emails a day, about 20% SPAM. We could take care of unwanted messages by hitting the delete button (these folks seldom if ever give you a way to unsubscribe from their service). Over the last several weeks, our daily Email load has more than tripled and is now 50-60% SPAM. This has prompted a need to install an anti-SPAM filter. Please note that the email address on your newsletter has been added to those emails that we will receive without question. If you use an alternative email address, we will ask for confirmation that you are indeed a person and not a machine by asking you to verify a word shown on your screen. We regret that we must do this but we do want to have the time to respond to your many questions and comments. I'd much rather be sniffing and sipping great wines than hitting the delete button.
Thank you for your continued interest in Affairs of the Vine and our newsletters.
Glossary
Balance in wine is created when all the components are in perfect harmony. In a well-balanced wine, none of the elements - alcohol, fruit, acid, or tannin - overpowers another.
Tannin is a natural component found in the seeds, skins, and stems of grapes. Storing wine in oak barrels adds tannin from the wood too. Tannins provide flavor, structure, and texture to red wines. Tannins create the puckery sensation you notice in your mouth usually around your gums and across the flat back part of your tongue. Tannic young red wines often have an astringent characteristic that diminishes with age. Winemakers can control the amount of tannin in a wine by adjusting the fermentation temperature, gently crushing rather than pressing the grapes, determining the length of grape skin contact, the type of barrels used, and how long the wine remains in barrel.
Volatile Acidity, also called VA, is a necessary part of wine. A balanced amount of VA is essential for aroma and flavor but too much volatile acidity in wine is troublesome. Too much VA can give wine a sharp, vinegary aroma and sensation in the mouth. A wine with too much volatile acidity is seriously flawed.
Vineyard Updates
After a pretty cold and wet February, March was exceedingly warm and dry. So much so that that early bud break was the norm in California Wine Country.
Early bud break usually means lots of nights up battling frost. Frost can severely damage the emerging shoots. Mother Nature has been very kind this season, and frost has not been a major problem to date.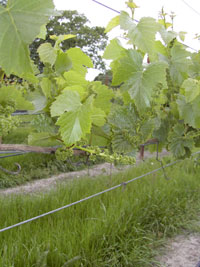 So far...so good. Everything seems to be going well in the vineyards. If the weather patterns hold, we could have an early harvest but we'll see what the coming months hold.
Next month, we'll visit with Russian River Valley vineyard owners Fred Nunes and Wendy Fowler Nunes, Nunes Vineyard. Fred is one of the most knowledgeable vineyard owners I know. He has a Systematic Biology and Ecology degree from San Francisco State University and decided to plant Nunes Vineyard in 1997, when he retired from a 30-year career as a firefighting helicopter pilot. He can explain the viticultural processes in a way that enlightens and fascinates. He's also producing awesome grapes!
"Nunes Vineyard and Fred Nunes are easily our 'best new grower of the year' and is right up there with the best of the vets in terms of quality. Fred thinks like a vine. His fruit shows it in spades." (2002)
Greg La Follette, Winemaker, Tandem Winery
Wine Boot Camp Offers Wine Lovers a
Backstage Pass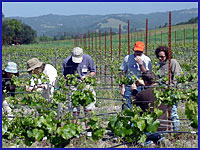 Do you think of winemakers as artists? When I find a wine that makes my heart sing and my feet tap and I can't get that taste out of my head - I think of that great winemaker as rock star!
Is wine your passion? Do you want to meet the Rock Star Winemakers? Do you want to have a behind the scenes experience?
Enlist in

Conducted by AFFAIRS of the VINE, Wine Boot Camp® is an intensive, highly enjoyable one-day training program...the ultimate fantasy experience for wine lovers.
Raw recruits and wine generals alike are welcome to attend Wine Boot Camp®. Only the strongest will survive!
The cost of WINE BOOT CAMP® includes all seminars and educational materials, lunch in the vineyard, dinner paired with appropriate wines, extensive wine tasting, a bottle of wine created by the recruit, transportation to all food and wine events, and an I Survived Wine Boot Camp® T-shirt. Enlistment is $375 per person.
To enlist in WINE BOOT CAMP® contact Major Drady at camp@affairsofthevine.com or 707-874-1975.
June 12, 2004 - Russian River Valley Wine Boot Camp®
July 24, 2004 - Napa Valley Wine Boot Camp®
August 14, 2004 - Santa Cruz Mountains Wine Boot Camp®
September 4, 2004 - Monterey Harvest Wine Boot Camp®
October 2, 2004 - Sonoma County Harvest Wine Boot Camp®
SEDUCED BY PINOT NOIR? INDULGE YOUR PASSION! Enlist! October 9, 2004 - Sonoma Coast Harvest Wine Boot Camp®
Evening Magazine Debut
Wine Boot Camp debuted on Evening Magazine with Mike Rowe and Malou Nubla...in the San Francisco Bay Area on Thursday, May 13th on CBS.
Evening Magazine
5/13/04 It's THE IKEA $500 CHALLENGE!

• Lisa Quinn works design miracles on a budget in this week's IKEA $500 CHALLENGE!

• AND! Attend WINE BOOT CAMP in Sonoma! In 12 hours learn everything about wine from vine to wine!
Evening Magazine is the only daily Bay Area magazine program with a local focus, featuring regular lifestyle segments, Bay Area adventures and activities, and profiles of Bay Area residents.
Evening Magazine airs Monday through Friday at 7pm on CBS 5.
The 2004 Cabernet Sauvignon Shootout...
The Results Are In
Does a wine with a 99 rating send you scurrying for your credit card and the nearest wine shop? Do you unquestioningly rely on the opinions of wine critics to determine your wine selections? Have you ever considered selling your first born to purchase a case of 2001 Napa Valley Cabernet Sauvignon or 2000 St-Emilion?
The 2004 Cabernet Sauvignon Shootout challenged the experts by having consumers pit their palates against our panel of 22 wine writers, retailers, winemakers, sommeliers, wine educators, and wine marketing professionals. In collaboration with Wine Works and The Reno/Tahoe Wine, Food & Jazz Festival, the top industry panel tasted over 200 Cabernet Sauvignons submitted by top wineries from the world over.
Twelve of the top wines were selected as finalists to participate in the Final Showdown in Reno, Nevada on May 1-2 at The Reno/Tahoe Wine, Food & Jazz Festival. Over the two day period, ballots were cast by 507 wine loving consumers.
If you see anything in these results which you think is of interest or noteworthy, we would love to hear from you and we will put as many comments up on our website as possible. And remember, trust your own palate. It's the only one that matters.
Complete results of the 2004 Cabernet Sauvignon Shootout - A Wine Challenge
Check out the "Bang for Your Buck Cabernet Sauvignons". Wines which were awarded



or




hearts and selling for under $15.
Begin an Affair with these great wines tonight!
World Wine Market International
Wine Competition
THE 2004 WORLD WINE MARKET
INTERNATIONAL WINE COMPETITION
The winners of The 2004 World Wine Market International Wine Competition were announced at a gala reception and tasting at Rubicon in San Francisco on Wednesday evening, April 28, 2004. Affairs of the Vine assembled an outstanding team of seven leading wine authorities from across the United States to serve as judges.
And the winners are...
BEST OF SHOW
Rosenblum 2002 Feather Foot Man Shiraz Jingalu, McLaren Vale, South Australia, $22
BEST RED
Rosenblum 2002 Feather Foot Man Shiraz Jingalu, McLaren Vale, South Australia, $22
BEST WHITE
Groote Post 2003 Sauvignon Blanc, Coastal Region South Africa, $11
BEST OF CLASS
CABERNET SAUVIGNON
Chumeia Vineyards 2001 Cabernet Sauvignon, Central Coast, $25
BEST OF CLASS
CHARDONNAY
Sebastiani Vineyards and Winery 2001 Chardonnay, Sonoma County, $13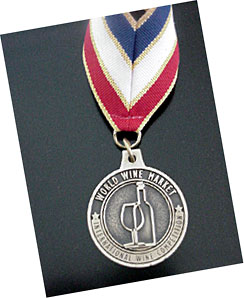 BEST OF CLASS
ITALIAN REDS
Leonetti 1999 Amarone della Valpolicella DOC Classico, Italy, $32
Lookout Ridge 2001 Alta Coma Sangiovese, Mendocino, $40
BEST OF CLASS
OTHER RED
Fire Station Red 2002 Old Vine Carignane, Lodi, $15
BACK BY POPULAR DEMAND
After a three year hiatus, the California-Australia Shootout is back by popular demand.
In 2001, the Showdown resulted in a draw.
Wines may be submitted to the 2004 California-Australia Shootout beginning on June 1, 2004. The preliminary tastings will begin in mid-July and the finals will be held on August 16, 2004.
For information on how to submit wines or serve as a panelist, contact shootout@affairsofthevine.com
CORPORATE WINE EVENTS
If you are looking for a unique corporate event, Affairs of the Vine will help you achieve your goals. Effective team building at it's best.
Affairs of the Vine's expert and congenial staff educate without intimidation. Contact Affairs of the Vine to discuss unique programs that will help you accomplish your goals. We can customize events for your specific needs or industry. Call Barbara Drady at 707-874-1975 to discuss your event or meeting planning needs today.
Hands-on the vineyard or let us bring Wine Country to you.
TO YOUR HEALTH
A study reported in Circulation, a medical journal states that people in their 70s who drink moderately may be keeping their blood vessels healthier than non-drinkers.

The levels of compounds linked to cardiovascular heart disease were much lower in people who drank one to seven servings of wine, beer or spirits per week.

The good news is...you don't have to wait until your're 70 to start enjoying the benefits of moderate alcohol consumption.

Cheers!

Barbara Drady
Wine Lover

Send your comments to member@affairsofthevine.com We'll share your thoughts in the next newsletter.

To be removed from the mailing list, e-mail us at never@affairsofthevine.com